Infor essentially is the result of a lot of software acquisitions. Many names you remember in the application software space are part of Infor today. Companies like Baan, SSA, Lawson and many, many more.
The accumulation of that many product lines, brands and applications has created a big maintenance revenue income stream for Infor but customers want to see these product lines enhanced and periodically re-architected.  If they don't get value for their maintenance monies, they'll stop paying these monies and/or move to another vendor.
Approximately two years ago, Chuck Phillips took the top job at Infor. His gig wasn't going to be an easy one as there were so many products that needed a major refresh. It wouldn't be a cheap fix either.
Chuck has a great pedigree for this kind of assignment. He's a long-time Wall Street executive. I knew him in his Morgan Stanley days where he really made a name for himself in the enterprise software market. His tenure at Oracle gave him not only M&A chops but also exposed him to a number of the operational nuances that make a software company tick.
Infor has been relatively quiet since Chuck joined. In that time, the company replaced a number of the management team, moved the headquarters to New York City, hired 4000 programmers, created a captive design firm and spent a massive ½ billion dollars on re-tooling the product line.
While the re-tooling isn't finished, the company has made enough significant progress that it is now opening up to analysts, customers and prospects. It is sharing its latest works and some of it is pretty clever.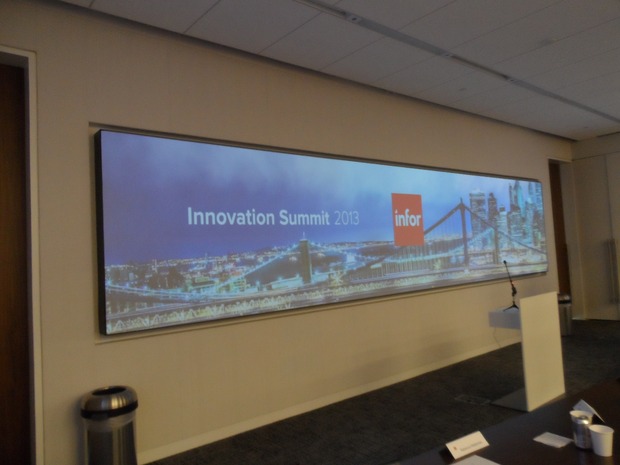 The Details
1)      Shifting focus to vertical suites – The company is shifting away from selling individual product lines (i.e., Lawson) to selling 'micro-vertical' solutions. Why are they doing this? Infor has a number of new products (like its ION cloud data warehouse), some alliance solutions (e.g., Salesforce's CRM solution) and some solid best of breed on-premise solutions that it wants to connect together into end-to-end industry solutions. Infor channel partners selling one of the older product lines will now have additional solutions (and more) to offer to prospects. However, some partners will now find Infor offering some of the missing vertical functionality that those channel partners used to create and offer on their own. Users should appreciate this as deeper vertical capabilities will now be part of the core products and not an added cost.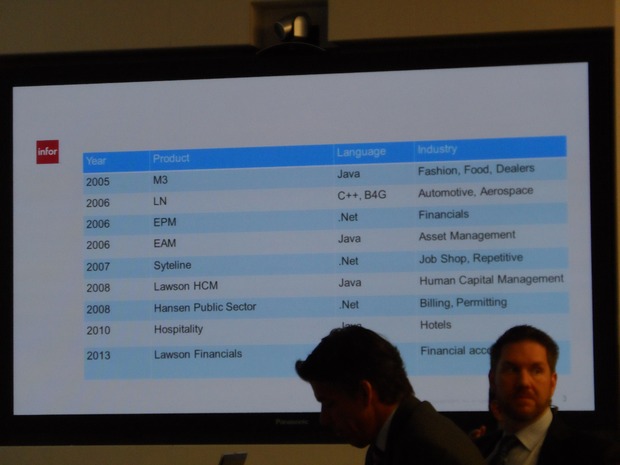 Copyright 2013 – TechVentive, Inc. – All Rights Reserved
2)      The captive design capability and new user interface – Infor has hired a number of folks to be part of their Hook & Loop subsidiary. Infor executives specifically sought out non-traditional types (i.e., non-traditional to the software world) to help them design a user interface that significantly improved user productivity. They didn't want just a prettier, artsy interface that did the same things as the old interface. They wanted to eliminate screens, drive user effectiveness, etc. The result is that a single screen has analytic data on the far right. That information is sensitive to the user and the role they have in the company. To the far left of the screen are short synopses of transactions that the user probably should initiate or complete. In the center of the screen is some macro-data, possibly displayed pictorially, that is of value to this specific user. Data for all of this is coming from several Infor, Infor partner and Infor data warehouse systems. Users stay in this system and not login/logout of differing applications to get their work completed.  The new user interface is a key component of the Infor re-boot and is not a simple facelift overlaid on top of old code.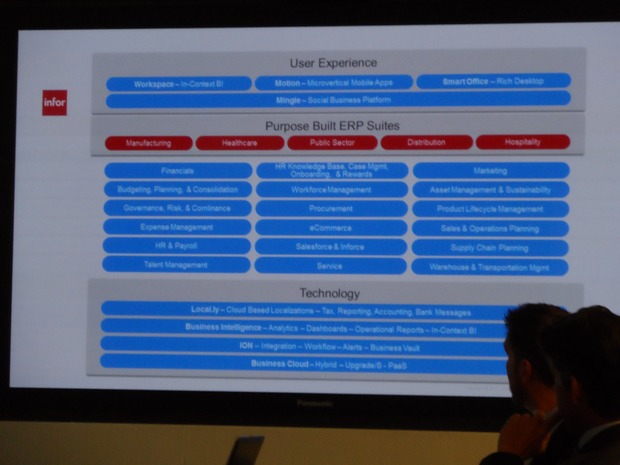 Copyright 2013 – TechVentive, Inc. – All Rights Reserved
3)      New Data Warehouse – Infor's ION is a cloud powered data warehouse. It acts as a repository for all Infor application data as well as data from Infor partner Salesforce.com and, possibly, other data sources. Data for the new user interface is predominately sourced from this warehouse. This tool uses OAGIS XML formats for over 200 standard events.  Data is physically stored in what Infor calls the Business Vault. With all manner of data accessible here, and, the new user interface populating its content from this source, users will not need to utilize the older screens or databases of predecessor application code. These two improvements represent, effectively, the biggest upgrades to most Infor products in the better part of a decade. Users of Infor products ought to be elated at these improvements. These improvements are what Infor has spent ½ Billion dollars and needed all of those programmers to complete.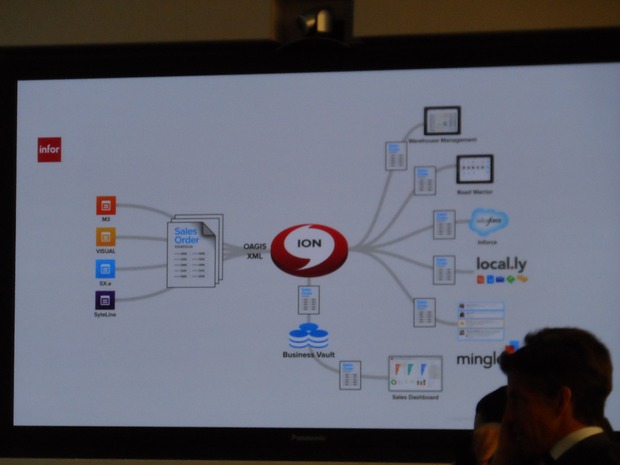 Copyright 2013 – TechVentive, Inc. – All Rights Reserved
4)      Tech Stack Modernization – I give Chuck and his team credit for candidly assessing the Infor situation and devising appropriate strategies. Just look at what Infor isn't doing. They aren't getting into the hardware business but they will partner with Oracle on Exadata machines. They aren't going to develop systems software like an in-memory database but they will partner with SAP to use the HANA software. In effect, Infor's done a very correct job of allocating capital and people to the things it should be doing and partnering where it should not. The result is a very modern technology stack that will power its applications. This was smart.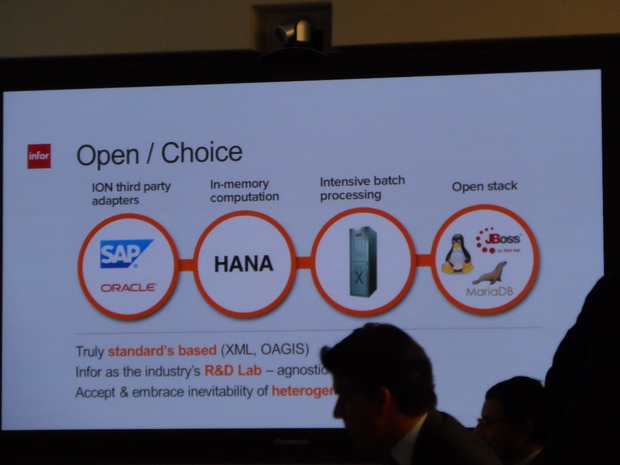 Copyright 2013 – TechVentive, Inc. – All Rights Reserved
5)      And a lot more – Infor shared with us new mobility solutions, new business process management tools and more. There's simply not enough space to cover it all here.
So, is it enough? Is this something that will bring net-new customers to Infor?
1)      Existing customers will like this – mostly. – As I mentioned above, users should be ecstatic with the magnitude of these improvements. However, some of the Infor customers are, and I want to charitable in saying this, laggards. They have stuck with a product for decades even though the product may not have evolved much at all. These software users either don't want to change or can't change (as they lack the money or have customized the product too much). Either way, they might not rush into these re-done products. Nonetheless, I bet Infor users will be happier at this year's user conference than in many prior years.
2)      Net-new customers will come but the new converts may be heavily oriented around plant, divisional and business unit solutions – With the micro-vertical focus Infor is pushing, the main buyers of new Infor solutions will likely be plants and business units where the business needs are satisfied via a micro vertical answer. While a conglomerate could buy these products, plants and divisions will be the hot spot.
3)      Infor is clearly turning lemons into lemonade – The old Infor would get slammed for being a holding company overloaded with too many, redundant products. The new Infor now uses different combinations of its products with the new UI and ION environment to create purpose-built micro-vertical solutions. These products will be more competitive in these micro-verticals and definitely more competitive against firms selling more horizontal solutions.
4)      The new Infor strategy works for a company like Infor (not startups) – The micro-vertical strategy is great for a company with lots of different vertical applications in its portfolio. The UI re-work is correct for a firm that needs to re-tool its older products to deliver a new level of user productivity. The ION warehouse works for a firm needing to pull data together from a slew of different applications, many of which may have different underlying technology architectures and code bases.
5)      Infor still has rebranding work to do – I'll admit I was skeptical as to whether they were making progress or just putting lipstick on a pig until I went to this event. I saw the changes, I talked to the execs, I walked in the new office and I heard the people behind the changes. The new Infor is real. But, a lot of people who knew the old Infor (or its predecessor product companies) didn't get to do what I did. As a result, Infor will really need to educate the software buying world that is certainly a very changed entity.
6)      Will all Infor products get a lift from this? – I wondered that, too. When I asked Chuck this he said every product line got the new UI treatment. But, in time, Infor will want to rationalize their product line. They possess, for example, general ledger applications from Software 2000/Infinium, Baan, Walker/Elevon and more. For now, do not expect to hear any discussion of this matter. It may be years before a rationalization game plan is announced.
Disclosure: Infor covered air and hotel costs for the one-day analyst summit.
Related articles
(Cross-posted @ ZDNet | Software and Services Safari Blog)