Wrote a post about what today's customer expects in terms of "relationships" on SAP's Customer Edge Blog. Here is a snippet:
———–
Transactional CRM, the system of record technology that lets you manage a sales cycle, a customer service request and marketing activity, is critical to make official records of who did what.
But here's what striking to me: Traditional CRM, which stands for customer relationship management is a transactional and operational technology that never really touched the customer.
That may have been OK in the past, but today's customer who is extremely well connected and networked thanks to the social web has radically different expectations of the companies that they do business with.  Beyond socializing, the social web is where we seek to research and engage with both, like-minded buyers and with purveyors with whom we want to do business. In a 2011 IBM study on Social CRM(1), 42% of those polled use the social web to share opinions about products they use, 39% use it to access product reviews, 23% said they outright rely on the "social web to interact with brands".  Yet another supporting point to CRM pundit Paul Greenberg's assertion that "the customer is in control of the conversation."
Let's dispel three misconceptions about the social web first:
This isn't about bleeding edge industries anymore. A 2009 business.com study(2) showed Real Estate and Construction, Healthcare, Media and Entertainment as top contenders for social media.
Access to social and traditional web content is now equalized. Even if you believe that a majority of your customers don't use social media, traditional web properties such as Google and LinkedIn index even the few conversations that might exist and make positive or negative opinions about our wares visible to everyone.
No, the social web isn't just about Twitter and Facebook where you may argue that your prospects don't really hang out. Amazon Reviews (Retail), Trip Advisor (Travel), FlyerTalk (Airlines), Yelp (Restaurants), AngiesList (Services) and literally a hundred other topical forums are all part of the social web or what Mike Fauscettecharacterized as "systems of relationships" that are dis-intermediating your controlled marketing every single day.
Five Design Considerations
So how do we prepare for this changing interaction dynamic? The needs of this new breed of customers centers on the following 5 design considerations: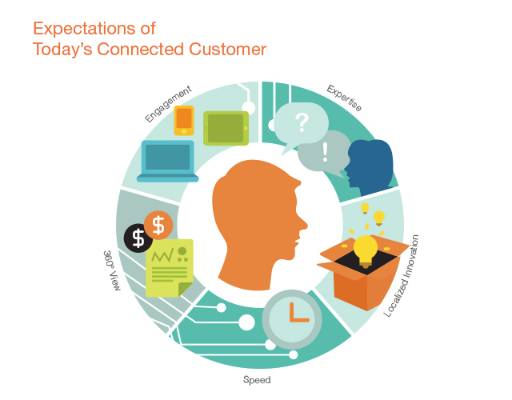 I've broken down each of these Design Considerations on the Customer Edge Blog, here.

(Cross-posted @ Pretzel Logic – Social and Collaborative Business)