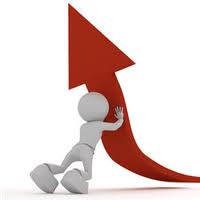 Around the world of social software, particularly enterprise social networks (ESN), the discussion of value always gets back to a discussion of worker productivity. It's a logical point of focus of course, I mean ESNs should increase productivity through reducing time to find correct information or expert(s); by reducing push email through a pull – follow model; by helping workers collaborate more effectively around the decision process and leading to better decisions made faster; by giving access to more employee skills and involving more employees in important initiatives; and by facilitating more effective collaborative work efforts. The ESN can also provide a better user experience (UX) for some aging IT systems and processes. All of these benefits are predicated on getting users to actually "use" the ESN though, and adoption is still the biggest barrier to getting to these benefits, although not the only barrier; there's company culture, employee behavior, manager and executive behavior, etc.
All this talk of increasing productivity has led me to some other conclusions around the current state of businesses and some critical changes that must happen for many / most companies to remain healthy. Over the 2013 predictions season I've been a part of some interesting discussions around productivity and software in general. There's a data slide that really started the discussion, that shows a serious gap that is emerging between employment and productivity. Here's the data: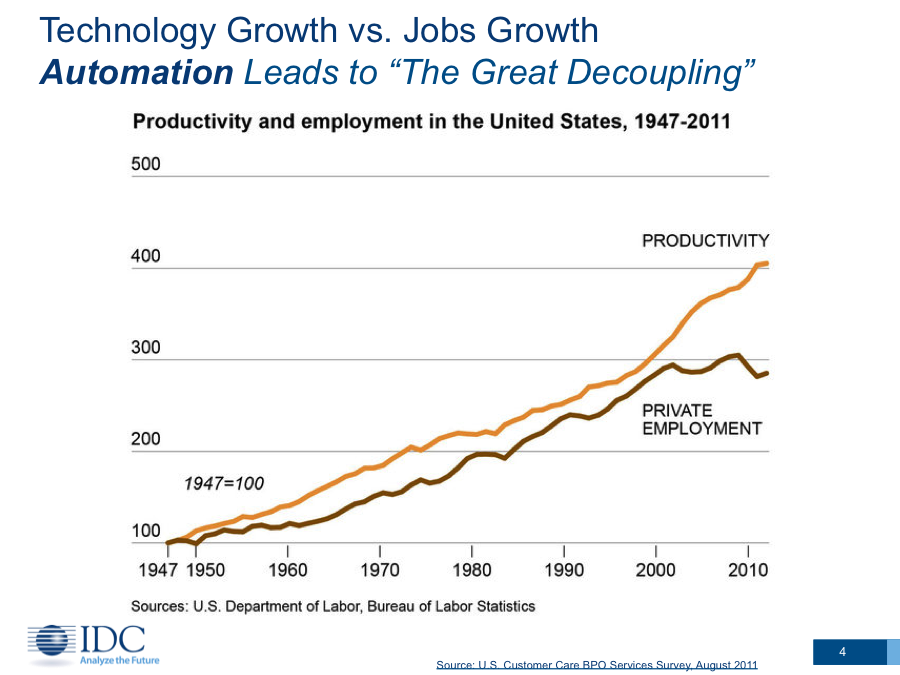 There are several ways to explain what is clearly a growing gap between the number of employees and productivity. After much discussion I think that there are three factors that can account for the ability to grow productivity with less workers. The first is automation of business processes so that the work processes can operate with less resources necessary. The efforts to automate business processes with technology has been an ongoing effort by businesses for a few decades and has made some impressive productivity gains.
The problem with automating business processes though, is that at some point you get to the limit to what can be automated, generally because of some technical or process limitations, something I call the "automation line". When we first started using technology to automate processes the line was low and moved up very quickly because the ratio of automated processes to total processes was so skewed. Over time though, the more processes that are automated the less there are left to automate and the pace of implementing automation slows. It doesn't stop though, because technology has a high rate of change as well, so as new technology is developed new areas of automation become available. I think that we are pretty close to the current upper limit of the automation line, at least in the developed economies like US and Western Europe, which means that I don't believe automation alone accounts for the rapid growth of the gap since the 2007/8 time frame.
The second factor is a shift in how and when work gets done caused by the rapid adoption of mobile devices, the rapid adoption of the cloud and new collaborative technologies created through social software. The creation of a mobile enabled workforce that is always connected and able to work from anywhere at anytime could account for some of the growing gap. Individuals are just doing more work, which is maybe good and maybe not so good at some level. How work gets done is changing and I think that we still have a long way to go to figure out what that really means for businesses, more on that later, let's finish the though around the reasons for the gap.
The third factor, is to me at least, very troubling. I think that employees are doing more with less because they have been put in a situation where they don't have much of a choice but to work harder to increase productivity in a tough employment and economic environment. In other words some businesses are pushing employees to "pick up the slack" from a shrinking work force. This is pretty much like trying to run at a sprint pace for a whole marathon…with that much pressure things eventually break.
The way work gets done is changing, or at least the part of work that is associated with information / knowledge work. From a big picture the change in how and when work gets done needs to be accompanied by some fundamental  changes in the overall approach businesses take in executing a business model. What I mean is that now we are finally getting to a point technically that businesses can really drive business decisions and strategy from real time data and with the "right" people collaborating around the decision. It's that combination of cloud, mobile, big / smart data and social systems (or systems of relationship) that enable the behavioral, cultural and process changes that would need to happen to adopt this method of operating a business. It's the "sense and respond" model that I've written about before. From a technology standpoint we're still trying to get all the pieces working together and of course the process, behavioral and cultural changes that need to go along with the technology to make it work, are a longer term proposition. From a system standpoint it looks something like this: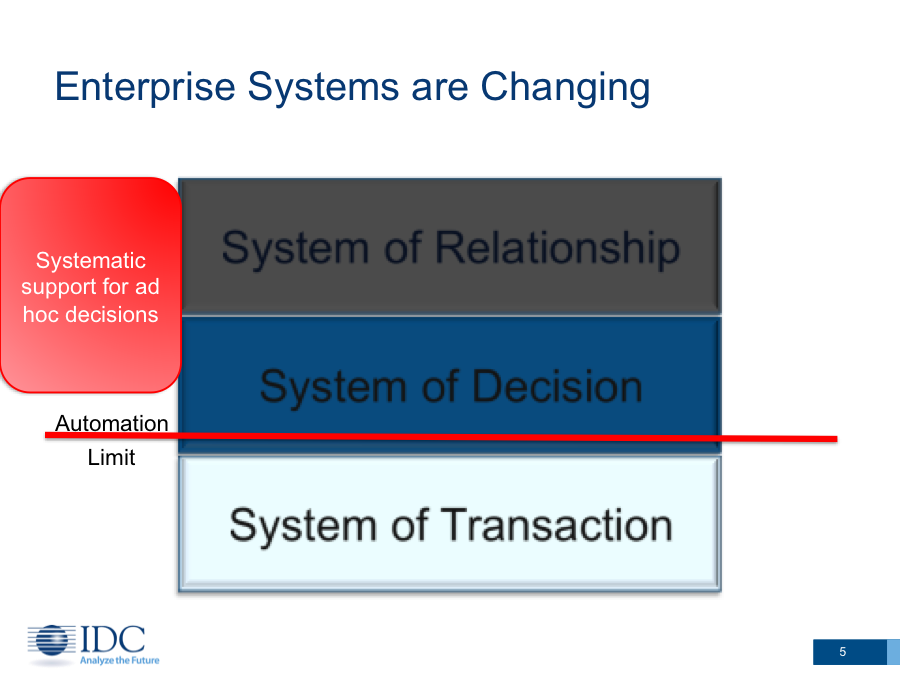 The 3 systems, or at least enough technology to accomplish the functions can be deployed today, but unfortunately they aren't completely tied together in the right ways. Not that it's impossible but it's just a little early for some of the parts. The process that's critical and missing, is this ability to systematically support the ad hoc decision process. That process happens above the automation line and involved getting the right people and data together around the issue / decision so that an informed decision can be made quickly. I think that's the way we remove a lot of the pressure from the productivity gap. We've seen good results from the ESN solutions when they are implemented correctly, in fact in an IDC survey a couple of years ago, companies reported between 11-30% increases in productivity when using social software / ESNs. Most businesses are just getting started in this transition process though, and it will take some time and a lot of effort to make it work.

(Cross-posted @ Michael Fauscette)