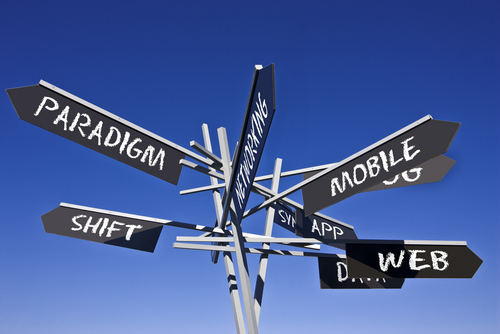 Marketing, more than most business functions, has seen a great deal of disruption and change over the past several years, fueled by the Internet, the social web, social media and social networks. The dramatic change in customer / prospect expectations as well as the changing nature of influence are putting a lot of pressure on CMO's to find new and different approaches. The shift online and to an always connected mobile reality has spread like wildfire and while opening up a lot of new and potentially more effective marketing tactics these tactics are often enabled through new technology that require new skills and expertise. Over the next few posts I'll take a look at marketing technologies and how they are impacting the marketing organization today.
The first generation of the Internet was what I call the static web. Companies built web sites, people visited those sites for information about the company / brand / products. The company controlled the message. When the web moved forward it next became a vehicle for online transactions. While this was more interactive, it still allowed, for the most part at least, the brand to control the message. I suppose the subtle change was the addition of customer rating systems that provided some insight to product performance on the eCommerce web site, like Amazon. Of course now we know that some (maybe many) of the online review systems can be gamed by the brand through special offers and incentives.
When the web moved on to social interactions, brands started losing control of the message. As the social web grew, social media disrupted traditional media and provided alternate sources of product and service information that were more independent and balanced (not in all cases of course, there is still sponsored content, but that sponsorship is somewhat more transparent). Social networks also offered alternate sources of brand / product information and became "the" trusted source of that information for many. These new information sources coupled with dramatically changing expectations created by the consumerization of IT phenomenon and the free flow of information created what some have called the social customer. Whatever you call it, people's behaviors have changed, and those changes are proving even more challenging for marketers.
With the changes in customer expectations and in the available technology, how effective are traditional channels and methods of marketing…or in other words are the new digital methods replacements for more traditional marketing methods, or necessary additions to comprehensive marketing strategies? Unfortunately I think there's little that can be abandoned and much that must be added to effectively execute a modern marketing strategy. When we talk about what I suppose is often referred to as "digital" marketing, there is much to sort out.
The prevailing trend is to talk about customer experience (CX) and the need to build a comprehensive strategy around CX. At a high level that's not incorrect, but unfortunately as they say, "the devil's in the details". Customer experience is the company strategy that drives functions across the company, but it's not specifically a marketing strategy. The marketing strategy supports the broader company strategy of course, but its focus is a comprehensive approach to all the functions that must be driven from the marketing organization. Much of the marketing strategy today is tied in some way to specific technologies that act as the facilitator of the tactics that execute against the strategy. More than ever marketing and technology are intertwined and with that technology we move closer to "customer intelligence driven marketing".
Many of the CMOs and marketing executives I talk with are struggling with the changes in marketing strategy and that underlying technology. On one hand with the broader availability of applications in a SaaS or cloud model, it's easier for marketing to get access to all sorts of technology. The cloud model also opens up a new level of flexibility for marketing that means they can experiment with new technologies much easier to find the best fit. The problem though, is that many of these self provisioned apps are point solutions that solve a single marketing problem and are not integrated into an overall marketing solution. Customer intelligence driven marketing is based on data and to get a complete picture of the customer and be able to leverage the approach effectively, you cannot create data silos. Integration then, is critical.
You might be thinking as you read this, that I'm leaving IT out of this technology discussion completely. That's not entirely the case but there are some extenuating circumstances that seem to exist in many companies. The role of IT and the CIO, in some (maybe many) companies has shifted since the IT boom days of the late 1990's. It seems that in many organizations the CIOs were moved under the CFO and their function moved more toward governance, compliance and cost control and away from innovation and strategy. That's not universally true of course, there are plenty of CIOs that are helping drive technology innovation in their companies, and if you're in one of those organizations, solving the marketing solution problem should be much easier. If you're not though, your problems may seem a bit overwhelming. In many of these organizations budget has crept over to the CMO and the marketing organization is driving the technology discussions, something that may or may not be a core competency.
So that's the problem, but what's the solution? In the next post I'll dig deeper into what it takes to build a customer intelligence driven marketing solution and what the top marketing organizations are working on today.

(Cross-posted @ Michael Fauscette)