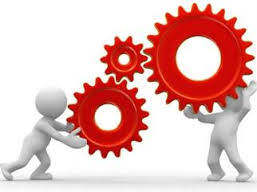 In part two of this series I'll focus on the comprehensive marketing technology solution and then in part 3 we'll look at customer intelligence driven marketing, the customer data value chain and the technology that underpins that approach. One of the biggest issues facing marketers today is the overwhelming influx of technology into the marketing process. The tools are powerful and necessary but too often disconnected and their use isn't necessarily tied to an overall marketing strategy and plan. There are a lot of point solutions that have a very narrow focus and do an excellent job at one or two functions, but they exist in a silo. Integrating those silos to get to a broader solution approach can be quite challenging.
The cloud plays heavily in these new marketing applications of course, and while it's making it easier to try different apps and find the best, it also has created some of the problem. The ease of self provisioning, which is positive in many ways, has also created a situation in some companies where unapproved and unsupported tools are finding their way into use "under the radar" of both IT and marketing leadership. The BYOD movement can also be BYOA (bring your own app), with employees solving problems the best way they can when the tools they are given fall short.
So what are the marketing functions that are being impacted by technology? We've had CRM solutions and marketing automation solutions for quite a while now, but those packages don't provide the best solution to all of the different functions that have fallen to marketing and don't deal with the need to meet customer expectations in a dynamic online environment. The following chart shows the marketing functions and ties them to technology that can help facilitate the process. I've also included a few example vendors, but caution you that this list is not comprehensive and that there are many more very credible solutions available, I just didn't have room/time to try and list them all: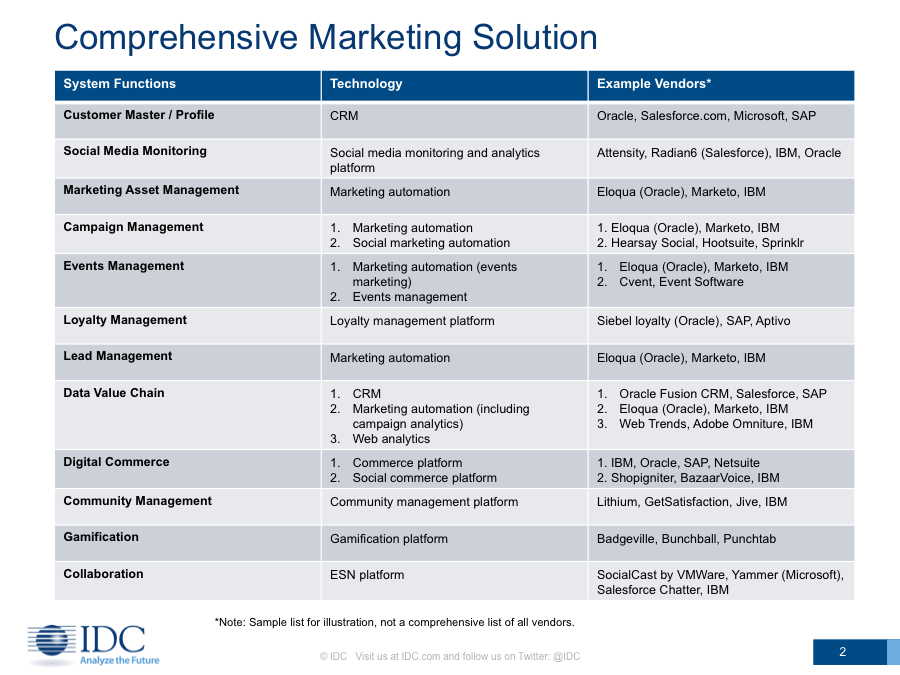 As you can see I've listed 12 key functions including collaboration, for marketing and tied those to the respective application types. What's not mentioned though, is also very important. Integration across the different functions and apps is very critical and must be a part of the overall solution. Device agnostic mobile access is also necessary to support today's workforce and from the other end, to support how customers want to interact with you.
Underlying all this marketing technology and the need for a very tech savvy marketing organization is the idea that tech decisions and perhaps control of the marketing tech budget is moving away from IT (or maybe has already moved away). The most effective approach in most companies would be for  IT and marketing to build a close partnership to drive the marketing strategy and it's technology needs, but it's complicated. Is that actually happening though? I'm not so sure, but there does seem to be some shift in many companies around which organization controls the technology decisions and budget. I won't spend more time on it in this post, but it is a related issue. I hope to have some new data to use to drill into this issue in the near future, so look for a post on the subject.
As a marketing organization if you had all of the functions and tools laid out above would you have a comprehensive marketing suite? Well, if they were integrated and not silo'ed you'd be pretty close, but there are some other considerations. The one function that is completely overlooked in the above function list and is still in most companies not considered a part of the marketing functions, is customer service. From a customer experience perspective I'd argue (and have here) that customer service is an important part of a comprehensive marketing strategy. Word of mouth marketing is very powerful and with the amplification created by the social can be a powerful force, both positively and negatively for your brand.
Anyway, look for part 3 shortly, where I'll look at customer intelligence driven marketing strategy and the customer data value chain.
(Cross-posted @ Michael Fauscette)