The best e-commerce websites have an innate ability to quickly define customer expectations then exceed them by delivering excellent experiences.
In the highest-performing e-commerce businesses mobile, social, globalization, cloud and legacy order management systems are all galvanized around that common goal: delight the customer and earn their trust.
After reading Gartner's report Market Insight: Three Compelling Reasons to Update Your E-Commerce Product Strategy published March 15, 2013 written by Joanne M. Correia and Gene Alvarez this week and considering the excellent work Constellation Research is doing in the area of Matrix Commerce, it is apparent that these five factors are quickly reshaping e-commerce.
Mobile, social, globalization, cloud and legacy order management systems, for many companies, exist in completely separate areas of their business however.  Tying all of these together, as both the Gartner report and the foundational concepts of Matrix Commerce illustrate, deliver gains not just in customer satisfaction but the ability of any company to stay in step with customers over the long-term.
Any business reliant on e-commerce as part of their revenue stream needs to pay attention to these trends and get ahead of them to stay competitive.  Here are the key takeaways to consider in getting a head start on the five factors reshaping e-commerce:
Gartner estimates the market size of e-commerce software, including commercial services from the cloud, is $3B in 2013.  The total market opportunity for services and embedding e-commerce into other software applications, platforms and business processes is 10 times that, generating a market size of $30B in 2013.
Gartner predicts the retail, discrete manufacturing, wholesale/distribution, entertainment and travel/leisure industries have the greatest potential for future e-commerce growth.  The following heat map plots industries by the rate of change (how quickly or slowly companies in these industries are modifying websites to better enable online transactions) by customer-facing impact potential, which are the expectations customers have of websites supporting transactions.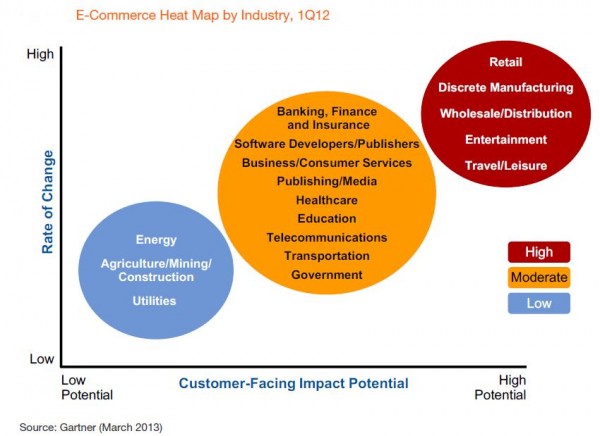 Retail is going through a revolution right now, with social and mobile completely redefining their multichannel selling strategies.  Discrete manufacturing refers to those companies who have branded products that are facing competition from retailer's private label products, also sold through traditional channels.  Manufacturers are moving to e-commerce faster to offset the loss in revenue from private-label competitive threats. The second type of discrete manufacturer is moving sales online to reduce direct sales costs and better synchronize their multichannel selling strategies.
The top four priorities of CRM programs are enhancing the customer experience (40.2%), increasing the acquisition of new customers (34.8%), increasing sales revenue (32.9%) and increasing customer satisfaction 31.9%). For e-commerce strategies to deliver these results mobile, social, globalization, cloud and legacy order management systems all need to be well-integrated and galvanized around a common set of objectives and analytics to measure results.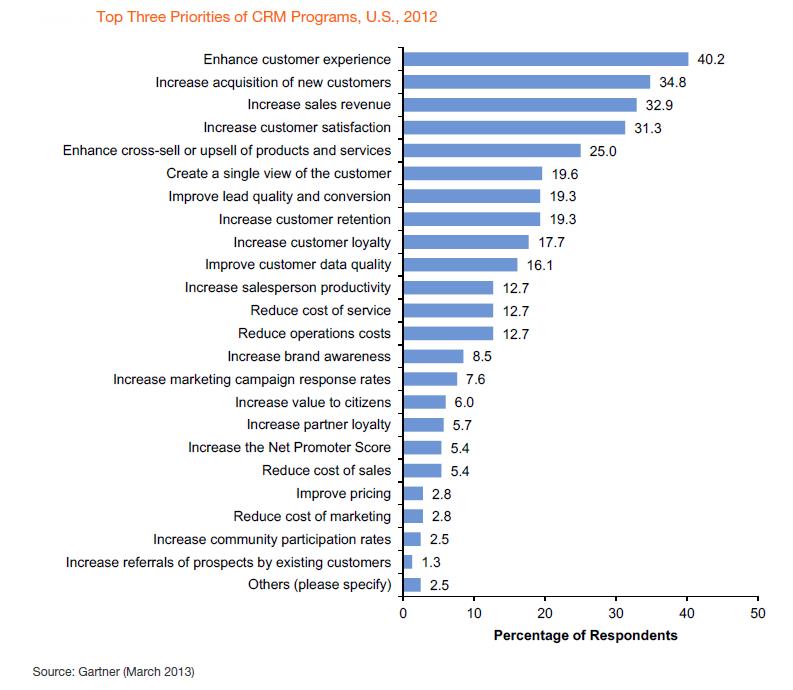 Gartner sees mobile, social and globalization being the three compelling reasons why e-commerce product strategies need to be re-evaluated today.  There is also the proliferation of cloud platforms, and the transition of Enterprise Resource Planning (ERP) and distributed order management systems away from being a system of record for transactions to delivering insights and intelligence about a specific line of business.  Constellations' Matrix Commerce concepts brings out this concept well and I look forward to their future research on the topic.  For an overview of cloud platforms including Amazon, Google, HP and others who are profiled in the post Demystifying Cloud Vendors.
One of the most overlooked areas of e-commerce strategies today is aligning ERP strategies to the specific, unique cultural needs of a given market.  Gartner's report and Matrix Commerce allude to this point.  The Hofstede Model of Cultural Dimensions, a useful framework for teaching about differences between cultures in international business and marketing classes, illustrates why e-commerce strategies must pay attention to cultural differences.  Cultural variations in e-commerce strategies need to get reflected back to ERP systems for the customers to receive excellent experiences.  The following is a comparison of five cultural attributes of China, India and the Untied States.  Notice how the Long Term Orientation (LTO) is so much higher for China compared to India and the U.S.  Individuality (IDV) soars in the U.S. relative to these other nations.  You can find this graphing tool and explanation of the five factors on Dr. Geert Hofstede's website here.   The web page on his site to compare countries can be found here.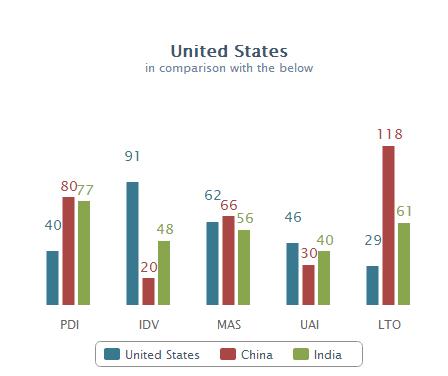 Bottom line:  Reshaping e-commerce strategies needs to take into account re-aligning ERP and distributed order management systems to cultural and regional requirements first.  Galvanizing mobile, and cloud systems to the common goal of delighting the customer and earning their trust will fall into place once enterprise systems are aligned to unique cultural and regional needs.
(Cross-posted @ Enterprise Software Strategist)