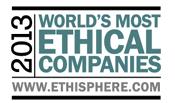 Earlier this month The Ethisphere Institute announced their seventh annual list of the World's Most Ethical Companies.  Jacquelyn Smith wrote an excellent analysis titled The World's Most Ethical Companies where she provides an overview of the methodology and selection process. You can review the methodology and see a full list of the winning companies here.
After reading her article I began to question why certain software companies made the list and many others didn't.  Only six software companies made the list this year, out of 145 total companies overall. Congratulations to Adobe, Microsoft, Salesforce, Symantec, Teradata and WiPro. Their Corporate Social Responsibility (CSR) websites are listed below.
Adobe Systems Incorporated,  Adobe Corporate Social Responsibility
Microsoft,  Microsoft Corporate Citizenship :
Salesforce.com, The Salesforce.com Foundation :
Symantec Corporation, Symantec Corporate Social Responsibility Site
Teradata Corporation,  Teradata Corporate Social Responsibility
WiPro Ltd., WiPro Society and Community
Here is what the world's most ethical software companies all have in common:
Routinely develop and use software applications designed just to support CSR programs and initiatives are commonplace.  Each of these companies has gone beyond the boundaries of their existing software applications currently shipping to create customized analytics, Big Data, financial reporting, Human Resource Management (HRM), distance and virtual training, and testing applications to support their initiatives.   All of these companies go beyond the boundaries of currently shipping applications to streamline CSR and philanthropic efforts using their technology as well.  Salesforce uses Chatter extensively throughout their highly successful Salesfore.com Foundation.  An example is the Microsoft Windows Azure application, Microsoft Local Impact Map shown below, which has interactive options for data visualization and analysis: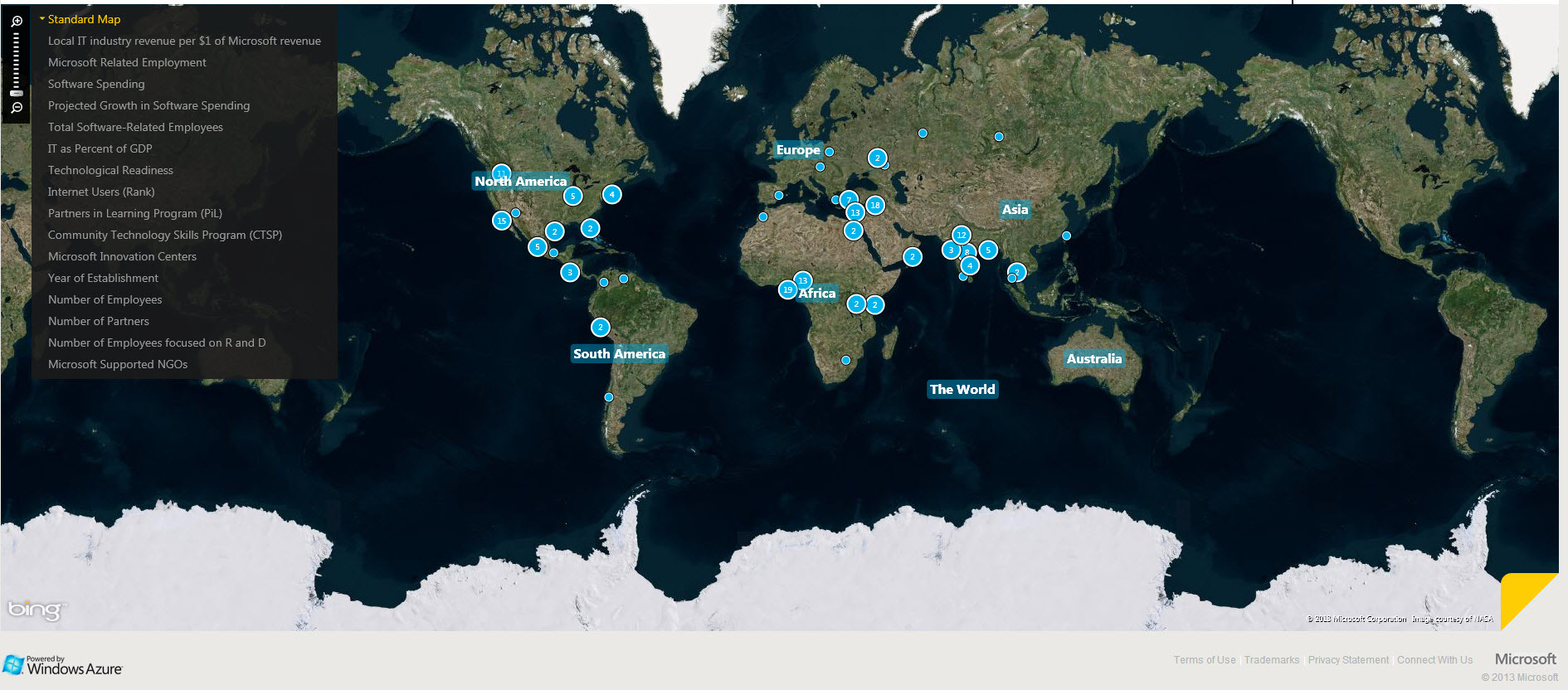 Create, continually invest in and freely share the results of their global Corporate Social Responsibility (CSR) programs.  This has a long-term effect of bringing accountability and measurement of CSR results deep into a company's culture.  All six companies regularly publish reports on their progress and provide case histories as well.
Strong bias for measurable results based on their CSR program goals and objectives.  Each of these companies has well-defined and executed measurement methodologies in place to measure how effective their investments in CSR programs are for communities, schools, colleges and universities.  For example Microsoft set the goal of reaching 250 million students in 115 countries through Partners in Learning, a ten year program now in progress. To date Microsoft has  reached 207 million students in 119 countries, projecting they will reach their goal this year. The Salesforce.com Foundation has contributed $40M in grants, donated over 445,000 volunteer hours and provided support for 17,500 nonprofit and higher education customers.
Prowess at using social media for change management internally and across their broad base of stakeholders.  These companies don't just blast out the latest press release on LinkedIn, Facebook, Twitter or any other social networking site.  The market their progress internally and externally using quantified measures of success along with stories of how CSR initiatives are paying off.  Telling a good story and strengthening it with measurable results is one of the factors in each of these companies being voted the most ethical in the world by Ethisphere.
Bottom line:  The most ethical software companies in the world are very successful at using their technological prowess to contribute solutions to many of the world's most pressing problems.  No wonder each of them is so successful solving complex business problems too.
(Cross-posted @ Enterprise Software Strategist)