Phil Simon is a book writing machine. This time last year I reviewed his "The Age of the Platform" and now he has another book out "Too BIG to IGNORE". His latest effort has as its tagline "the business case for big data".
Phil's very clear that this book is not oriented to the gear head that wants a real deep dive on Hadoop. It's a business person's guide to big data and the evolving technologies and business uses for companies exploiting it.
If you don't think big data is a big thing, read the book. Phil's got gobs of examples of firms, and, surprisingly, several local governments using big data to achieve any number of benefits. For example, he tells how one city has a smart phone app that collects road condition information from the local citizenry so that pothole repairs can be done as fast as practical.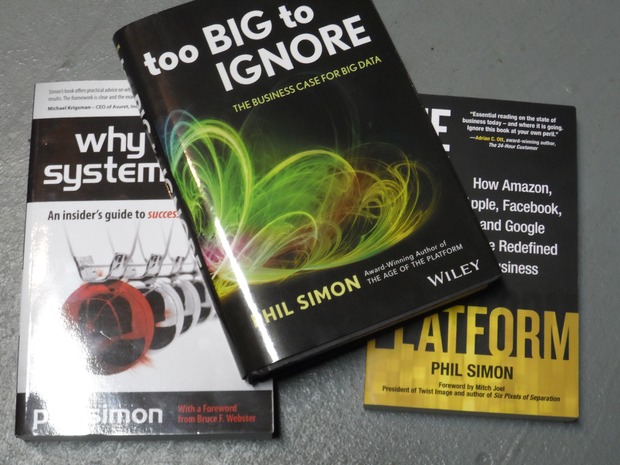 Copyright 2013 – TechVentive, Inc. – All Rights Reserved
I've been covering the big data space for some time and much of what Phil covers isn't exactly new to me but it is covered in such an eloquent and easy-reading way that I wish I had written it. To Phil's credit, he took a complex tech subject and made it very accessible without getting thin on the details.
Of the book's seven chapters, the sixth one left me wanting, though. That chapter, called "Taking the Big Plunge", has some guidance for businesses wanting to go the big data route. I thought the material could be deeper, richer and more prescriptive. Certainly, Phil didn't intend this to be a how-to manual but from what I'm seeing in the field, companies that have experimented with big data or are thinking of doing so, are frankly stumbling in the dark.
Big data, as a space, needs some big leaders – leaders that are sharing the lessons they've learned and coaching others on the mistakes/strategies to avoid. Big data is a rapidly evolving space and companies don't have the luxury of waiting years to finally 'get it right'. When it comes to big data and analytics, huge competitive advantage opportunities await the first movers. The laggards can get really clocked if they can't match the insights possible from these new technologies.
What I'm saying is Big Data is related to technologies that can really widen the gap between the technology sophisticated organizations and those that lag or are naïve. If your organization falls in the latter camp, get a couple dozen copies of Phil's book and make them required reading for your leadership group.  And, then get busy exploiting big data…..
(Cross-posted @ ZDNet | Software and Services Safari Blog)