In the most recent episode of CxO Talk, Vala Afshar and I asked Gartner group vice president, Mark P. McDonald, to advise CIOs who face declining IT budgets despite higher overall technology spend in their organization.
Mark's comments shed light on reformulating IT strategy to reflect changing corporate needs and the evolving relationship between the CIO and CMO:
Turning sparks into flame and growing that flame requires a scalable, sustainable platform. That's what the CIO brings to the table. The most powerful combinations we've seen are the CIO and CMO working together with a shared goal to grow the business. When my goal is to grow the business, everybody has the potential to win. When my goal is to control costs, there is automatically a system of winners and losers.
Listen to this one-minute video clip to experience Mark's passion and insight about the topic:
Strategic CIO implications
The shift in technology budget allocations has two important implications for the CIO and IT:
1. IT will become increasingly commoditized, devalued, and irrelevant unless the CIO gains a stronger sense of strategic purpose. Supporting your organization's strategic goals is the most direct route to establishing relevancy in the enterprise. It's not rocket science but rather common sense — meet business users' needs and of course they will perceive you as being relevant. I have previously written about CIO relevancy:
The world of CIOs and IT is likely to split into infrastructure providers and innovation partners. To become a genuine partner to the business, start taking steps today. If you don't make a change soon, your IT organization may end up a commodity shop in a transforming world.
2. Chronic conflict between IT and the business does exist. In the current economic environment, many organizations want IT to innovate and simultaneously reduce costs. It is up to the CIO to resolve these tensions through improved collaboration with the business. The following diagram presents a view of chronic conflict as applied to IT and the CIO: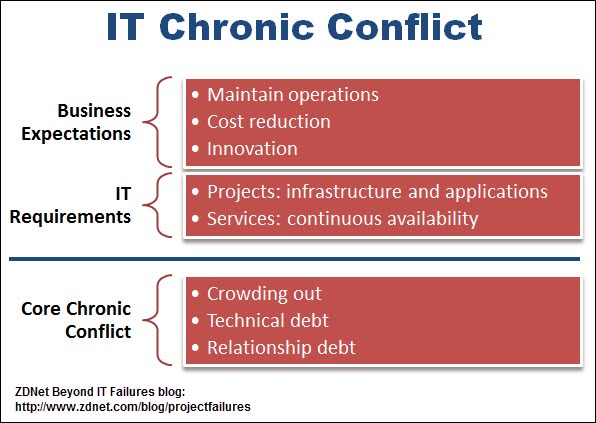 Chronic conflict between IT and the business will suck your life away in an endless sea of frustrating pain; far better to work closely with leadership, be strategic, and define explicit IT priorities based on open communication with the people setting business priorities.
(Thanks to author, Gene Kim, for formulating this concept in a CIO innovation workshop he and I co-presented. For more information on chronic conflict, see the work of Eli Goldratt.)
Also read:
(Cross-posted @ ZDNet | Beyond IT Failure Blog)