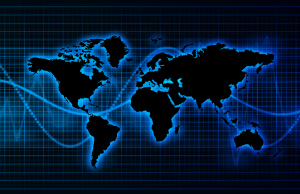 Every year Gartner receives an average 100,000 inquiries from their valued end-user clients on a wide variety of IT topics.  Their most recently released series of statistics is included in Inquiry Analytics Statistics: Topic and Vendor Mind Share for Software, 4Q12 published March 13th of this year.  Ten geographic regions and eight industries are also tracked, in addition to seven evaluation levels of end-user clients.
Microsoft and Salesforce Dominating CRM Inquires
One of the more useful features of this database is the opportunity to define a set of competitors in a given market and compare their inquiry levels by software application category, region and evaluation stage of users.  Gartner only allows for five vendors to be compared at once, so I took the market share leaders in CRM.  These are Adobe, Microsoft, Oracle Salesforce.com and SAP according to consensus market share estimates. The results of this query across all geographies, industries and stages of the evaluation process are shown in the following graphic:
Bottom line:  Last week Salesforce announced their Platform Mobile Services and Partner Program, which brings contextual customer data to any mobile device.  Microsoft's current strategy is to promote low pricing and ease of adoption as a means to break into new accounts, primarily in the mid-market.  Both strategies are most likely leading to even more inquiry calls at Gartner, which CRM vendors often see as a leading indicator of potential future enterprise software sales.
(Cross-posted @ Enterprise Software Strategist)