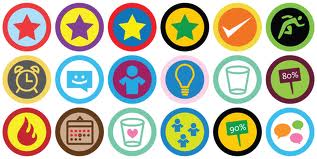 Over the next few posts I'll explore the growing use of enterprise gamification. I became interested in the topic after an interesting keynote at IBM Connect this year by Jane McGonagal, author of the book 'Reality is Broken: Why games make us better and how they can change the world". I have to admit that while I "get" the concept of using game theory to shape behavior I was skeptical about how useful it really was in an enterprise context. I've spent some time over the past few weeks researching the topic and at this point my attitude has shifted quite a bit. When used correctly I now believe that gamification can provide a powerful tool to help companies encourage behaviors that they define as desirable.
First though let's make sure that we all understand exactly what gamification is and is not. Gamification is a business strategy that applies game mechanics to a non-game situation to drive or change some behavior. You will notice that nowhere in that definition did I mention technology. Gamification is not technology, it is underpinned or enabled by technology, but that's not the point. The point is that its a business strategy and as such must be defined clearly to lay out what behavior you're trying to change, why changing that behavior is important from a business strategy standpoint and then, how will game theory be applied to bring about this change. Gamification is about experiences; employee experience, customer experience, partner experience; creating fun and engaging experiences that ultimately results in a behavioral modification.
To understand how gamification is used it's probably useful to understand game mechanics and some of the techniques used in enterprise gamification, First though, remember the origins of gamification, it came out of the computer / video game industry so some of the fundamentals are closely tied to techniques in use there. I won't spend time talking about some of the research I found on the impact of gaming on consumers, although it's really worth reading McGonagal's book.
Game mechanics are the building blocks of a game experience. They are the basic rule frameworks and feedback processes that produce an engaging game. These are fairly well documented online, but it's useful to at least list them here (at least the ones I know, I'm sure there are some others):
Achievements – physical or virtual representation of accomplishment
Appointment dynamics – using a predetermined time and place to set the expectation of play for positive effect
Behavioral momentum – tendency of players to continue to do what they're been doing
Blissful productivity – the phenomenon that playing the game in conjunction with hard work makes you happier than relaxing
Bonuses – rewards for completions
Cascading information theory – the concept that its easier for players to gain understanding of information if it is broken into smaller pieces that are provided when needed
Challenges – (sometimes called quests) a journey of obstacles that players must overcome to be successful in the game
Community collaboration – the viral rallying of a group of players to solve a common problem or obstacle
Countdown dynamics – limiting time to accomplish certain tasks or challenges
Epic meaning – a higher purpose that provides motivation for the player to continue
Exploration – a dynamic that plays off players curiosity and desire to discover new things
Free lunch dynamic – creating the perception of getting something for nothing
Infinite game play – games that don't have an explicit end defined
Levels – a method to measure progression in a game
Loss aversion dynamic – the tendency of players to avoid scenarios that create some loss of status
Lottery dynamic – a situation where the winner is determined by some chance driven method
Ownership – creates connections, desire and loyalty
Points – continuing numerical value to measure progress in a game
Progression dynamic – a public measurement of progress through a set list of tasks
Reward schedules – predefined delivery mechanism for rewards in a game
Status – level, rank, accomplishment
Urgent optimism – compelling desire of a player to tackle an obstacle quickly and with some reasonable expectation of success
Virality – a method of spreading engagement and game play among a group
And then there are game techniques that support game mechanics, and can be applied to game projects. These techniques include:
Activity streams (or tie in to existing enterprise social network activity stream)
Advancing game levels that help keep players interested and challenged
Avatars (a way to give individuals unique, recognizable profiles)
Badges (or other ways to publicly reward behavior)
Challenges or "quests"
Embedded games (inside other enterprise processes)
Gifting (some way for individuals to reward each other)
Leaderboards / progress bar / visual indication of progress
Real-time feedback
Virtual currency
So that's your introduction to gamification. In the next post I'll show some specific examples of how companies are using the techniques to influence employees, customers and partners in positive ways.
(Cross-posted @ Michael Fauscette)