Workday and Adaptive Planning Updates
For those of you defending cloud application solutions (against the on-premises fan-boys), here's another bullet for your ammo belt: Speed. When a multi-tenant cloud vendor only has to support and regression test one version of the software, rolling out new releases is expedited. When the products are built on a single, common product architecture, the rollout is again expedited. Simplicity and standardization of the product line and its environment gives many cloud vendors a pronounced advantage in the speedy delivery of new capabilities.
Recently, I was briefed by both Workday and Adaptive Planning. The former was stepping me through the myriad enhancements to their Release 19 product available today. The latter was showcasing their all-new consolidation product.
What is so impressive about both is the sheer volume of new product capabilities, features, etc. that each cloud solution provider can deliver.  For example, Adaptive Planning built their entire consolidation product in less than a year. The regression testing of an on-premise product could consume a considerable amount of that time frame. And, for those of you inclined to skip the rest of the blog copy below, that product is pretty solid and correctly positioned for up-market, large multi-nationals.
First, let's cover Workday's announcements. I will NOT try to recite all of the new capabilities, but instead simply identify some of the more material ones that caught my eye.
Brainstorm Suggestions. Stan Swete indicated that this release incorporates some 67 items generated via users.
User fields. At last fall's Workday user conference, Workday management announced the impending availability of this capability. To say the audience was overjoyed would be an understatement (Ulitmate Software has followed suit with this capability, too). In release 19, the company expanded the number of objects with which users can extend with additional user defined fields. Some of the user-defined fields can be pre-populated via third party data sources.
Cross-field edits/rules for custom fields are now supported, too.
Custom labels. Now users can do global find/replace on field labels. For example, changing "Employee" to "Exalted Colleague" is done via a parameter change and is immediately reflected throughout the system.
HR enhancements. Workday's Cloud Connect capability now also supports e-Verify capabilities. Some 274 benefits carriers now are part of the standard integration connection set. Additional Payroll and time tracking technologies are supported out of the box. Competencies can now be exported from the Workday HRMS while data from LMS (learning management systems) can now be imported into Workday.
HTML5 Adoption. The company continues its direct support for this mobile display standard. Workday now supports Android mobile devices. A new time entry capability exists for iPad and iPhone devices.  This is part of a manager self-service app.
Financials enhancements. This aspect of the product line has been maturing rapidly in recent months. A beefier fixed assets capability in now available, as are better analytics and controls. In a nod to the far-ranging penetration of shared services in many F&A operations, Workday added a number of "On behalf of" capabilities to the product to better support shared services environments. I suspect this will be of interest to Finance & Accounting BPO (business process outsourcing) firms, too.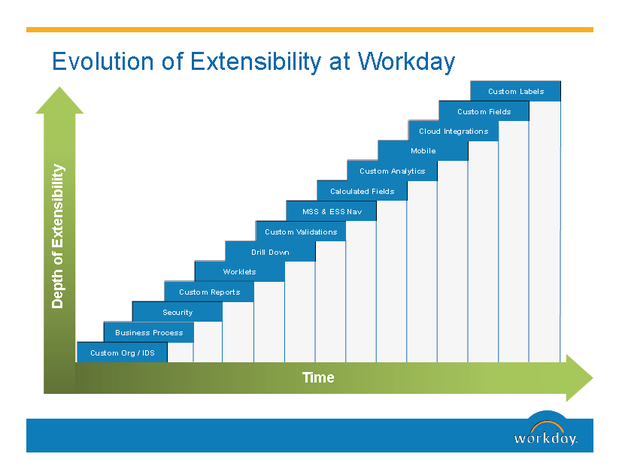 Graphic courtesy of Workday, Inc. – Used with permission
Adaptive Planning's announcements were very impressive, too.  Let me back up first though to put matters in a better perspective. Originally, Adaptive Planning had a single product line that facilitated the creation of budgets. About a year ago, they acquired MyDials a cloud analytics provider that the company had teamed with frequently. Apparently, around the same time, they embarked on the creation of a new consolidation capability. That new consolidation solution was the focus of last week's briefing.
Consolidation software is something I've covered since the late 1980s.  Who else would remember Consco  or IMRS (before it was renamed Hyperion who was then acquired by Oracle)?  I've had countless conversations and briefings with Fortune 500 firms regarding how they'll consolidate financial results from joint ventures, partially owned subsidiaries, operations with different functional currencies, sales agencies and commissionaires, etc. To do them well, one needs to understand intercompany accounting, foreign currency translations, etc. Consolidations are a sticky mess and not for the faint of heart.  There's a reason that few financial accounting software firms ever build a robust consolidation module.
Nonetheless, Adaptive Planning entered the breach and has produced a pretty solid product. I peppered the executives on the briefing call with questions intended to poke holes in the initial release. I must say that all I came away with was one shortcoming: the product currently only supports 12 accounting periods. Granted few firms need weekly or daily closings, so this isn't really a show stopper for most companies except for financial institutions and some retailers. So, if your firm uses calendar or 4-4-5 accounting periods, you're good to go.
What helped Adaptive Planning get this product functional fast (besides the cloud architecture mentioned previously) was that many of the same rules and software that map a different chart of accounts from one subsidiary to an overall consolidated corporate chart of accounts for budgeting and planning were used in the creation of the consolidation tool.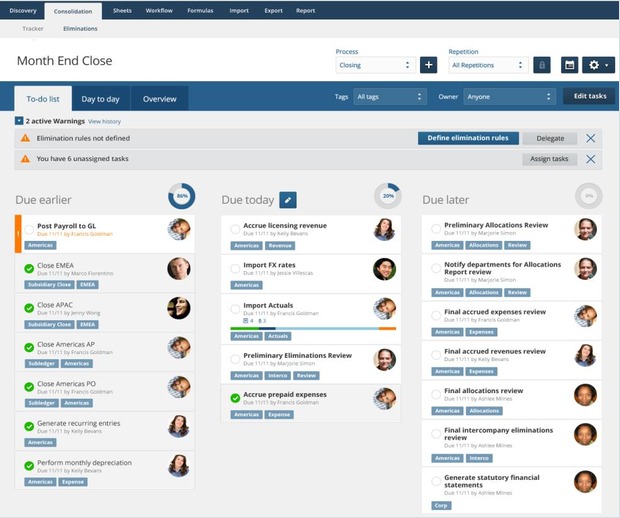 Image courtesy of Adaptive Planning – used with permission
Other noteworthy points include:
User Interface/Experience – The look, feel and navigation of this product, especially the displays re: intercompany accounting entries, is pretty nice.
This solution is all cloud based – The product is designed to connect to all manner of cloud and on-premises financial accounting solutions. Pervasive's integration software is used for many of the pre-supplied connections.
Adjustments can be done to the consolidated or source books
It is targeted for mid and large sized firms
Bottom line for both firms: The amount of new functionality each firm released is impressive. Even more impressive is the very short time each firm took to develop the new capabilities. All of this is a testimony to what single architecture, cloud products can do.  The lack of baggage that requires a lot of additional code and regression testing to make on-premises solutions viable is a drag on software development and the bottom line.
Disclosure: Of the few tech stocks I own, I do have a small number of Workday shares.
(Cross-posted @ ZDNet | Software and Services Safari Blog)