Day 1 at IBM Impact 2013, following a keynote full of loud drums, rotating cars and a cat video, David Millen and Kramer Reeves gave a presentation on IBM's vision for Smarter Process, which focuses on improving process effectiveness with BPM, case management and decision management. There are a number of drivers that they mentioned here that we'll address in our panel this afternoon on "What's Next For BPM" — the big four of mobile, social, cloud and big data — with the point that the potential for these is best seen when tied to mission-critical business processes. Not surprisingly, their research shows that 99% of CIOs looking to transform their business realize that they have to change their processes to do so.
Processes are not just about internal operations, but extend beyond the walls of the organization to take the customers' actions into consideration, binding the systems of record to the systems of engagement. Therefore, it's not just about process efficiency any more: we're being forced to move beyond automation and optimization by the aforementioned disruptive forces, and directly address customer-centricity. In a customer-centric world, processes need to be responsive, seamless and relevant in order to engage customers and keep them engaged and well-served, while still maintaining efficiencies that we learned from all those years of process automation.
This isn't new, of course; analysts (including me) and vendors have been talking about this sort of transformation for some time. What is new (-ish) is that IBM has a sufficiently robust set of product functionality to now have some solid case studies that show how BPM, CM and/or DM are being used with some configuration of mobile, social, cloud and big data. They're also emphasizing the cross-functional approach required for this, with involvement of operations as well as IT and line of business teams.
Their key platforms for Smarter Process are BPM, Case Manager and ODM, and we had a summary of the relevant new features in each of these. BPM and ODM v8.5 are announced today and will be available in the next month or so. Here's some of the key enhancements that I caught from the torrent of information.
BPM v8.5:
Dashboards that allow you to click through directly to take action on the process. The dashboards provide a much better view of the process context, both for instance information such as the process timeline and activity stream, and for insights into team performance. This is now a more seamless integration with their "Coach" UI framework that is used for task UI, including presence, collaboration and social activity. I think that this is pretty significant, since it blurs the line between the inbox/task UI and the report/dashboard UI: analytics are context for actionable information. The process timeline provides a Gantt chart view — similar to what we've seen for some time in products such as BP Logix — and includes the beginnings of their predictive process analytics capabilities to predict if a specific instance will miss its milestones. There's so much more than can be done here, such as what-if simulation scenarios for a high-value instance that is in danger of violating an SLA, but it's a start. The team performance view provides real-time management of a team's open tasks, and some enhanced views of the team members and their work.
Mobile enhancements with some new mobile widgets and sample apps, plus a non-production Worklight license bundled in for jumpstarting an organization's mobile application development. You would need to buy full Worklight licenses before production deployment, but so many organizations are still at the tire-kicking stage so this will help move them along, especially if they can just modify the sample app for their first version. The design environment allows you to playback the mobile UI so that you can see what it's going to look like on different form factors before deploying to those devices. As expected, you can take advantage of device capabilities, such as the camera and GPS, within mobile apps.
Social/collaboration enhancements, including presence indicators.
Integration into IBM Connections and IBM Notes, allowing for task completion in situ.
Blueworks Live integration, providing a link back to BWL from a BPM application that was originally imported from BWL. This is not round-tripping; in fact, it's not even forward-tripping since any changes to the process in BWL require manual updates in BPM, but at least there's an indication of what's connected and that the changes have occurred.
Integration with the internal BPM content repository now uses the CMIS standard, so that there is a single consistent way to access content regardless of the repository platform.
A new BPM on SmartCloud offering, providing a full IBM BPM platform including design and runtime tools in IBM's cloud. This can be used for production as well as development/test scenarios, and is priced on a monthly subscription basis. No official word on the pricing or minimums; other BPM vendors who go this route often put the pricing and/or minimum license numbers prohibitively high for a starter package, so hoping that they do this right. Applications can be moved between cloud and on-premise BPM installations by networking the Process Centers.
ODM v8.5:
MobileFirst for business rules on the go, with RESTful API adapters inside the Worklight environment for building mobile apps that invoke business rules.
Decision governance framework for better reusability and control of rules, allowing business users to participate in rule creation, review, management and release. Considering that rules are supposed to be the manifestation of business policies, it's about time that the business is given the tools to work with the rules directly. There's a full audit trail so that you can see who worked on and approved rules, and when they were promoted into production, and the ability to compare rule and decision table versions.
Blueworks Live, for the enhancements already released into production a couple of weeks ago:
Decision discovery through graphical models, using the emerging decision modeling notation (DMN) from OMG. Decisions can now be documented as first-class artifacts in BWL, so that the rules are modeled and linked with processes. Although the rules can be exported to Excel, there's no way to get them into IBM ODM right now, but I'm sure we can expect to see this in the future. The graphical representation starts with a root decision/question, and breaks that down to the component decisions to end up with a decision table. Metadata about the decisions is captured, just as it is for processes, leveraging the glossary capability for consistency and reuse.
Natural language translation, allowing each user to specify their language of choice; this allows for multi-language collaboration (although the created artifacts are not translated, just the standard UI).
Process modeling and discovery
Case Manager v5.1.1:
Enhanced knowledge worker control and document handling, bringing better decision management control into the case environment.
Modeling complex cases.
Two solutions built on top of Case Manager: intelligent (fraud) investigation management, and patient care and insight.
Integration Bus v9.0:
Decision services built in so that decisions can be applied to in-flight data.
Policy-driven workload management to manage traffic flow on the ESB based on events.
Mobile enablement to allow push notifications to mobile devices.
The Case Manager stuff went by pretty quickly, and wasn't included in my pre-conference briefing last week, but I think that it's significant that we're (finally) seeing the FileNet-based Case Manager here at Impact and on the same marketecture chart as BPM and ODM. I'm looking forward to hearing more about the level of integration that they're going to achieve, and whether the products actually combine.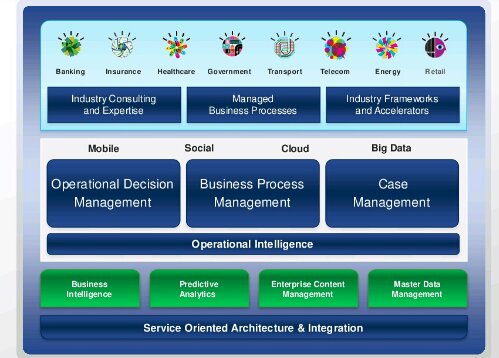 Underlying the main product platforms, they're leveraging Business Monitor and ODM to develop operational intelligence capabilities, including predictive analytics. This can gather events from a variety of sources, not just BPM, and perform continuous analysis in real-time to aid decision-making.
They are also including their services offerings as part of the Smarter Process package, supporting an organization's journey from pilot to project to program. They offer industry solution accelerators — I assume that these are non-productized templates — and can assist with the development of methodologies and a BPM COE.
There are a number of breakout sessions on the different products and related topics over the next couple of days, but I'm not sure how much I'll be able to see given the hectic schedule that they've given me as part of the analyst program.
Apologies for those who saw (briefly) an earlier version of this post; the new version of the WordPress Android app has a new button, and I went ahead and clicked it.
(Cross-posted @ Column 2)