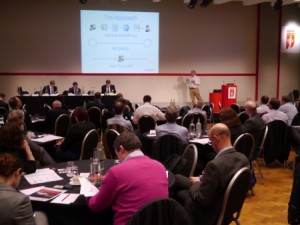 Last month, on 17 April, I was invited to attend the Institute of Chartered Accountants of England and Wales (
ICAEW
)'s annual Cloud accounting event –
Winning business in the cloud: reap the benefits of SaaS
.  A great title with with the promise of making the case for deploying Cloud. The hashtag for the event was
#icaewcloud
– it's now at the stage that if your event hasn't got a hashtag, you're missing out in a big way.  Actually this event was generally good, except for one presenter who was well off message, and with whom I have to take issue – more on that later.  First I have to disclose that ICAEW is one of my biggest customers (we provide the technology supporting
their on-line community
), and that I have a huge amount of time and respect for
Richard Anning
, the head of the IT Faculty.  He and
Paul Booth
do a good job putting on events like this one, and fostering
IT Counts
which is a great resource for peer to peer technology advice in the accounting space.  I should also disclose we resell
Twinfield's online accounting
– they presented last year and the year before, but not this time.
Richard did a fine job chairing and asking instant poll questions to test audience reaction with feedback from little handsets we all had.  The event had 3 product showcases as well as 2 expert presentations.  Chartered Accountant's Hall is a great venue for this kind of event.
Simon Rose of Intuit did a merely adequate job of presenting
Quickbooks Online
.  He didn't handle some of the basic questions well, and I can't work out why all the presenters focused too much on basics – I know your accounting system can do debits and credits – I want to see what's different, why I would switch from the traditional Sage/Quickbooks/whatever accounting solution but merely hosted, to actually doing things differently, doing things better.  QBO being hosted in America, Simon was asked whether the US tax authorities could interrogate a customer's data, and just didn't really answer properly – data integrity and protection is crucial, and I'm sure Intuit have it covered properly, but that didn't come across on the day.  QBO must have more potential than this?
Hugh Scantlebury did a better job presenting
Aqillla
.  It looks a good all round solution but came across a little like an Excel spreadsheet put on-line, with a user interface that's nothing special.  The best job on product was done by Kevin McCallum of
FreeAgent
.  Their solution takes a business rather than double entry bookkeeping style approach, works for freelancers and small companies up to 15 people, and has a very nice user interface.  FreeAgent started in 2007 in Edinburgh and I
know the founders
(Roan Lavery worked with me on the ICAEW project).  They've grown to 53 people and 30,000 paying subscribers which is impressive!  They're probably the largest UK cloud accounting provider in the SME space.  They also mentioned they're hosted in 2 nuclear bunkers at
The Bunker
(more disclosure, The Bunker is a customer of ours too).
Andrew Joint a partner of
Kemp Little
, and Ian Dunn, Assistant General Counsel of KPMG did a double hander on Cloud legal issues.  They highlighted significant Cloud benefits both companies have achieved and went through all of the contractual, IPR, data protection, lock-in and service level issues to consider.  They were great.
My main concern was with
Chris Tiernan
's "The Business Case for Cloud".  The second presentation of the day which should have supported the "reap the benefits" title but didn't.  I can understand that ICAEW want to present a balanced view – accountants are risk averse at the best of times and they don't want sales hype, but it became clear from Chris's presentation and answers to questions that his opinion of Cloud solutions is anything but balanced or accurate.  He was giving a précis of the
document of the same name
he authored for ICAEW (attendees got it free, others have to pay).  In questions he was asked about Cloud advantages and his opinion was that Cloud compared to traditional solutions are generally cost neutral, and asked about advantages his answer was that Cloud was "just sizzle!".  I have to apologise to the other people sitting on my table because I was heading towards incandescent during most of his session and Q&A and that overflowed to disgruntled, strangled noises as well as comments on Twitter.  His presentation did contain a slide of Cloud business case benefits (shown here), which
Kevin Salter has listed in a blog post and and put his own sensible spin on here
.  
Paul Booth also blogged
about Kevin's spin and mentioned the controversy caused by Chris's pitch during questions and on Twitter.  However, Kevin's words of explanation and Chris's slide bullets (or in the longer business case document) did not match the way Chris actually presented on the day.  It's quite clear that Chris's experience of public Cloud solutions like QBO, Aqilla, FreeAgent, FinancialForce (who had a stand at the event), Twinfield, e-conomic, Kashflow, or more importantly larger scale solutions like Saleforce, Workday, Netsuite, or SAP's various Cloud offerings is very limited.  Pretty much all of his examples and positioning was around traditional IT software being hosted in the Cloud versus an outsourcing approach, or around private cloud solutions.  A business case it definitely wasn't!  Instead of presenting the advantages of Cloud solutions, comparing the differences with on premise, explaining where you'll get a return on investment, he kept listing all of the things you will need to worry about.  He also kept mentioning how the cost of change to a new system needs to be considered.  I asked about this.  Surely the cost of change is there whether the new system replacing the old is Cloud based or on premise (he talked as if this was only a Cloud thing).  One of the two big things he ignored is how these costs are different.  Implementation and training with Cloud solutions happens in a different way – a smaller, leaner project.  Training itself is different because Cloud solutions generally have a better UI, more self help, more on-line training, different support and on-line forums.  I asked about this in the Q&A and he just didn't understand – a clear lack of real world experience implementing any of the type of public Cloud offerings I listed above.  The other huge thing he ignored was how Cloud solutions help a company do things differently in ways you can't with on premise.  Where was that concept in his "business case"?  In so many surveys asking why people have deployed Cloud offerings they answer agility ahead of cost savings.  The return from that agility has to form part of the investment case.
After the session we talked.  I agreed to go through his business case document and give him feedback if he would go through my
Intellect's Business Case for SaaS
document (free download, no capture of contact details necessary) and give me feedback.  Although first published in October 2009 (I was only one of over a dozen contributors, but oversaw  the editing job) I stand by everything it says today.  Please
take a look at it
.
If you do get
the ICAEW documen
t you'll see Chris's business case isn't a business case.  There is little explanation of the advantages of Cloud and the only case study example is negative.  The language is positioned very much in the pejorative and the negative throughout.  Nowhere does it cover the proper ingredients of a business case of any kind.  It comes from an old world IT perspective and raises the many different things to consider versus on premise traditional applications or outsourcing.   It feels like the topic is being presented as so complicated you need the help of experts.  Is it a business case or an argument to suggest you employ a consultant to help you through the maze?  My recommendation is only read it if you can get it free, don't pay for it.  The ICAEW have an excellent brand, and this document isn't worthy to be published under it.
In email dialogue since the event I've given Chris detailed criticisms in writing.  Up to now he hasn't responded about the Intellect Business Case in detail apart from to say that we view things differently.  We certainly do that.
UPDATE:
  My friend 
Dennis Howlett
, well know in the accounting world, also attended the event.  As I was writing this and having my email discussions with Chris I wanted to corroborate whether my opinions of Chris Tiernan's so-called business case were just me or I'd got it wrong.  See this post on diginomica he just published yesterday:
ICAEW flubs cloud case