This week I have the privilege of keynoting the Social Business Forum in Milan once again, along with esteemed industry colleagues such as R "Ray" Wang, Esteban Kolsky, Sandy Carter, Michael Brito and others.
The concept of networked enterprises is something that's top of mind for me these days as we chart the next chapter of social collaboration – not as a side dish or a condiment but as a main ingredient in the world of work and by extension, in the new enterprise technology stack.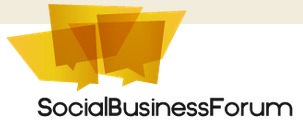 I wrote about this recently on the newly minted Diginomica site, specifically about the difference between "community" and real networks. Big networks to embrace high velocity high value opportunities such as customer driven innovation and service but as important, and a topic that gets left out, tiny operational efficiency opportunities that can bring about huge business benefit by wrapping your network around it. Some examples of real network benefits such as Ariba, Yelp, Numerous learning networks, even supply chain. Here is the full post.
The confluence of data, business process, content and the wrapping of expert networks is something we're only now starting to understand. And it won't come from just extracting data from applications or integrating social into process systems. Where it makes sense to wrap our business networks around our transactions or structured work, we will. Where it makes sense to re-think entire applications stacks and how we fundamentally operate in a network first design, that will happen as well. So far we've tried to emulate Facebook in the enterprise and the results have been less that optimal. As the power of contextual networks grow, they become subcutaneous and the opportunity to then put transactive capabilities on these networks offers entirely new opportunities.
My current favorite example of this? A serious pain point in logistics where networked fleet management for truck drivers of a logistics provider can identify alternate traffic routes to avoid traffic delays and reduce whopping average costs of $79,000 in fuel costs, per truck, per annum. Another one we've seen with customers: Expert networks of nurses looking to train each other not on standard policy stuff but tiny tips and tricks in the operating room that reduce latency and risk. These are contextual and very situational and where  the "what's in it for me" is crystal clear to all participants.
Such networks form from one acute business pain point but once its formed, a slew of new transactional data and operational opportunities surface that can be dropped into these networks. The difference though is that business context and the fundamental raison d'être for these networks are never in doubt.
The first iteration of cloud based applications has been largely focused on copy-pasting on-premise functionality with well understood benefits that comes from cloud based delivery and consumption. But network-first business models, coupled with highly extensible cloud platforms will change how we think about working, how we onboard, train and enable employees and partners, how we serve customers and how we get more out of our supplier relationships.
This is a topic I look forward to discussing with peers in the European community, in particular. Why? Because this audience always keeps you honest. As I said in a previous post about speaking here in Europe:
I'm generalizing here, but customers in North America are often more pre-disposed to experimenting with new technology. The situation in Europe has always been different and European customers have a way of rapidly re-calibrating you down to reality when you start playing buzzword-bingo by using terms such as "social business". These don't mean much to them. European companies are staring a tenacious recession, unemployment, macro re-skilling requirements and industry-specific challenges and opportunities. Regardless of the promise of any new shiny technology innovation, they always force you to winnow down the value of new technology to 2-3 simple benefits that apply directly to established hardships and opportunities. And they glaze over solutions to problems they don't have.
The conversations here are always grounded in tangible results to established problems and they make me a much smarter person with every subsequent visit.
Looking forward to seeing many colleagues in Milan.

(Cross-posted @ Pretzel Logic – Social and Collaborative Business)