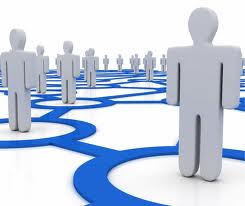 In part one of this series we looked at the ESN vendors and how they are evolving to help companies increase productivity and facilitate new ways of working. For this post we'll focus on how the ESN's are being used and in part three we'll look at enterprise adoption and some of the results of successfully implementing and using the network.
Implementing ESN's, at least from a technical standpoint, is a fairly simple exercise. The process of getting people to use the ESN though, is not as simple as turning on the software. Getting employees to use an ESN involves changing company culture and individual behavior, so as such, requires a fair bit of change management along with the technical installation. From a best practices standpoint, it's critical to provide specific use cases to employees to get them to try the ESN. Without these specific use cases many employees will be hard pressed to justify adding yet another "collaboration" tool to their daily routine. In other words if you don't identify the benefit to the user there's little chance that the employee will even try the new tool. You have to answer the more than the "how" question, instead focus on the "what", "why" and "when" of using the ESN. Use cases answer these questions.
The possible use cases are quite diverse but tend to fall into these categories:
Profile master: provide a single enterprise social profile for all employees.
Strategic planning: Strategic planning requires a diverse set of business collaborators and the ESN is the perfect vehicle to underpin the planning process.
Talent and expertise ID: Finding the right person or people to deal with an issue, answer key questions, etc.
Marketing planning and execution coordination: The ESN can be the vehicle to tie the marketing organization together, both corporate and in the field. It is also the right tool to connect the marketing organization to it's other stakeholders from other executives to the sales and service organizations.
Innovation management: See this post for more on the innovation process. The ESN is a great way to pull the voice of the customer out of your customer community and make it visible across the company.
Product design and development: There are several use cases around product or service design and manufacture, including innovation management listed above. Other use cases can include co-innovation with partners or customers, collaboration across design, engineering and manufacture and tapping into a broader population of employees to include their collective expertise in the process.
Sales Intelligence: Provide a conduit for providing a wide variety of sales tools, including access to  expertise that is scattered across a company.
Recruiting management / coordination, new employee onboarding, and talent and performance management
Tasks coordination and project management: Projects are inherently social and often get into trouble over lack of coordination and collaboration between team members, the ESN can alleviate many of these problems.
Decision support: Maybe the strongest use case, bringing together the "correct" person / people and data in real time around a decision and/or issue is critical for a sense and respond business model (see this post) and the ESN is an important part of this new generation decision support system.
This figure takes a slightly different approach to laying out the use cases: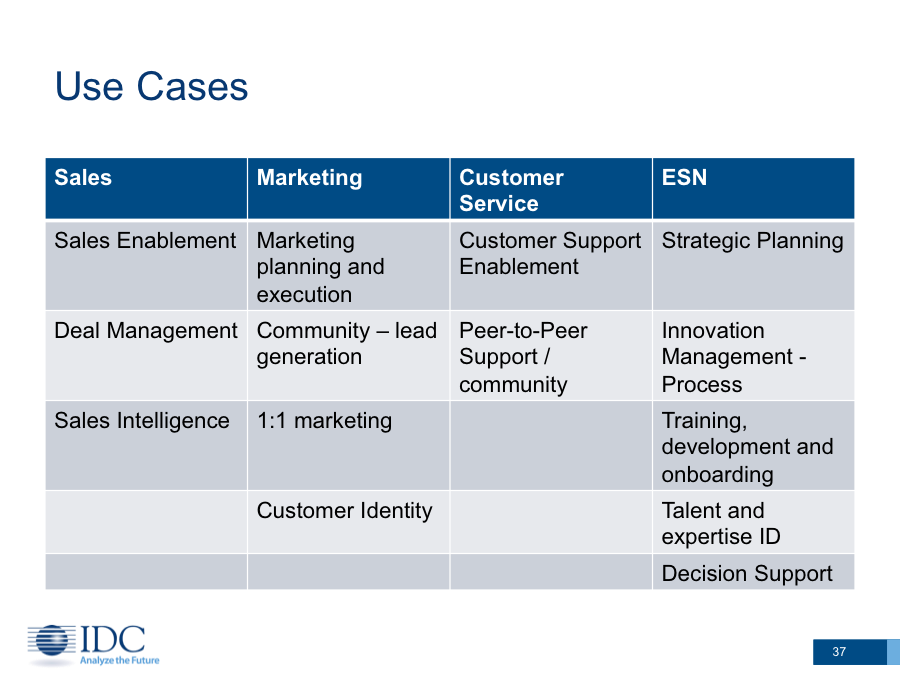 Those are the basic use cases we're seeing as we talk to clients and look at survey results. I'm sure there are others of course, the ESN products are very flexible and adaptable. If you have some other interesting use cases please share in the comments.

(Cross-posted @ Michael Fauscette)