After two intense days, a real geekfest with clients, and then catching up on the info tech happenings so far this week, I'm exhausted.  Yes, we're all buried in Oracle announcements, and it's astonishing how wild is some of the coverage.
Oracle's partnering with Microsoft is interesting (you'll have to check out the relevant press releases, news conferences, etc. for yourselves as I'm racing to get this up and so skimping on the citations), but it has only moderate relevance to our neighborhood at the intersection of HRM and IT unless you're an HR tech vendor making technology stack and/or cloud deployment choices.
But Oracle partnering with Salesforce and further with NetSuite, and putting Fusion HCM front and center in both announcements, now that's something that really catches our attention.  So I've been reading the coverage, checking the jungle drums and actually contemplating all of this while trying to plan trips to Israel and India.
Across the coverage, here's some of the livelier possibilities (summarized in my own words with a few opinions but definitely inspired by what I've read) that have been suggested:
Has Salesforce thrown their ecosystem partners under the bus, and not just the obvious Workday, but also such vendors as Vana and Cornerstone OnDemand?
Has Salesforce effectively said that their own development platform, to which some very good in-house folks and an entire ecosystem of development partners have committed their careers, is no where near as good as what Oracle can give them?
Could this really be about Oracle taking over Salesforce as well as NetSuite (eventually — let's not run afoul of regulatory or market queasiness on such a deal), meanwhile playing off against each other the putative hopes of those two CEOs of becoming Larry's successor (with Larry laughing all the way into the richest of rich retirements)?
Is this more about the usual infrastructure plays and much less about PaaS and applications?
Is this really about Oracle's fear of Workday and/or SAP and a mega-effort to cut them off at the pass?
Has HANA so upset Larry's view of what's fair in love and database war that he's determined to rid the planet of HANA by getting out in front with his own cloud and then in-memory alternatives?
Are Marc and Zach, not unlike the Manchurian Candidate (not the remake but the original, in which a super scary Angela Lansbury played the Larry role), mere puppets whose early Oracle training was part of a many decades long plan for enterprise technology dominance (in all honesty, the Manchurian Candidate tie-in is entirely my own reaction as far as I know)? or
Is this just "cloud" cover for Oracle's drubbing in the markets after a not great quarter, a lot of cloud action set in motion when Oracle realized that their current financial and business results would be disappointing?
Frankly, I can't imagine how Marc expects to push his own applications if he becomes the poster boy for Oracle's Fusion apps.  But what do I know about how the Valley operates?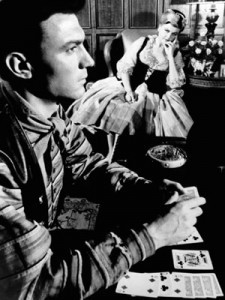 There's been a ton of terrific coverage from bloggers/reporters at (and this is just a subset) Diginomica, ZDNet, Constellation, IDG, AllThingsD, InfoWeek, our own Enterprise Irregulars as well as from the financial press, so I know you'll find something for everyone in the many different views expressed.  As for me, I don't have a clue what all of this means, but I'm sure we'll understand these developments a lot better when they move from press releases and news conferences to actions on the ground.  In the meantime, I'll probably have nightmares tonight, something that happened after I saw the Manchurian Candidate when it opened in 1962.
[Full disclosure:  Workday has been a recent client as have been several competitors, including Infor, ADP and Ceridian.]
(Cross-posted @ In Full Bloom)