I now christen thee a new alliance partner
This week, Oracle announced an alliance with Microsoft.
Yesterday, Oracle and Salesforce.com announced a new relationship. Among other things, they agreed that Salesforce would use Oracle's hardware and 12c database in their cloud datacenters. Additionally, Oracle's HCM (Human Capital Management) and Financials software would be used internally by Salesforce. Or maybe not.
This afternoon, Oracle and NetSuite (with a supporting role by consultancy Deloitte) announced their new arrangement. The gist of this deal will have Oracle closely integrating its HCM products with NetSuite's product line, as the two firms aim to jointly sell into large divisions of major corporations or large mid-market firms.
Should you care about these deals?
I believe the answer is "sorta".
Geoffrey Moore, famed author of Crossing the Chasm and I had a conversation ages ago, where we discussed alliances between tech firms. He said that the best alliances are between a camp director and a bunch of young, little campers: The director tells them what to do and how to do it. Everyone follows orders. The worst alliances are akin to a dance between two bears: Geoff argued that if you could even get the two to even stand up and hold hands, it would only last a few seconds or minutes, as one bear would step on the other's feet and a major fight would break out.
And, so far, I'd have to agree with him. The really big alliances between really big firms rarely work out for long. So, if you're betting that these deals will really deliver something of long-term value, be careful. There's risk in deals where only the products, not equity, are being connected.
In the SFDC/ORCL deal, the hardware and database components of the deal are not that interesting to me. In some financial work I did this year, I looked at where the money goes in a multi-tenant cloud SaaS firm. To my pleasant surprise, I learned that these firms only spend about 10 percent of their revenue on the outfitting and operations of their cloud centers. That cost also includes the headcount needed to apply upgrades for the customers using that vendor's product. That means these facilities are very efficient and cost effective in the delivery and maintenance of application software. (To see the whole report, cloud financial software vendor Intacct Software has a copy of the report available for download here.)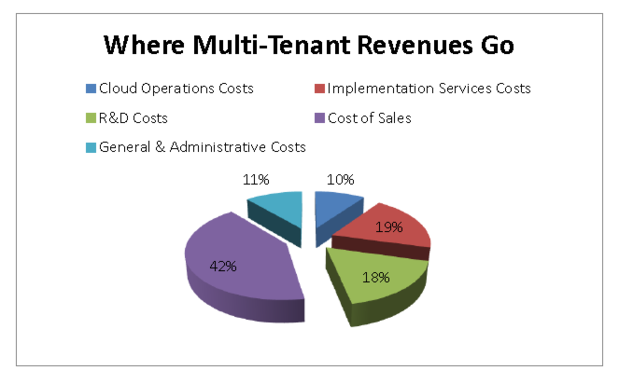 (Copyright 2013 TechVentive, Inc. All rights reserved.)
So, if Salesforce buys Oracle servers for its cloud operations, it shouldn't have a real impact on their financials one way or the other. But Oracle will doubtlessly gain from the PR generated by saying that Salesforce's cloud centers are "Powered by Oracle".
Oracle's newest version of its database product is an interesting product, and offers a multi-tenancy capability that Salesforce could exploit for some of its larger customers. Being able to lock down multi-tenancy to a container level could be a selling point to customers with security concerns or firms who want the ability to better control their instance of their cloud solution. When I got briefed on 12c last year, I thought the product was well suited for outsourcers and cloud firms. I guess Marc thinks that, too.
According to an Oracle press release issued yesterday:
Salesforce.com plans to standardize on the Oracle Linux operating system, Exadata engineered systems, the Oracle Database, and Java Middleware Platform. Oracle plans to integrate salesforce.com with Oracle's Fusion HCM and Financial Cloud, and provide the core technology to power salesforce.com's applications and platform. Salesforce.com will also implement Oracle's Fusion HCM and Financial cloud applications throughout the company.
But in a Barron's piece today, a William Blair financial analyst, Justin Furby, apparently did some great follow-up work on the announcement:
Although the press release was somewhat vague, our conversations with Salesforce suggest that there is not a referral agreement in place between these two parties to sell Fusion, and thus Oracle does not add distribution capacity as part of the arrangement … Salesforce is a long-time Workday customer (since 2007), and some investors likely interpreted the announcement as an indication that the company is replacing Workday with Fusion. Our conversations with Salesforce, however, indicate that it is maintaining Workday, and that longer term, it may look to adopt certain components of Oracle's Fusion HCM, but we believe it would still maintain Workday as its core HR vendor. We also believe that Salesforce has no near-term plans of upgrading to Oracle's financial cloud offerings, as it just recently completed a lengthy upgrade of its on- premise Oracle financials.
If true, that news takes a fair bit of wind out of the sails of the ORCL/SFDC alliance.
On the other hand, if the original wording of the announcement is true, then the Salesforce deal is disturbing on a couple of other levels. Salesforce spent a rumored $65 million to buy Rypple in late 2011. It enhanced this HR product and relaunched it as Work.com. Now, if Salesforce chose to use Oracle's HCM product instead of its own, what should current Work.com customers think of Salesforce's commitment to the HCM space? What is a Salesforce salesperson to say if they try to pitch Work.com to a prospect? This agreement could kill Work.com.
Nothing makes a software vendor squirm more than to ask them what software they use to run their business. If it isn't their own, why would you buy it if they won't use it either?
Workday and FinancialForce.com are two software firms that are probably reflecting a lot on who their real friends are in the world of software. FinancialForce is a joint-venture cloud financial software firm with a third of its stock owned by salesforce.com. Workday, a force in the HCM cloud space (and a growing threat in the cloud financials space) has a been a big partner of salesforce.com.
SAP will likely weigh in with its own announcements or opinions on these deals shortly, but I would advise it to wait until after Thursday's press conference with Benioff and Ellison. More clarity and less hyperbole should come from this.
Yet, in all of these alliance announcements, software buyers should ask "Why is all of this commotion taking place, and why now?" Buyers should ponder:
Does recent softness in Oracle earnings/revenues mean they need to find more partners to help drive up deal flow?
Are pure-play cloud competitors (eg, Workday) digging into Oracle's mostly on-premises customer base? Should I pay attention to this?
Will these cloud alliances create the appearance of a more cloud-friendly Oracle?
If a vendor can change alliance partners overnight, how much value should I place in any of these non-equity relationships?
Software buyers, though, care about a couple of factors, and alliance announcements alone can't necessarily override these concerns. First, software buyers, when given a choice, will prefer to get a large, fully integrated suite of products from a single vendor and they really want these products developed on a single set of tools. Yes, you can stitch together several cloud solutions from different providers, but these are only technically integrated. For example, just because you can get a half-dozen cloud HCM apps from a couple of HCM vendors doesn't mean you'll have one HR book of record, no redundancy, and no latency. You'll actually have a lot of each, I suspect.
Software buyers want functionally rich products. Cloud or not, if the solution doesn't solve their business problem, it doesn't get chosen. But in recent calls I've done with CFOs, solid CRM, Office Automation, storage, HR, HCM, and financial software solutions are being happily bought in cloud deployment models. And some great manufacturing solutions are popping up in a number of verticals, too. The cloud apps space is maturing fast, and vendors must deliver new products in new deployment models or get left behind.
Software buyers want a vendor that treats them well. And, on that point, many on-premises vendors that are only recently discovering the cloud (or buying their way into it) are finding out that software buyers, like elephants, have long memories. The sins of the past will likely be re-visited on the vendors who mistreated their customers before.
My final note on this is that software buyers are not dumb. They see vendors and their "alliances" for what they are (or aren't, in some cases). And, if you're a vendor or customer and need a refresher, please, I beg you, read this satire piece I did on the vendor-to-vendor relationship space: Software Smack Talk Playbook.
Well, I can't wait to see what today's press conference brings. Can you?
(Cross-posted @ ZDNet | Software and Services Safari Blog)