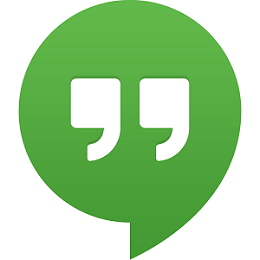 Google+ turned two this week and by all accounts Google has won over critics with a compelling social network experience. I have been a fan from day 1 and perhaps what I admire most about Google is that they ignore the pundits while playing a very long game of their own making… so while my initial reaction that Twitter and Tumblr would be the biggest losers, which obviously was not the case, there are other factors that are worth looking at.
Simply put, Hangouts have been enormously impactful on me and how I work. Here is something they nailed and it is so profound that I didn't even realize it until just this week, Hangouts are built around the notion that a video experience is YOU first, and then whatever you are sharing second.
Think about how Gotomeeting and Webex handle video, it is something that is added to the act of presenting something and despite a significant push to feature video, I have encountered few instances where someone says "hey share the camera!". Contrast that to Hangouts where video is a primary experience… Google just figured this out while Webex and Gotomeeting are still locked into their traditional mode, which also limits their ability to have an instant video conference in the absence of a persistent conference room.
We have a very distributed company and on any given day I will have between 3-6 planned video Hangouts and a bunch of ad hoc ones. This has become such a fundamental mode of communication for me that I invested in SteelSeries gamer headsets to provide the best audio quality while also improving the comfort factor.
The integration with Google Calendar is another winner, where adding a video conference to a meeting is as simple as clicking the link. No scheduling service, passwords, dialin numbers. and so on… it just works.
Another experiences I had recently that drove this home was at HP with one of their sophisticated teleconference systems. Yes, it was remarkable but I kept thinking that I could do something a lot easier with Hangouts… instead of getting a bunch of people in dedicated rooms just to talk to each other, we could have each run a separate video in Hangouts and the result would have been the same in terms of what we accomplished… and for free.
The integration of Talk with Hangouts is a mixed bag and I hope that Google restores the ability to place voice calls from the Hangouts add-on in Gmail. Google has an interesting integration challenge that is a result of an embarrassment of riches with a robust chat product that built on XMPP, Google Voice, and Hangouts. A big change they announced last month was the abandonment of XMPP, which has a lot of features as well as a big developer community, and the replacement of Talk with Hangouts. I like the user experience and having my chats pop up in Hangouts in addition to Gmail, but the degradation of features is disappointing, most significantly the inability to place voice phone calls right from Hangouts.
I don't know where they are going with this but the result for me is that I now use Skype more frequently for voice calls instead of hitting the phone icon in Talk and placing a call.
Lastly, the mobile experience is completely seamless, and that extends to video as well. On my Samsung S4 the mobile video conferencing is surprisingly good and glitch free… how far we have come from commercial video phones that started showing up in the 1980′s that used super expensive hardware and puts POTS through an extreme gymnastics routine.
(Cross-posted @ Venture Chronicles)