Recently, I spoke with Patrick Tickle, EVP of Products for Planview . Planview is an Austin, Texas based project-portfolio management (PPM) solution provider. I'll admit I have a soft spot for Austin tech companies as they are near so many relatives, friends and the family ranch.
I've covered Planview before. They've got some really nice functionality beyond the core PPM space – one notable product is their NPD (New Product Development) solution. Their product line covers IT project/portfolio management, NPD, Finance portfolio management and services management. This call with Patrick was mostly about the new version of their PPM solutions: 11.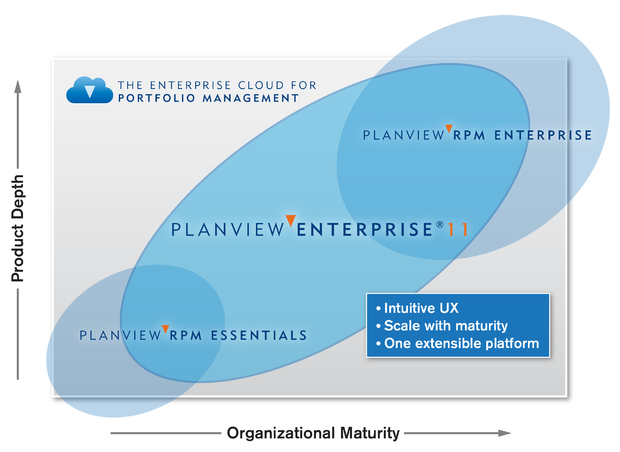 Image courtesy of Planview, Inc. – All rights reserved
In our conversation, Patrick identified three trends they're seeing that are having a big impact on PPM:
–          Rapid uptake of cloud solutions
–          A more BYOD, mobile, etc. enabled executive wanting information anywhere, everywhere and anytime
–          Solutions that impact the entirety of an enterprise, not just a specific function or division
To that end, Planview put a lot of effort into upgrading the user interface (UI) in this new release. Application software vendors everywhere have come to realize that people, especially mobile (smartphone or tablet) users, don't want to enter information following some set of panel forms found in most desktop applications.  Older client-server solutions that are now hosted on a cloud server are sometimes the most painful to use today as the UI and UX (user experience) are so out-of-step and clunky when accessed on mobile devices.
New UI and UX solutions should provide the information a user needs at point of need. They should anticipate many data needs and process steps. Forcing users to adhere to a pre-defined, and possibly low/no value-added, process flow is also bad UI/UX design.
Planview's new UI was designed for the mobile user. The products now use HTML 5. Planview used over 100  customers to test out the new UI flows and designs. These users clocked in over a thousand hours banging on the new UI. The result is a market relevant product.
Planview also souped up their decision making/reporting for mobile and other users. The data is served up (via cloud capabilities) in a really clean manner. One area where their reporting gets really interesting is in big data. Portfolio management technologies are computationally intensive. There can be thousands of variables that need to be simultaneously 'solved' to identify an optimal business result. By doing these calculations in-memory via a big data analytics solution, businesses can run all manner of 'what-if' simulations, in real-time, to see the impact of different projects on the corporation. Planview has also added visualization reporting capabilities to these outputs.
(For a really radical approach to UI/UX see what Infor (www.infor.com) has done with their product line this last year).
(Cross-posted @ ZDNet | Software and Services Safari Blog)