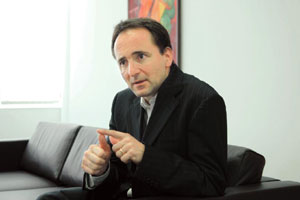 I think Jim Snabe, co CEO of SAP is creating his own new terminology for reporting numbers when he says about 1H13 numbers
"First of all, we don't like to be in the category of traditional software players. We're now a cloud company. And as opposed to the competition, we didn't outsource the cloud to partners. We actually invested in cloud ourselves."
Let's parse that:
a) "we don't like to be in the category of traditional software players"
If you look at segment revenue, EU 4295m of total revenues or 56% comes from maintenance. More than half of revenues from legacy is a pretty good definer of "traditional software company". And if you truly want that to shrivel and die, why do you keep trying to raise those rates?
b) "We're now a cloud company".
Cloud revenues = EU 457m or 6% of revenues. To be considered a cloud company you have to  be close to 100% like salesforce, Netsuite, Workday, AWS.  Here's another thing that's baffling –  SAP said at Sapphire,  it had 29 m cloud users. Annualized, that's only EU 60 a user?
c) "We actually invested in cloud ourselves."
So no credit to SuccessFactors and Ariba who invested before SAP acquired them? And btw, how much capex has gone into BYD and HANA cloud? Not sure SAP has disclosed details I asked for in this post
(Cross-posted @ DealArchitect Full)