Repeatedly over the last few months I've encountered clients struggling with an important new problem: A vast and growing wealth of social assets. While we often talk about cultivating corporate social capital — in other words making sure we cultivate connections in social networks and over social media to the people and companies that matter to us — the topic of social assets is more overarching. It has to do with all the relevant digital assets that a social business has or needs to have.
Managing the Social Media Assets of the Enterprise
Social assets include what I call the three Cs: Connections, conversations, and content. If you don't know what these are at pretty much all times for your social business, then you are almost certainly underperforming. And having an understanding of these, with a rich set of metadata including information such as categorization, tags, importance, and relevance means you aren't doing a lot of things you should that can drive the high performance of your efforts in social marketing, CRM, and customer support.
Unfortunately, social asset management sounds a lot like a lot of other often quite technical disciplines like content management, digital asset management, analytics, business intelligence, and so on. It sounds hard, expensive, and something you'll think about when you have a much larger social team and more budget.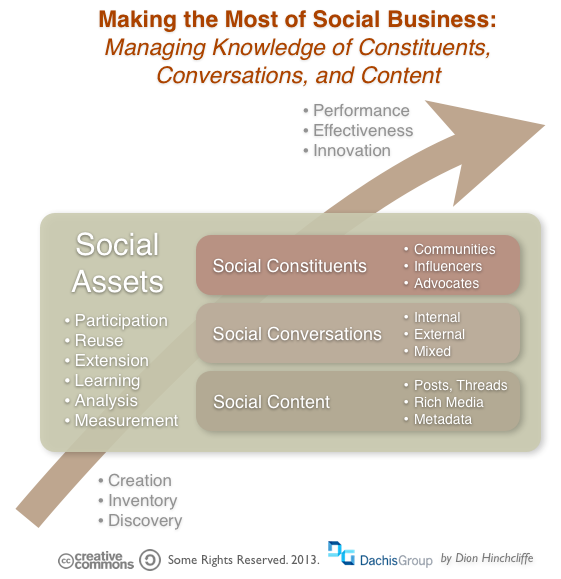 Fortunately, nothing could be further from the truth. When I see a company managing their social assets well and putting them to good use with clarity and purpose, they tend to have one thing in common: They've made it easy to do for everyone and they've made it a priority. You can start simply with a wiki list of great posts and videos along with a spreadsheet of influencers and grow more sophisticated as you go.
In simple terms, managing social assets in the enterprise can and should be straightforward of engagement at scale: Enterprises should know who they are connected with, as well as who they should be connected with, in terms of individual people (especially influencers and advocates) and just as importantly, online communities. A clear sense of what conversations are happening out in the social worlds, and which ones the company has created, is central to the whole point of being social. Everyone should be able to find these events and participate in them. Finally, a company should also know what content it has in social channels so they can be extended, reused, and otherwise maximized in value, since active conversations are some of the most important content there is.
In other words, if people are always coming to your community manager and asking if there are any good YouTube videos on a given company topic, or who is the right person to get involved in an important social media discussion, or how engaged a particular set of constituents is with the company, then you probably need better social asset management.
To level set however, we have to understand the end goal of social assets. In short, it is to develop, manage, and optimize the company's brand narrative. As as Debi Kleiman recently pointed out on the Harvard Business Blogs, one of the biggest challenges we have today is the responding effectively to the fragmentation of our brand narrative across a constellation of digital touchpoints:
This means the journey now taken by brands and consumers together is filled with many more twists and turns. It spans the web, social networks and mobile devices, a dazzling array of digital means to access information, make decisions, buy products and then share purchases, opinions and ideas about brands.

Each of these stops along the journey is a point of light in the digital mosaic that creates a brand narrative built on billions of interactions. As we've seen, the brand narrative can become something wildly different from the one the CMO envisioned.
A cogent, straightforward, and lightweight social asset strategy will allow you to respond and engage in a way that creates results for your brand narrative in a far more cost effective and agile way. The best methods for doing this are still emerging but they seem to be the following:
Three Ways To Better Manage Social Assets
Track and manage key social constituencies. Create and maintain a list of your influencers (employees, partner, customer and marketplace), advocates, and online communities that matter to your business. Plenty of tools can help with this now and it's much easier to do now
Monitor and inventory social conversations, internally and externally. Remember, social business works best when it's a full spectrum activity and strategic conversations are now often fragmented across, within, and outside your organization. Some of these will be crises, while others will be important collaborations with the marketplace and your industry. Know them and be able to direct people to them as needed. Metadata on performance, especially of social media marketing campaigns, is also a vital part of social asset management.
Maintain an up-to-date social content directory. Don't make people painstakingly look across dozens of platforms, social accounts, and/or communities for the right conversation, post, image, video, podcast, or other artifact they need for their work. Provide an easy-to-access directory and search index for them to reference.
So, the last big question is where does social asset management belong? We are starting to see it become a key function of the emerging social media center of excellence. It makes the most sense as a central repository of information on a company's brand narrative that can support activities across the organizations and with business partners.
As we've long seen that knowledge librarians can make social business perform better by making high value information more discoverable and reusable, I look forward to the management of social assets to make the community manager, campaign manager, and social business user in general much more effective and fast-moving in their daily activities.