Last week I discussed how Sage Group plc is creating a data cloud that will bring new navigation, capabilities and functionality to Sage customers. It's an approach that sets the stage for an overhaul of their product line.
Today, I'll cover the efforts SAP is undertaking to breathe new life into existing products.
First some background: SAP users are using, by SAP's estimation, some 300,000 different input screens that were designed for different product lines, numerous product versions, different vertical industry requirements, etc. These screens were developed using approximately 20 different software tools. To overhaul this much code in its entirety is an expensive and time-consuming chore.
Fiori
SAP is taking a step-wise, measured approach using a Pareto rule (80/20) process to fix the most used application screens first. Enter 25 newly released Fiori applications. Fiori applications represent the most used 35-80% of user transaction screens within the ECC (the successor to the R3) product line.
Fiori apps have one code line and use popular web browsers to accept user transactions.  IE 9, IE 10, Safari, Chrome and other browsers are supported. The software has a built-in gateway to the ECC products. Attachments to other SAP product lines (e.g., Business One) are not currently developed but may be in the future.
Fiori exists as part of SAP's effort to "Renew" the older software that customers are using and may continue to use for some time. Given the high cost to upgrade a full SAP product installation, businesses might appreciate getting modern, newer screens (and in some situations a better input process) for common, frequently used transaction input screens.
The Fiori applications are only 9-10 weeks old at this time. Customer interest/adoption of them has been brisk, to date.
Personas
SAP has another effort underway called Personas. The goal of this work is to simplify SAP ECC input screens. Over the years, SAP has added countless new fields to its input screens to accommodate the functional needs of different verticals, various tax/regulatory requirements, etc.  As a result, the screens are often full of data elements that aren't relevant for this particular client or user.  All of those extra fields simply clutter up the screen workspace and detract from the user's experience with the solution. A case could be made that superfluous fields are counterproductive from an efficiency and effectiveness perspective.
Personas permit users to possess more streamlined screens that are personalized for their firm and role. Personas do not permit users to add all-new data fields though. Personas can combine fields from a couple of related screens into one as long as the new persona screen stays within the functional boundaries of a given transaction. So, for example,  you could build a single screen persona that permits rapid entry of one-line invoices as all of the header and detail information for this simple transaction can fit on one screen and does not violate back-end processing requirements.
Personas do not change the functionality of the back end ECC system. They simply make some functions faster and easier to complete.
Design & co-innovation center
Some SAP customers want more than software tools. They want help in graphic design and better understanding of how people really want to interact with technology.
Like Infor's Hook & Loop  , SAP has created a design center staffed with non-standard SAP types. This facility was opened in early 2011 in Los Altos, California and is humorously called AppHaus. AppHaus' mission is to help SAP customers imagine a different and better way for their technology and people to interact.  This Mercury News article has more on AppHaus.
Bottom line
UI and UX redesigns alone won't make old products suddenly relevant again.
Software vendors that have grown via the acquisition of many different software firms also inherited those firms' data models, technical architectures, user interfaces, screen development toolsets, etc. The retooling that a new UI brings is great but it is only the beginning of a long journey to re-tool and re-imagine what a product could and should be in an age where video, big data, analytics and, of course, cloud/mobile/social exist. Many acquired solutions were lucky to possess maybe one or two of these.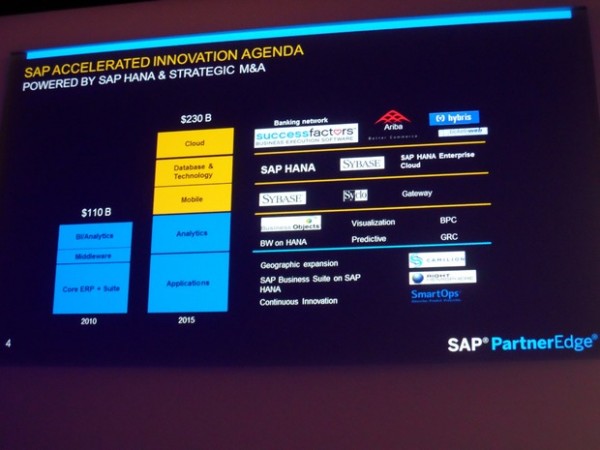 SAP M&A Map Photo copyright 2013 – TechVentive, Inc. – All Rights Reserved
Of all of the efforts, I've seen lately. I think I can say that:
Infor's UX work is the most ambitious and it went well beyond a UI refresh. They put analytics and cloud squarely into rethinking how work and the user experience should be.
SAP focused on the high use transaction input screens. SAP gets the most bang for the buck quickly but there still are a lot of other screens and other product lines that need reworking.
SumTotal reworked their applications from the ground up. They took the hardest route but now they have a product line that is consistent, technically, from top to bottom.
Sage has rationalized its product line some and sees cloud and web devices as the future. It is making a data cloud the linchpin of new product development.
(Cross-posted @ ZDNet | Software and Services Safari Blog)