Like many Gmail users I have adopted the new tabbed interface that started rolling out in June. I like the organization model and find their categorization remarkably accurate, which in light of the ongoing government data privacy scandals only makes me more concerned about the machine processing of communications. However, it is useful and I only wish I could create my own tabs.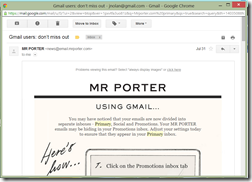 However, not all is rosy and I have noticed with particular interest that a number of prominent email marketers are sending out "helpful" messages about moving their messages from the Promotions tab to the Primary tab.
There are a couple of outcomes here that are interesting to consider. First and foremost is that a subset of marketers will be successful in moving to the Primary tab, based on the appeal they present to their customers. This will create a two-tier model where preferred marketers are valued disproportionately based on their customer appeal while the blunt force trauma marketers will be forced to change tactics as more email systems, presumably, adopt the Gmail tabbed interface (which for the record is not a new idea, AOL's Altomail service had this well before Gmail).
The impact on email marketers is being felt and several studies are now coming out that quantify that impact. Email marketing analytics firm Litmus has published some stats showing a significant decline in Gmail open rates. However, their data is more complicated than a single stat would suggest and what they are questioning is how many Gmail web users actually open email in general in the web interface and in alternative apps, such as iPhone's integrated email app.
ReturnPath has a different study that states that delivery rates are up but open rates are down. My own experience aligns with the ReturnPath data, which is that consolidating marketing email in one tab has increased its visibility to me, and for the merchants I care about I actually read their content more regularly. This aligns with the 2 tier model I suggested in the intro, open rates in my inbox are down overall but for the select vendors that target well and present offers I care about, my open rates are up.
I actually like email marketing but find the vast majority of merchants doing it really poorly. They clearly don't connect with me on the basis of what I care about and will respond to, it is for the most part dumb marketing. Email marketers will have to deal with the new UX controls that email providers are building in by presenting more utility in their marketing campaigns, which means knowing more about me at an interest level, not just my demographics.

(Cross-posted @ Venture Chronicles)