Silicon Valley is a place built by nerds, arguably for nerds, but once big money gets involved there is always tension between the business people and the technical people about control.  Think, for example, of the famous Jobs/Sculley falling-out back in 1985 where the business guy beat the technical guy.
However, in part because of events like that, the business people don't always win.  In my estimation, there is a sort of "founder pendulum," which swings with about a ten-year period between one end (where technical founders are "out") and the other (where they are "in').
Through most of the 2000s, founders were "out."  There are two ways to tell this:  (1) you hear incessant griping about "founder issues" at Buck's and at the Rosewood and (2) you see young PhD's paired fairly early in the company's evolution with business-person CEOs, often as a condition of funding.
Somewhere towards the end of the last decade, founders were "in" again.  This  makes me happy because I think engineers and scientists are the soul of Silicon Valley.  That's why I had so much fun on the board of Aster Data.  And it's why I like companies like Rocket Fuel.
Rocket Fuel was co-founded by Stanford computer science PhD George John and two fellow Yahoo colleagues in 2008.  John remains its CEO today.  I met him during my year-off in 2011 and was impressed, so I've kept an eye on the company ever since.
During the interim, the thing I most noticed about Rocket Fuel was its corporate personality.  Like Splunk, they do a great job of having a strong corporate voice.  Let's look at some of the culture and communications that are part of this voice.
"The rocket scientists behind Rocket Fuel."  (Turns out John actually worked for a while at NASA.)
"In 2008, a group of data savants came together."
"Rocket Fuel is bringing hardcore science to the art of marketing."
"Rocket Fuel has great machine-learning scientists"
Jobs titles like "Rocket Scientist" and "Chief Love Officer."
A professorial founder with a great TEDx speech.
The launching of (client-labelled) weather balloons from the Nevada desert at a company event.
A "nerdy, but loveable" culture (straight from the S-1 and beats "don't be evil" any day in my book).
And, of course, a great puzzle recruiting billboard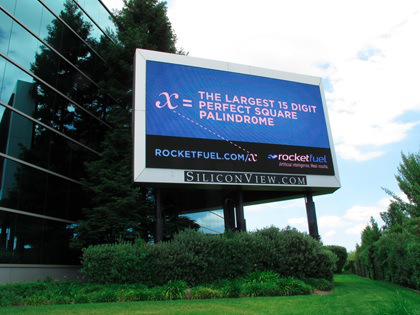 I know that many Silicon Valley companies have odd job titles, geeky events, nerdy billboards, and a focus on recruiting great engineers.  Somehow, however, to me, Rocket Fuel comes off as both more mature and more authentic in this race.  These aren't geeks trying to look cool, playing sand volleyball, and partying till dawn; these are geeks being geeks, and quite happily so.
I noticed when the company filed for an IPO back in August, but didn't have time to dig into the (amended) S-1 until now.
Here are some takeaways:
Revenue of $44.6M and $106.6M in 2011 and 2012, 139% growth
Revenue of $39.6M and $92.6M in 1H12 and 1H13, 133% growth

Gross profit of $42.9M in 1H13, up from $17.6M in 1H12, with gross margin of 46%

R&D expense of $6.1M in 1H13, up from $1.5M in 1H12 and representing 7% of sales
S&M expense of $34.6M in 1H13, up from $15.5M in 1H12 and representing 37% of sales
G&A expense of $10.9M in 1H13, up from $2.6M in 1H12, and representing 11% of sales.
Operating loss of $8.8M in 1H13, up from $2.1M in 1H12, and representing 9.5% of sales
EPS of ($1.43) in 1H13, up from ($0.31) in 1H12
So the financial picture looks pretty clear:  really impressive growth, no profits.  Let's take a quick look at how things are scaling.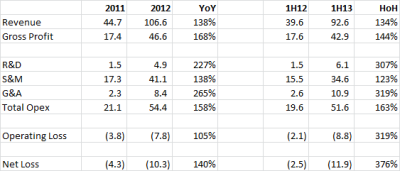 Revenue growth is decelerating slightly as the more recent half-over-half (HoH) growth rate is slightly lower than the YoY
R&D expense is way up, growing 307% HoH.
S&M expense is up, but is scaling slight slower than revenue (as one generally likes) at 123%
G&A expense is way up, growing 319% HoH.  Let's assume a lot of that is IPO-related.
Total operating expenses are growing at 163% versus revenue at 134%.  Usually, you like it the other way around.
The risk factors, which run nearly 20 pages, look reasonably standard and include risks from being able to file as an "emerging growth company," implying more onerous disclosure, and the potential inability to comply, later.
The most interesting risks related to user rejection of 3rd party cookies, European Union laws, and potential "do not track" standards.  They cite customer concentration as a risk, but their top 20 customers in 2011 and 2012 accounted for (only) 39% and 38% of revenues.  They also cite access to inventory, which makes sense a threat to anyone in this business, particularly in the case of social media and Facebook FBX.
As of 6/30/13, the company had about 405 employees.
Prior to the IPO, the company has raised about $75M in capital.
The company will have 32.5M shares outstanding after the IPO.
The increase in the fair market value (FMV) of the stock, as shown in the option grant history table, is impressive.  That's an 8.9x over the 18 months shown.

After the IPO, the three cofounders will own 10.7%, 9.0%, and 3.9% of the company, Mohr Davidow will own 35.1%, and Nokia will own 8.3% (assuming no exercise of over-allotment).
As per my S-1 tradition, I never get all the way through.  I stopped on page 125 of about what appears to be 185 or so pages.  If you want to dig through the rest of it, you can find the S-1 here.
In conclusion, I will say that I'm an enterprise software guy and don't know a whole lot about the digital advertising business.  I believe that Rocket Fuel is both a middleman and an arbitrage play, that middlemen can sometimes get squeezed, and that the name of the game in arbitrage is consistently outsmarting the other guys.  So, in reality, I believe there's more to the geek culture than simple fun:  it's critical to winning in the strategy.
How this will end?  I don't know.  Do I think George John can build one heck of a team?  You betcha.  Do the big guys against whom they compete have people as smart as Rocket Fuel's?  Probably.  Are the big guys' best-and-brightest working on this particular problem?  I don't know.
(Often, in my experience, that is the difference.  It's not whether company X has people as smart as startup Y; it's where they've chosen to deploy them.  Even Facebook and Google have a bottom 20%.)
I do know that programmatic video advertising company Adapt.tv recently sold for $405M to AOL and that YuMe had to reduce its IPO pricing, but then got off to a strong first day in the public markets (only to gradually drop and then rebound).  Are these clouds or silver linings?  I'm inclined to think the latter.
I hope things go well for the company going forward and congratulations to them for all the success they've had thus far.  #revengeofthenerds
See my FAQ for disclaimers.  I am not financial analyst.  I do not recommend buying, selling, or holding any given stock. I may directly or indirectly own shares in the companies about which I blog.
(Cross-posted @ Kellblog)