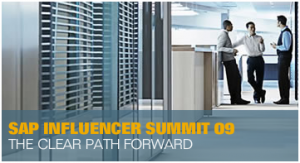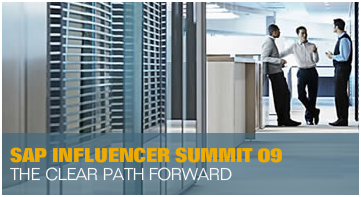 I have to admit that I enjoy going to conferences and summits as an analyst, journalist or paid speaker.  I'm treated well by the vendors who bring me, my expenses are covered (and if a speaker, a fee too of course) and I know a lot of the staff who of whichever vendor it is and I have a lot of friends among them.  Plus, I get to see my other friends in the analyst world at most of them so I see them a fair amount.
Make no mistake about it. They are my actual friends in many cases, not just business acquaintances. So it becomes a pleasure to hang out with these good people.
The SAP Business Influencers Summit is no exception. It's fun to hang out and I do  – and I am deluged with good food and drink.
But again, make no mistake about it. This doesn't buy vendors anything (and they don't expect that it does either) but a thank you for making the experience pleasant and fun.
So I'm going to lay out what I thought about SAP's announcements and presentations – and their upcoming direction as announced at this conference. Watch for the thanks part at the end.
There is one caveat. What I'm going to discuss is not about CRM but instead about their general direction and particularly their small and medium sized business offerings for 2010. These are areas I know a pretty substantial amount about but am not by any means the expert in. So this post might be under 3000 words. Ha.
SAP in General
SAP seems to be in the throes of a re-invention. One that they are calling "a Clear Path Forward." And, like any company in the throes of anything, its not clear or clean but there are some emergent patterns that can be pulled from the the swirling mass. Are these "things" encouraging? Yeah.  Are they revolutionary? For SAP maybe. For the world's perception of SAP? Probably not, even if they pull them off.  In reality? No. But they are interesting and if done well, and messaged appropriately might lead to some market gain this coming year. But what I'm suggesting is a tall order, given the chaos of the reinvention and what seems to be a puzzling message.
The Content in the Broad Sense
Here's where we get to the 6.0 on a 10 meter part. Again, I was tracked through on an SME track so that's what I'm going to focus on along with the big picture.
The two phrases that were heard all day yesterday were "innovation" and "end to end"   Along with that theme was "Someday the three letter acronym will disappear" which is a. probably untrue and b. a little self-serving in that it dovetails with how SAP is attempting to re-invent themselves.  They "don't want to be an ERP company anymore." In fact, are claiming that they aren't anymore and their approach at least bears that out. They are attempting to organize how they go to market around not even solutions but end to end processes such as "lead to cash." Viewing things that way, they think, aims squarely not at IT leadership but business management which is more interested in accomplishing business goals. However, I doubt that business leadership see their business problem as a specific process that needs to be engineered. I've never met one that thinks that way, in fact. However, "lead to cash" would encompass pieces from SAP CRM, SCM, maybe SRM, and order management, for example. In their new approach SAP has "modularized" everything so that you can cherry pick what you need to use from the SAP ecosystem.
This approach works well with the enterprise, but of course, if you look at the SME market, it doesn't necessarily fly.  Interestingly, at least in how the SME market for SAP was presented, it was deeply product centric.  They have 3 products for the SME market.  They are Business One, SAP All in One, and Business by Design.  I'll get into a brief discussion of each later but, while SAP was attempting to change their DNA, the old chromosomes reasserted themselves in the approach they took to the SME market place…