Vishal Sikka – head technology geek at SAP – started us off at TechEd with a keynote on the theme of how great technology always serves to augment and amplify us. He discussed examples such as the printing press, Nordic skis and the Rosetta Stone, and ends up with HANA (of course) and how a massively parallel, in-memory columnar database with built-in application services provides a platform for empowering people. All of SAP's business applications – ERP, CRM, procurement, HR and others – are available on or moving to HANA, stripping out the complexity of the underlying databases and infrastructure without changing the business system functionality. The "HANA effect" also allows for new applications to be built on the platform with much less infrastructure work through the use of the application services built into HANA.
He also discussed their Fiori user interface paradigm and platform which can be used to create better UX on top of the existing ERP, CRM, procurement, HR and other business applications that have formed the core of their business. Sikka drew the architecture as he went along, which was a bit of fun: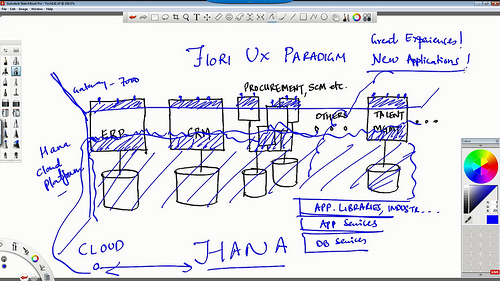 He was joined live from Germany by Franz Faerber, who heads up HANA development, who discussed some of the advances in HANA and what is coming next month in version SP7, then Sam Yen joined on stage to demonstrate the HANA developer experience, the Operational Intelligence dashboard that was shown at SAPPHIRE earlier this year as in use at DHL for tracking KPIs in real time, and the HANA Cloud platform developer tools for SuccessFactors. We heard about SAS running on HANA for serious data scientists, HANA on AWS, HANA and Hadoop, and much more.
There's a lot of information pushing out in the keynote: even if you're not here, you can watch the keynotes live (and probably watch it recorded after that fact), and there will be some new information coming out at TechEd in Bangalore in six weeks. The Twitter stream is going by too fast to read, with lots of good insights in there, too.
Bernd Leukert came to the stage to highlight how SAP is running their own systems on HANA, and to talk more about building applications, focusing on Fiori for mobile and desktop user interfaces: not just a beautification of the existing screens, but new UX paradigms. Some of the examples that we saw are very tile-based (think Windows 8), but also things like fact sheets for business objects within SAP enterprise systems. He summed up by stating that HANA is for all types of businesses due to a range of platform offerings; my comments on Hasso Plattner's keynote from SAPPHIRE earlier this year called it the new mainframe (in a good way). We also heard from Dmitri Krakovsky from the SuccessFactors team, and from Nayaki Nayyar about iFlows for connecting cloud solutions.
TechEd is inherently less sales and more education than their SAPPHIRE conference, but there's a strong sense of selling the concepts of the new technologies to their existing customer and partner base here. At the heart of it, HANA (including HANA cloud) and Fiori are major technology platform refreshes, and the big question is how difficult – and expensive – it will be for an existing SAP customer to migrate to the new platforms. Many SAP implementations, especially the core business suite ERP, are highly customized; this is not a simple matter of upgrading a product and retraining users on new features: it's a serious refactoring effort. However, it's more than just a platform upgrade: having vastly faster business systems can radically change how businesses work, since "reporting" is replaced by near-realtime analytics that provide transparency and responsiveness; it also simplifies life for IT due to footprint reduction, new development paradigms and cloud support.
We finished up 30 minutes late and with my brain exploding from all the information. It will definitely take the next two days to absorb all of this and drill down into my points of interest.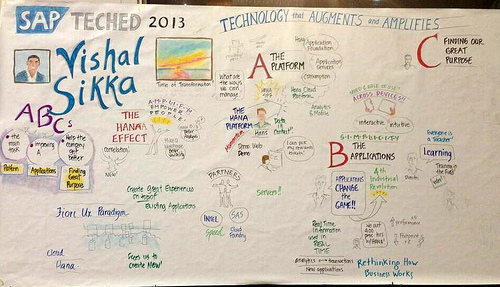 Q&A with audience (in person and online):
SAP has always had an excellent technology platform for building applications, used to build their core enterprise applications. HANA is the latest incarnation of that platform, and one that they are now choosing to monetize directly as an application development platform rather than only through the applications. HANA Enterprise Cloud and HANA Cloud Platform are enterprise-strength managed cloud versions of HANA, and HANA One uses AWS for a lower entry point; they're the same platform as on-premise HANA for cloud or hybrid delivery models. I had a briefing yesterday with Steve Lucas and others from the Platform Solution Group, which covers all of the software tools that can be used to build applications, but not the applications themselves: mobile, analytics, database and technology (middleware), big data, and partners and customers. PSG now generates about half of SAP revenue through a specialist sales force that augments the standard sales force; although obviously selling platforms is more of an IT sell, they are pushing to talk more about the business benefits and verticals that can be built on the platform. In some cases, HANA is being used purely as an application development platform, with little or no data storage.
Clarification on HANA Cloud: HANA Enterprise Cloud is the cloud deployment of their business applications, whereas HANA Cloud Platform is the cloud version of HANA for developing applications.
SAP is all about innovation and looking forward, not just consolidating their acquisitions.
Examples of how SAP is helping their partners to move into their newer innovation solutions: Accenture has a large SuccessFactors practice, for example. I think that the many midrange SIs who have SAP ERP customization as their bread and butter may find it a bit more of a challenge.
Mobile has become a de facto part of their work, hence has a lower profile in the keynotes: it is just assumed to be there. I, for one, welcome this: mobile is a platform that needs to be supported, but let's just get to the point where we don't need to talk about it any more. Fiori provides mobile and desktop support for the new UI paradigms.
As with the keynote, too much information to capture live. This session was recorded, and will be available online.
(Disclosure: SAP is a customer, and they paid my travel expenses to be at this conference. However, what I write here is my own opinion and I have not been financially compensated for it.)
(Cross-posted @ Column 2)