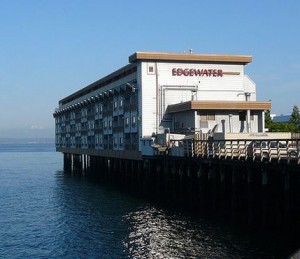 I have literary pretensions – and make no mistake about it – they are pretensions.  I think about clever things to say and great or at least easily explainable headlines and turns of phrase – even soundbites that can be repeated – or in the 21st century – retweeted.
Yet there are times when simple is better and simplest is best because the complexities of the subject at hand require simplification – or else obfuscation reigns.
This is one of those times.  I'm going to attempt to explain what I think I saw and heard at the Microsoft analyst summit last week – which is a company righting its ship and building out the pieces that support that realignment and redirection.
But all is not done yet.
The summit itself – in very brief
Last week, I spent a couple of days at Microsoft's expense in Seattle for their annual, always extremely well done analyst summit, along with about 70 other stalwarts of the trade.  As always, the execution of the summit from the moment of inception was immaculate – thanks to both Microsoft and the Waggoner Edstrom crew devoted to Microsoft business applications.  So, before I get into the meat of this tome, I want to thank them all for their incredible hospitality. This is a truly topnotch bunch – and they are, to a person, genuine, good and gracious people.
The summit itself was held at both the Microsoft campus and the rustic Edgewater Hotel – which was lovely and strange – because rustic and on the water aren't an exact match – so it made for a serene, woodsy – and slightly misaligned environment.  But it was pretty and comfortable and had a strange fireplace with bears in the room.
But for once, that's all I'm going to say about the digs and event because I need to set the stage and fine tune the details and keep it simple all at once. That will take some work.  Keep in mind, after I situate it, for the most part, I'm going to focus on CRM, since, well, you see the name of this blog.
The biggest picture first
Back in 2007, I wrote a blog post where I defined something I thought was important about Microsoft and about how Microsoft should be thinking of things. (I might have been and still might be the only one who thought this was important). The basic premise in 2013 terms runs like this:
Microsoft is the only company on the planet that can legitimately claim that they can support you in the way you live, end to end. That means they have the technology/software (2007) or, the devices and services (2013) to give you tools to improve how you do things from playing to working to living in general.  This can be Xbox One, Dynamics CRM, HealthVault, Azure, Skype, Lync, and I can go on for pages.
Because of that and because the contemporary trends demand it, Microsoft (and all technology companies of any intelligence and substance) needs to think, not in terms of channels anymore, but in terms of ecosystems (is this pronounced "echo-systems? Or eeeco-systems? You tell me). That means recognizing that your company's product and services, tools and experiences aren't entirely sufficient to offer the complete matrix of "things" that one needs (one being an individual or an institution) to carry out day-to-day life.  To be that kind of provider, you have to recruit partners to an ecosystem.  That means for example, if you are short social monitoring as an offering that your customer base requires, rather than build it yourself, you could acquire a company that does it – or, you could recruit a company to participate with you in providing it.  Not a channel partner per se – a value added reseller or an ISV in this scenario plays a different role. They go to market with you and they operate as a peer, not a subcontractor.
Those two premises were the core of that 2007 discussion which you are welcome to read righthere.
Let's fast forward to 2013.  Now, we are living in a world where companies are able, more easily than in the past, to present an integrated best of breed "suite" of applications, devices, and services.  We also live in an era where access and communications drive technology choice, as does a "consumerized" user experience that someone can not only just live with, but also enjoy.  Finally, we live in an era where increasingly the choices made by buyers are driven by self-interest as well as corporate interest – and they can overlap at times, but they don't always do that.
Microsoft seems to understand this and they have aligned their vision, their mission, their messaging, their provision of products, services, tools and experiences, their internal culture and organization, and their execution against this into a single not-quite-but-almost-breathtakingly complete game plan that they've started to execute against.  I'll point out the why "not quite" later on.  For now, trust me, they are a newly defined and refreshed company ready to do battle.
This manifested itself in a very strategic mission statement which paraphrased went like this:
"We want to provide devices and services for individuals and businesses that empower people at home at work and on the go."
This trickles down into everything they are doing.  In fact, it lies at the heart of what they announced from the mouth of Ballmer as their three most important strategic initiatives in the coming period – Windows 8.1, Xbox, and Dynamics CRM. If you think of this trio in the context of end-to-end support for someone's life – it makes almost preternatural sense that these would be the most important initiatives at Microsoft.
The x-info
Keep in mind, though I talk about righting the ship, refreshed outlook, and new turns, this isn't exactly a company mired in failure – despite what Microsoft naysayers are telling you.   We got a look at how they've been doing – and the numbers – at least from the CRM perspective – are nice.
To begin with, they threw out a teaser. Microsoft Dynamics business applications revenue all in all had grown 12% in fiscal year 2013.
Of course, I was looking for the CRM numbers and I got them.  They have 40,000 Dynamics CRM customers and 3.5 million users – which means an average of 85 users per customer.  Not that this means anything particularly important. But the large number of Dynamics CRM customers correlates with what I anecdotally hear all the time from customers in the midst of vendor selection or just finishing it.  "It came down to salesforce or Microsoft Dynamics CRM…."  That statement is what I get in about 60% of the cases regardless of size of the company.
The overall strategy
What became clear to me as I watched, listened and conversed is that Microsoft isn't just using this end-to-end thing as a marketing message, it permeates their devices and services outlook. They are dead serious about becoming a company that will be able to provide mobile and fixed devices that are always connected and synchronous so that wherever you go, you will easily and, they hope, enjoyably be able to do the things you do that make your life happy.  This is driving them.
This means that with a cloud backbone driven someday by Azure, and mobile devices by Nokia with Windows 8 mobile touchscreens, you can take care of family tasks and then ubiquitously follow those tasks to completion while at the office or in the car (though hands free of course) and then back at home – as well as get your work done regardless of where you work and what your job is.
Kiril Tatarinov (EVP of Business Applications, in the new org chart) showed a slide that followed this life spectrum that covered hardware, high value applications, cloud services and infrastructure, machine learning, and user interfaces that were consistent with contemporary consumer experience – all in service of life. Life meant, according to Microsoft, research, meetings both social and business,  work, serious fun and a multiplicity of other events that could make up a day in the life – though I'm guessing it was a day in the life of a senior Microsoft employee.  But the concept was good.
What was both fascinating and smart was how much of this was built around mobile devices.
If you looked at it, you might also think that Microsoft was betting somewhat big on social – though I don't look at it this way. They talked a great deal about the integration of Yammer and Skype into their Dynamics applications and Office 365 etc.  While the integration, especially of Skype is still primitive and kludgy (click on the number you want to dial and it opens Skype as an independent application rather than a fully embedded one), to me this is a big step forward.  Aside from finally finding a value for the vastly overpaid for Yammer, it is a step, along with Azure's emergence, in a unified communications strategy that could, if they recognize it as such, reap huge dividends for Microsoft.  I'm not 100% sure they see it this way. I do.  Either way, whether they see it as social integration because of the activity streams of Yammer and the video conferencing, chats and calls of Skype, or, much better, as unified communications, this is an important step forward in a highly differentiated strategy that could become dominant if done well over the next two to three years.
On the mobile side, though, they are clearly making a huge push. Ironically, the summit was on the same day as Apple released their new operating system version, OSX Mavericks (in the interest of disclosure, I downloaded it and installed it, while sitting in the event). Microsoft, clearly aware of who they compete with on the mobile devices side, emphasized in multiple ways, the brilliance (and it is pretty close to brilliant) use of their Windows 8.1 touch experience on both phones, tablets and even large screens.  Windows 8.1 seems to have gotten touch right.  Microsoft proved that to us in multiple ways.  First, there was a demo under NDA that I won't talk about except to say, that they showed a touch driven experience that went from a tablet to a huge Windows 8.1 touchscreen that was seamless – and it was live not canned in any way.  It was breathtaking for the ease of use and for the look and feel.
They also showed us multiple devices that are coming on the market in November built around Surface 2, their touchscreen.  To be candid and to make a blatant play for Microsoft to give me a Surface 2 Pro device, I was on the original Surface Board of Advisors back in 2007 when it was a big ol' honkin' touchscreen tabletop run with Vista as the operating system. Even then it was cool.
Now, with the Windows phones and the 8.1 tablets, it is what it should have been as far as the user experience goes.  It works and it works really well. I have to admit, though, that I didn't care for the weight, form factor or pricing of Microsoft's own Surface 2 hardware.  They were heavy, kind of squarish and overpriced – even if the device was going to be used for enterprise grade productivity. For example, the highest end Microsoft Surface 2 Pro device, with 512GB was….get this….$1799!! Why in god's name would you buy that? You can get a fabulous laptop with a lot more storage at a lot less price.  On the other hand, Dell has their own Windows 8.1 Surface 2 Pro tablet line called the Venue 8 Pro that is $349.00 for the 64GB model. I'm buying that rather than an iPad Air.
To be fair, they are in the midst of the early stages of a user interface and user experience revamp that even at this early time, is pretty admirable. Some of the business apps, notably the Orion release of CRM and a specific application of Dynamics AX, were excellent and even approached beautiful.  I was given to understand that they are full bore on the UI/UX transformation. It's a smart move, because UI/UX revision is a major focus among technology companies as the idea of consumerization of IT gains ground increasingly. This is at the point that ERP/CRM company, the $3 billion Infor has a slogan that goes "Beauty is a core competency."
There is one thing that I think they need to clarify though when it comes to messaging  – particularly around the business apps – that can propel them where all this indicates they could go.
Throughout the event we were told that Steve Ballmer would injure anyone who claims that Microsoft is a platform.  The hardcore commitment is to devices and services. At the same time that this was being emphasized, we heard multiple instances of Microsoft being referred to as "a platform for (fill in the blank)."  I'd get the story straight.
Conceptually, Microsoft is onto something here.  They are putting together, hiccups notwithstanding, the technology strategy and packages that they need to make them not just competitive but potentially once again dominant – though not in a smothering way – but more in the 21st century version of dominant – as a significant leader in the technology markets.
The cultural alignment….
So far, I've told you how – at the highest levels, they have aligned their technology with their mission and vision and declarations. But, to a lesser extent, they are also realigning their culture.
Two things were emphasized at this analyst summit when it came to internal Microsoft life.
First, their changes in the executive structure.
To simply state, Steve Ballmer is the CEO (as will be his successor); Kevin Turner remains the COO. They are the only C-level executives that remain.  Every other division leader is an Executive Vice President.
Hold this thought.
Second, they now have success managers who as Kiril said many times, "have no revenue accountability. They are only accountable for the success of their clients." These managers, according to Kiril, were a result of Yammer's idea and were piloted in the UK. It went well and so they are now "all out hiring" for the position.  He described it as one that also was responsible for spreading Microsoft devices and services in the companies they managed.
To address this specifically – great idea, slight execution flaw; idea not Yammers.  I first ran across success managers 5 years ago at Right Now who had the responsibility (not revenue either) of seeing to it that their clients succeeded. They were seen as spreading the software gospel as a focus though.  That was assumed as a byproduct of their work as a central contact to the company for the customer.  White gloves account management.
If you look at the slight flaw in the thinking, that their job is spreading the sales of other Microsoft products and services into the company as a primary aspect, then these people existed for 15 or more years. IBM had these kinds of upsales/cross sales without quotas in 1996.
I think that Microsoft either needs to explain this better or rethink it a little. Meaning if up-sale/cross-sale is a big part of their job, they are going about it wrong. That should be a result of success but not a measurable focus on it.  If I'm wrong about what Microsoft thinks about success management, I apologize, but that's what I heard explicitly at the summit. Either way, the concept is smart and right.
But there are bigger things at stake. Cultural transformation has to take place at scale and the scale is huge at Microsoft with just over 100,000 employees globally.  Take a page out of IBM or others' books; who are empowering all their employees to deal with customers. This takes time when you are as big as IBM or Microsoft but it is ultimately worth it.
Maybe they are doing it, but we didn't hear about anything but the org chart and the success managers; the latter a great move, the former I'm not sure of the value either way.
The market strategy
What makes Microsoft's tasks so difficult and what makes them so interesting is that they have a market scope that is beyond comprehension.  They have so many addressable markets, that it becomes incumbent on them to pick and choose which of those markets they address. But there are a few that are obvious, especially when it comes to business applications, because of the highly competitive domain it is in and because of the specialization and granularity required to please contemporary customers.  That would be vertically specific markets and Microsoft addressed that.
They did it by implication with a customer panel that spanned small business, retail, energy and public sector.  They did it explicitly – with an almost obsessive interest in retail, which carried over from the last two Convergences and analyst summits. In fact, while their work, trust me, in retail is genuinely brilliant, they are too narrowly focused on it – at least in the public discussion about it.  Besides retail, and retail and retail, they named financial services (for CRM) and manufacturing (back office financials and operations).
What makes this strange, at least as  a public declaration in a meeting, is the following:
On stage, during the customer panel, sat representatives from the Cities of Charlotte, NC and Columbus Ohio.  That, in combination with their known strength in public sector, would indicate that this would be an area of concentration for them.
They own the sports world around CRM (and there was some private interest here on how to approach it) with the kind of vertical dominance other companies dream of.
Starting as far back as 2006, Microsoft began acquiring companies in the medical and healthcare fields – ranging from Azyxxi to Medstory to Sentillion.  They clearly understand the transformation of the health services industry and how personalized health has become. They have an app that aggregates detailed health data for individuals and works on most devices and with most operating systems called HealthVault that is an excellent indicator of their insights into the transformation of health services and health care.  Yet, they didn't even mention this health services – a mistake to me.
I can't decide whether Microsoft is being coy in not mentioning such obvious verticals with large fresh markets or they are just missing the boat. While I'd like to think the former, I'm leaning to the latter.
They need to fix this lack of vertical clarity fast since they will get themselves eaten for lunch by companies like SAP, Oracle and to a lesser extent salesforce and by the increasing number of players who are filling vertical niches – e.g. Digital Roots in analytics in mostly automotive or NexJ, Cegedim and hc1 in healthcare.  If I were them, I'd:
Sit down and target more than the three that they emphasized.
Either acquire companies to map to the ecosystem or partner with companies to do that in each vertical. See the paragraph above.
Make it clear to the world that they have a well thought out vertical effort.
CRM…finally
Needless to say, given my life as a CRM whatever, the cockles 'o me heart (arrgghh) were warmed when I heard that CRM was deemed by Mr. Ballmer as one of the three most important initiatives for the upcoming year for Microsoft.
Much of the reason, I think, for CRM's increased importance inside of Microsoft has to go to two places:
The CRM market forces
I don't want to be an a-hole, but (maybe I do then) I've been saying that if you look at CRM revenue numbers since the late 90s, when there started to be revenue numbers, the only thing you see is that they went up.  They are now a verifiable market of $18 billion as of this year and Gartner forecasts it as $36 billion by 2017 (which includes all customer-facing technology and services).  Additionally, CRM technology has been, again despite its sometimes very bitter and poison-spitting naysayers, flexible and adaptable enough to make people comfortable enough to buy a system and other technology providers to integrate with that system. Additionally, it is the provider of the system of record for customers. Technologies that support customer communications, interactions and transactions are important to companies as the customers get more demanding and the business world more competitive and specialized. So the market is not only there, but the addressable market keeps increasing.
Bob Stutz and team
Since Bob Stutz came to Microsoft as Group VP of CRM a little over a year ago, he has transformed the product. Starting a little with the prior release (called Polaris) but especially with the Orion release that has been recently announced, he has completely upended what they had – threw it away in fact. In its place, he built something that is nothing like it was – a complete overhaul. It is a product that provides very strong sales force automation, good marketing (as of Orion. More on that in a minute) and, at the moment, average customer service (which will get much stronger with Leo, the next release) functionality. The interfaces are completely rethought and redone. They are contemporary. The user experience is excellent – see the guided sales process in the SFA part. There is a flexible, customizable toolkit with a new set of APIs (with even more in the works) that allows for vertically and horizontally specific templates. I can't talk about what I've seen but…impressive.  Microsoft can thank the product team under Jujhar Singh for this dramatic revamping.
Equally important, they, more than any other group at Microsoft, have figured out the ecosystem.  They've spent a great deal of time (Bill Patterson, take a bow here) acquiring or partnering with those companies that they need to fill needs.  For example, we've seen that manifest in multiple ways.
The acquisition of the Swiss-based Netbreeze – now integrated as a (buzzword alert!) multi-lingual, social ,text analytics platform being given away for free as part of the Dynamics CRM offering.
The OEM agreement recently signed with sales and marketing intelligence market leader InsideView that will provide Microsoft Dynamics CRM customer free valuable business focused intelligence.
The go to market partnership with Moxie, with Moxie positioned as the high end knowledge based customer service offering for Microsoft customers – especially the on-premise customers.
All of these are representative and important moves to position Microsoft Dynamics CRM as a market leader.  Microsoft can thank Bob Stutz here and they should.
The CRM product down the road…
To be fair, the CRM product is a work in progress.  As I said, super strong SFA, good marketing – especially bolstered by the acquisition of integrated marketing management vendor, Marketing Pilot; and the customer service average.  The next release Leo is designed to focus on customer service and should strengthen the capabilities, though I haven't seen even the prototypes so I don't know that.
Mira, the release after Leo is focused on something I did see (we all did) a fairly well advanced version of a marketing campaign management tool that was pretty amazing. It brought drag and drop functionality to the campaign planning – made it awe-inspiringly simple.  The tool resembled one of those graphic workflow tools but designed for marketers who aren't math majors or geeks.   You can quickly build scalable and complex marketing campaigns without a lot of fuss and that will provide point level feedback as the campaigns are being run.  I know of no one else who does this.
The Subra release which will follow Mira,  is a Netbreeze release with the full Twitter firehose and geo-analysis.
Keep in mind, we aren't talking about old school release cycles here. This isn't something that will take us to 2015. In fact, Subra, which follows, Mira and prior to that, Leo is slated for the 1stQuarter of 2014.   Agile.
Look, I'd be remiss if I didn't point out some omissions in the Microsoft CRM product and strategy. They still haven't really comfortably integrated the Marketing Resource Management (MRM) tools that Marketing Pilot has – nor do they have a clearly stated business model that I know of for selling it as either an integrated whole or standalone or both – though I think for the moment, it remains both.  I think.  They don't have the analytics engines, Netbreeze notwithstanding, that their competitors are building though there are multiple small companies ripe for acquisition or partnership out there that could provide what they need.   But these are all nitpicks (except the analytics one. LOL.) by comparison to what happened over the last year plus.
The conclusion…
While I speak for myself, I think that, judging from the conversations going on at the event and after, many of the attendees at the analyst summit saw what I saw. Microsoft is a company in transition – but it's the kind of transition that if executed well, could make them even more of a market leader than they have been over the years in multiple ways and the one big one – end to end.  But as Robert Frost said in his poem, "Stopping by Woods on a Snowy Evening" "
"But I have promises to keep,

And miles to go before I sleep,

And miles to go before I sleep."
Right now, Microsoft seems wide-awake – and running fast to chew up those miles. I think they should be able to keep up the pace and meet those promises that we saw at the summit. At least I hope so. Personally, time for me to go to sleep. Nite.
(Cross-posted @ ZDNet | Social CRM: The Conversation Blog RSS)