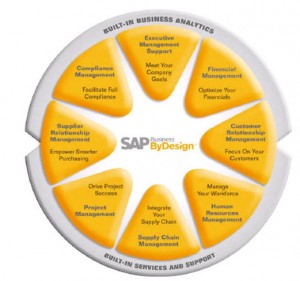 During the last two years, SAP over-hyped its mid-market software as a service (SaaS) product, called Business byDesign, leading to a mediocre reputation in the market. At this week's Influencer Summit, the company announced significant steps it is taking to improve the situation.
To learn more, I attended several briefings with SAP executives on this topic. Among others, these meetings included:
Rainer Zinow, Senior Vice President for SME Strategic Solution Management
Christoph Behrendt, Senior Vice President for Midsize Enterprises
Jeff Stiles, Senior Vice President for SME Marketing
In the video interview below, I asked Rainer about SAP's plans to bring Business byDesign successfully to market. He discussed three primary pillars on which SAP's strategy rests:
1. Reference customers. Customers want to buy a proven solution, so SAP developed a "charter program" for early adopters. At present SAP has over 100 Business byDesign customers, and about 50 are live (or close).
2. Scalable operations model. The economics of on-demand software delivery require the vendor's platform to support customer growth while maintaining relatively flat infrastructure costs. The market criticized SAP market for failing to develop an infrastructure that would allow the company to achieve scalable economics of this type. To address these issues, during 2009 the company migrated Business byDesign to a multi-tenant system that it intends to fully deploy by the end of 2010.
3. Ecosystem. Business byDesign is extensible by partners using standard Microsoft development tools such as .NET and Visual Studio. By making it easy for third parties to build specialized applications on Business byDesign, SAP hopes to create a vibrant ecosystem around the product.
THE PROJECT FAILURES ANALYSIS
The market has not been kind to Business byDesign, but SAP may well be on its way to overcoming most of the major objections. Only time will reveal whether SAP can achieve its goals during 2010, but certainly it has made great progress during this past year.
Customer acquisition costs. Talking with ByDesign customers during the last year, it's clear they are generally well-treated and happy with SAP. However, these charter customers represent an investment for SAP, and economics demand the company eventually transition to the kind of self-service model offered by its competitors. That transition presents challenges for SAP related to both economics and defining a different model for customer engagement and services.
Multi-tenancy. Regarding scalable infrastructure economics, I suspect SAP has finally handled this problem and tamed the multi-tenant beast.
Platform. Platform strategies can be great if a software vendor can convince partners to sign up. Success depends on offering developers attractive financial terms while making the Business byDesign platform easy to use and straightforward to program.
———-
My take. Despite making great progress during 2009, SAP's greatest challenge with Business byDesign still lies ahead. When SAP offers the product as a general release to the market, will it be strong enough to attract and retain customers? That question won't be answered until 2011 at the earliest.