In the Pulitzer prize winning "The Soul Of A New Machine", Tracy Kidder wrote of an ad that Data General produced but never ran. It read "They Say IBM's Entry Into Minicomputers Will Legitimize The Market. The Bastards Say, Welcome"
Jeff Bezos should run a similar ad, as IBM takes aim at Amazon Web Services.
Actually, he would be better off saving promotional dollars for his holiday sales.
The "well informed" to use a phrase from IBM's ads know
a) IBM has been charging its hosting and data center customers in compute and storage many times what AWS has been charging customers for at least 5 years now. And it will continue to do so to many customers that continue to be averse to public clouds.
b) IBM has not made even a fraction of the cloud capex investment in the last few years that Amazon, Google and others have made. And that reluctance will likely continue. Most services and software companies are allergic to large capex – IBM is at least 75% that if you look at its revenues.
c) IBM defined the standard for world class data centers – 20 years ago. Today, Facebook, Microsoft and others define that in every aspect of energy efficiency, infrastructure cost, tax burden and countless other areas.
Welcome, IBM – now make up for lost time and unmade investments.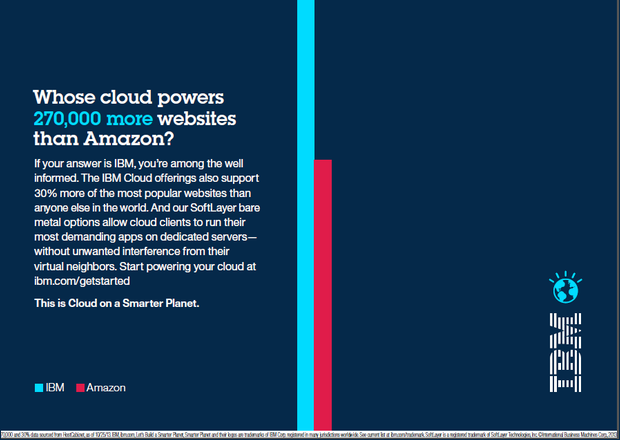 (Cross-posted @ DealArchitect Full)