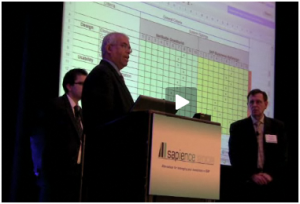 Ray Wang and I were recruited to judge a "shootout" at the Sapience conference Helmuth Guembel had organized in Cambridge this week.
Mark Siller,  Project Manager Steinbeis-Transferzentrum demoed the OneWorld product along with Mini Peiris, VP of Product Marketing at Netsuite. Carsten Brockmann, Chair of Business Information Systems and Electronic Government, University of Potsdam demoed on a test version of BusinessByDesign.
Mark and Carsten walked the audience through various financial, CRM and manufacturing processes. Ray, Helmuth and I scored the products on the functionality as demonstrated and on a variety of look and feel, usability and technical factors.
Our composites showed NetSuite scored 7.58 and SAP scored 6.34 on a scale of 1= low, and 10= high…