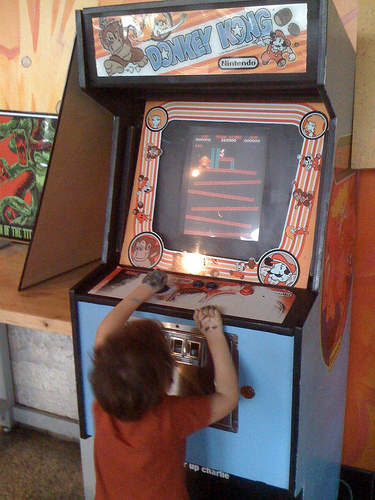 There's a lot of predictions for 2010 going around at the moment, which are usually fun and insightful (esp. the ones from Stephen and James ;>). Rather than list a whole bunch of things, I thought I'd narrow down on one area I've been thinking about a lot recently, all the new platforms – both web and device driven – I've been seeing emerge and how they effect the IT and technology world we we know it. Much of the below is speculative, but it's laced in with plenty of here-and-now.
Overview
New platforms and devices change what's required from the IT industry.
This is the first time in human history that we have truly a ubiquitous device… What you can do with a transaction across a mobile platform is very different than what you can do with it a point of sale.

–Matt Quinlan, CTO for Visa, Inc. at #STGEvent09
There's a host of new platforms and networks that seem ready to (finally) pan out for technology companies and their user-bases. These new platforms are mostly new devices, but they're also new software development & delivery platforms as well such, commonly put into the category of Platform-as-a-Service, or PaaS, which lead to the applications delivered over those platforms. The devices here are essentially computers in different form-factors. Whether its delivered over the web or through a device, the applications operate in highly networked scenarios, favor consumers over business users, and are geared around using internet native (or "cloud," if you wish) applications & services.
A host of highly networked and dependent platforms are emerging and available, lead by the ongoing adoption of Internet-based applications in mainstream life and a renewed interest in the smart phone market thanks to the iPhone. While cellphones (or "mobile") are the current focal point for much of the conversation here, other devices are just as capable and look to be picking up interest and speed. The end-users for these platforms tend to be more consumer-centric. Business has found itself trailing consumer technology of late because IT has been forced over recent years to concern itself with security, compliance, and the culture of careful change instead of focusing on using technological innovation to make more money for The Business.
With the rise of websites like Facebook (with a reported 350 million users) and Salesforce (with 55,400 corporate customers, and 1.5 million individual subscribers), usage of the web as an application platform has gone beyond the document-centric, email, retail, and even desktop-to-web applications that marked the first large part of the web's life. These larger web sites have started to open up their platforms for third party extensions and even application development, creating the cloud category of Platform as a Service.
Newer applications are not always web-based, but still layer on-top of the Internet. They may still rely on web technologies, but many of these new applications are building their own user interfaces, sometimes require other devices (like iPhones or tablets) and are distinctly not "web native."
The majority of technology companies that should be servicing these new devices and networks are still geared around contemporary web servicing and on-premise offerings, both in software and systems. This is little wonder, as these companies are solidly pinned down by he shackles of success: servicing traditional IT departments. Many are in the process changing, but are not ready to deliver right now.
Cloud computing is looking to become a de facto standard for infrastructure in this space, while the concepts that fall under the title of "agile infrastructure" seem to be the best hope to meet the demands of this space: frequently delivering new applications and updates, while being ready for spikes in resources like network, process, and storage demand.
New Devices
Smart phones, tablets, toys, TVs, and other devices are now on the Internet. Software goes here.
When it comes to the non-traditional (not web or desktop apps) delivery platforms, there's a host of previously non IP-addressable devices that are getting on the Internet. Some of these devices tends are lead by a single brand, having a more general market, while others lack a stand-out leader at the moment:
There are more examples out there to be sure, and much of the above is in the emerging rather than "buy it now!" category. And, again, there's still the same strong-hold in web applications among these new platforms, the above are just new devices – or "screens," if you're Adobe or Microsoft – that fit into this ecosystem.
Expectations
Users no longer tolerate slow and dumb computers.
Whether for business or personal use, the applications and services delivered over these new platforms and networks are expected to have several characteristics:
Fast Performance – users of these new devices have not been trained to wait for "the computer to boot" and at best expect to have to reboot their internet router every few days. For any given application or service option, there are typically so many different options that users will quickly switch if they encounter poor performance. Devices can be another story where switching costs for the expensive devices can be prohibitive. That said, users can be easily disillusioned by a slow device and give up on the category entirely, reverting to desktop use.
Always Available – if there's a network connection, users expect full functionality. More over, users are increasingly becoming aware of artificial closed systems (like Sony's or Apple's) where devices are not universally compatible with each other, across brands. If and when USB power adopters become ubiquitous for cellphone and other devices, users will have a daily reminder of how useful standard interfaces can be to them.
Rich Experience – users of these new devices expect a rich user interface and, equally importantly, user experience that drives workflows that make sense, like matching mobile form factors. Remember that much of the renewed excitement in this ecosystem comes from the beautiful industrial design Apple does. While business-centric IT has gotten away with poor user experience in the past by claiming cost savings by delivering poor UX, users of these new devices have yet to have their expectations lowered managed.
Frequent Functionality – be it installing new applications and services over the air or easily updating existing applications, users expect the applications on their new devices to be in constant development. Users expect little bundles of fun and excitement routinely through the life of the application. These bundles can be the tiniest of feature upgrades, but their rapid frequency is key. In addition to delighting users, frequent functionality keeps users from getting bored and moving on to alternatives…