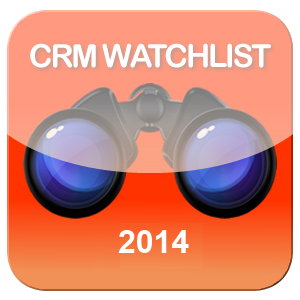 Well, its that season again. Oh, wait, you thought I meant the holidays? No way! I meant the CRM Watchlist season, the one that chains me to a desk and makes me think about the companies that participate in the conversation – those that I've been thinking about, one way or the other, all year.
What makes this fascinating for me is that there is no real constraint on who joins.  There is really only one entry criterion – you have to be a company that provides products and/or services that are customer-facing.  That means you could span sales, marketing and customer service, but you could also be field service, social media monitoring, customer engagement, or analytics.  Plus a myriad of other options.
Ah, but once you are in, it just ain't easy to get to the finals or even more difficult to win.  This year will be tougher than ever and there will be some changes in the criteria I use for judging whether or not you'll have the impact that a winner of the CRM Watchlist is expected to have.
Of course, there is an irony to winning.  As I've said in the past, this has to be the only award that a company that enters doesn't want to win, because it seems like I'm saying "hey, you win and now…here's what's wrong with you!" Actually, that isn't what I'm saying. As those of you who have participated in the past know, what I will do is a review of the company – why they won and what they have to do to improve – and by winning, I'm already saying they are a good to great company in some ways. But we all have room for improvement too and to have a more substantial impact in the market, there are always things that can be done.
So, with this post, I'm going to do the following:
Let you know where we stand as we enter the final weeks for submission of the questionnaires.
Let you know what can be done before the final submission date – and what can't.
Let you in on the process I have to undertake to make this award happen.
Give you an idea of what gives you the best shot in general for winning the award.
Give you an idea of what the criteria are for winning.
Let you see who won last year – and, though I won't tell you who, there are a small handful who are not submitting this year so they won't be repeat winners.
Give you a few hints on how you might want to think about the competition.
Wrap it up and get ready for the home stretch.
Where we stand
As of this writing, we have 199 registrants. We had 202 but after I requested that those that are going to withdraw please do so now so I can plan – 3 did including one winner from last year.  Which means that I can safely expect 199 questionnaires from software and consulting companies. There is an interesting mix of most of last years winners, a significant number of repeat entries and a larger contingent than ever of established mature newcomers and emerging technology companies coming in the first time.  The total expected questionnaires are up by 46 from last year. That, if last year is any indicator should mean that I could expect to be reading about 2500 pages of documents at a minimum in the month of December.
What can be done before the submission date – and what can't
It is now November 14.  The questionnaires are due by no later than Saturday November 30, 2013 at 6pm Pacific Time. There are no exceptions or excuses since the CRM Watchlist has been announced since February 2013.  However, you can still submit a request for a registration form until November 22 if you want to participate.  The procedure:
Request a registration form (until November 22 at 6pm Pacific Time) by emailing me at paul-greenberg3@the56group.com.  There is NO other way to get the form(s).
Fill it out completely and send it back w/in 24 hours – though to be smart – I'd do it faster – and get in return the questionnaire you need to fill out, the CRM Watchlist 2013 Yearbook (172 pp) as soon as I see the registration form. Make sure that the registration form is renamed Registration_2014_Whateveryourcompanynameis.  I will also include your designated contacts on a mailing list and in a Google+ group that will go live in 2014 and have greater access to me than other avenues.
Make sure that you get the questionnaire back COMPLETELY filled out by November 30, 2013 at 6pm PT.  Every single question has to be answered on the questionnaire. No links to an answer. Feel free to include supportive materials – like links and documents etc.  But answer the questions so the document itself is self-contained.  Otherwise you lose.  Seriously.
So there is still time to register and get the questionnaire if you want.  I welcome your entry.
So what happens once the questionnaire is submitted?
Ah, wouldn't you like to know?  Okay, okay, I'll talk, I'll talk.
One I get all the questionnaires, I start reading. There will be roughly 2500 pages to read.  Each of the entries is categorized as I start it so I can create the categories that become apparent in the submissions. Each year the categories remain fluid, meaning, they are created as they become apparent. There are NO winners in a category as a misguided winner or two has attempted to claim in a press release every now and there. There are just winners.  The categories aren't consistent –they are a product of the trends, times, and the entries.
As I read each entry, I have a significant number of public factors (see below) and private factors (see nowhere in this post) that I score on. They are all weighted – and the weights change each year for one reason or another.  This first pass is just to see who makes it as a candidate for the finals.  There are threshold scores – if you score above x you are guaranteed a second look; if you score below y you are eliminated. There are grey areas between that mean a judgment call from me – which is partially based on how well you scored in the more heavily weighted (i.e. the more important) areas.   Then once I pare down the list to the possible finalists – I do a second round of scoring that involves me doing some background research – and come up with the finalists list.  Then one more round of more intense research on the finalists and winners are chosen. They will be announced in very early January 2014.
By the time the winners are announced, I have them grouped according to categories and I have them broken out according to what they won.  There are multiple groups of winners. They are:
Lifetime Achievement – this is not chosen from entries, though entries can win.  For example, there have been two winners so far – Peppers and Rogers Group, and the IBM Institute for Business Value, neither of which was a submission.
Winners who are grouped for convenience and review's sake in categories –  The top 10 are broken out and the #1 is named. No order is mentioned beyond the #1 except that the 10 were the top 10.  This year it will be the top 5 only.  The winners are split among vendors and consulting/SI organizations.
There are Ready to Leap (RTL) companies – who aren't winners, but are named as about a year from breakout.  So the Ready to Leap companies named in Watchlist 2014 are expected to have an impact in 2015.  I can't see if the 2013 RTLers "leapt" because it's still too soon though in this case I might look to see if they are still poised and will report back. Honestly, I haven't decided yet.
There are Companies to Watch (CTW) who are the same as RTLers but two years out – These are too soon to look at and I can't report back.  Again, not quite winners but worthy of watching.
What gives you the best shot at winning?
Keep in mind before we get to the deets, that if I haven't been watching you over the last year or two, your odds of winning are reduced though each year there is a company or two that surprises me. Or three or four.  This is an impact award – which means that there are a lot of things that you have to have been doing to have the impact or the expected impact.  If you can show some of the following, your odds are improved a great deal:
You have a breakout product – one that can create, make or define a market
You've seized thought leadership in some related area
You already have a market impact
Your company's sheer size and continued long term existence guarantees  impact pretty much regardless of who they are and how well they do.
You are engaged in a major initiative that will change the way the market works.
You have continued really good performance year over year with an expectation that this will continue further in 2014 and beyond.
You've accomplished fabulous things with your customers – achievements that rise to the level of setting an industry standard
You've made an obvious impact in a particular distinguishable geographic market
I have faith that you will do something worthy of public recognition (that's the subjective part) – which is based on past performance, road maps, strategic undertakings, programs and many other things.
All of the above
Other things I didn't mention but will be meaningful
If you can show these things in the questionnaires, you can do well – and maybe even win.
Drilling down to the deets – what I expect
Okay, this is the hardcore for all you participants. This is as far as the kimono gets opened. God I hate that phrase.  I'm not going to reveal how I weigh anything nor am I going to tell you what the private 20+ factors I look at are. But I will dig in on what kind of thinking I'm looking for around the questions in the questionnaire so that it might help you participate.  Here's that.  Oh, wait, one last thing. If you are a participant and are filling out the questionnaire, please mark those areas that are confidential. My assumption is that there is nothing that I can't use in the review. But I'm happy to not use things if you let me know what they are.
Company Overview – This is where I expect you to frame everything that comes afterwards. Who are you? What are you? Why are you CRM Watchlist 2014 winner?  Mission, vision, give me the framework for everything else.
Financial Performance (THIS IS ASSUMED TO BE CONFIDENTIAL EXCEPT IN THE CASE OF A PUBLIC COMPANY) -. How well has the company done in the last 12 months?  Part of this is for understanding how the candidate companies think about their top and bottom lines.   How well have you done year over year?  Why? Because I need to be able to gauge the success you're having as a business and the stability you have relative to your financial performance.  How important is that relative to the other criteria?  If you know me, you'll have a good guess. If you don't, try to find out. But not from me.
Management – This is a look at who the candidate companies' general and CRM management are. Remember this is a CRM Watchlist so there are two things that I'm looking at.  First, the management that is directly involved in CRM or the component technologies that are relevant to this. So it might be a VP of Product Development or Product Marketing for example. Second the C-suite commitment to the CRM or, again, component technologies relative to the rest of the portfolio of products and services.
Mission/Vision – What is the CRM related mission and vision for the company? Do they even have one? If they don't, how is CRM thought of in the context of the universal corporate mission and vision?
State of Technology Products/Services  – Since I'm looking at both technology companies and the consulting services providers, the product portfolios that are appropriate to the Watchlist from the vendors and the services provided by the SI/Consulting firms in the CRM(ish) domains are obviously something that I have to look at thoroughly.  The way I look at them – quality of the existing portfolios; the road maps; appropriateness to the market; customer perceptions of the value-in-use of the products. How well they support the jobs customers want them for – not the feature function list.
Partnerships/Alliances – who do these companies, hang out with- at least the tech vendors and the SI/consulting institutions?  Is their partner mix a wise one? Are they getting results with their channel/ecosystem? Are they fair to their partners?  How do they think of the partner channels? How are you thinking of your channel/partnerships?  Strategy, perspective, and specific programs. Plus the who.
Market Presence/Impact – What kind of impact and presence does the company have in the market? That means how they are perceived, how they participate, what their messaging is and how it coheres with their actions in the market.  How does the company run their external operations – outreach to customers?  What are customers' perceptions of them?
Thought Leadership – This is different than market presence.  For example, there is one major company who has a strong to dominant market presence and only a weak to modest hand in thought leadership.  This means how you move the needle forward when it comes to thinking about ideas – which could be in your domain – say, analytics" – It also looks at your analyst relations, influencer relations, public relations (press) programs. How much you participate in the idea marketplace in the community – independent industry conferences etc. and what materials you are putting out there be it a white paper, an event, a video, a conference of your own. It also means how much you support your vision and mission or your messaging with a body of knowledge.  What is your definition of mindshare might be important to answer.
Corporate Culture – Finally, how does your mission/vision and belief structure affect your company and how it supports its employees and its customers?  How well do you treat your employees? What do your customers think of working with you – not just of you?  Are you flexible enough a culture to be able to change when need be.  How imperious is management or how empowered are the staff etc.? Plus many other "touchpoints." What I don't want is the usual "we have great corporate culture" or "we are customer driven" or "we love our employees." PROVE IT.  Tell verifiable stories that express the nature of your culture.
The CRM Watchlist 2013 Winners (alphabetical order)
This is a list of the winners only. Not the RTLers or the CTWers.  Blackbaud was the highest scoring company and thus was recognized as such (second year in a row).  The rest are alphabetical. Just so you know, there are a very few (two) that aren't registered for this year or withdrew from this list. Also, Eloqua and Neolane were acquired by Oracle and Adobe respectively so will be in their entries this year (both have registered).
The Vendor winners for 2013 were:
Attensity
Artesian Solutions
BPM Online
Clarabridge
Coveo
Crowdtap
Eloqua
Get Satisfaction
Gigya
Hubspot
Infor
Infusionsoft
Jive
KANA
Lithium
Marketo
Microsoft
Moxie
Neolane
NetSuite
NexJ
Nimble
Parature
Pegasystems
salesforce.com
SAP
SugarCRM
Teradata Aprimo
Xactly.
The Consulting/SI winners for 2013 were:
Accenture
CSC
Ernst and Young Advisory
Solvis Consulting
The Pedowitz Group.
Finally, some hints…
Focus on outcomes – Participants should represent that they provide the companies that they are attempting to service with technologies that meet their needs – meaning, you have to focus on how they can help companies support specific outcomes. This means developing in conjunction with your current customers, the use cases that show the outcomes that you can (and are willing to) support. This also means developing an ongoing dialog with customers and potential customers to expand the specific outcomes. You should to appeal to the self-interest of their potential and existing buyers.
Show multichannel – Be able to show the support of a wide range of channels and show that your technologies provide for interactive and personalized (not necessarily personal) communications between your buyer companies and their customers. For example, show your product's ability to respond to a tweet or the open a case from a Facebook complaint or to provide a personalized marketing message in real time based on the identified activity of the person getting the message. But it also means feedback mechanisms, customer communities, etc. – whatever can be done to foster the interactions. In a nutshell it's a combination of systems of engagement with systems of records.
Highlight the contemporary tools aligned with the market – Be able to provide systems of record and analytical tools that can provide insight into customer groups and/or individual customers. Customers prefer highly personalized interactions and experiences with the companies – even when their level of engagement is low. They want to get the information they need to make intelligent decisions on how are going to interact with the company.  Accurate is better than fast too.  Esteban Kolsky in a recent study done by him for Thunderhead found that executives prefer good information to fast information. In addition (thank you Mr. Kolsky), a previous study published in HBR titled "stop trying to delight your customers" makes reference to the same idea: "customers prefer to have accurate information, not just fast information".
Show how your systems are able to do the blocking and tackling – Be able to show the systems that can "keep the ordinary, ordinary." Simply stated, this means that most customers aren't looking to be delighted, they are looking to take care of whatever business they have with the company in the manner they choose to. Most of that is just a query or a purchase. The simpler these things are to do and the easier they are to do, regardless of the channel they are done in, the better. McKinsey, in that same report I mentioned above, found that when it came to business priorities associated with big data analytics tools or processes at scale across a company, the third priority and the one that had grown the fastest between 2012 and 2013 was "increasing automation of common or straightforward decisions." (From 20% in 2012, to 37% in 2013). Keeping the ordinary, ordinary. Show that you handle it.
Show that your marketing is aligned with the markets you claim to be in  – When it comes to marketing, prove that your messaging judiciously aligns with the current transformation going on. That means don't show me that you message with every buzzword under the sun on the one hand, and on the other, show me how you spend the time to find out what the market needs to hear and base your response on what you can actually provide. This might sound like "duh" but the reality is I see far too much messaging that is built as a counter to a competitors messaging, not messaging that shows the customer what the company can actually do to serve them.
Make your thought leadership very clear…if you can – You need to be able to show how you attack mindshare, not just market share. If you can justify a case for strong thought leadership in the marketplace, make sure that you do so. Digital transformation isn't a done deal. In fact, one more McKinsey fun fact – "most executives estimate that at best, their companies are one-quarter of the way toward realizing the end-state vision for their digital programs." This is a massive opportunity for the technology companies to capture some mindshare.  The business world is roiling; whirlpool eddies everywhere. If some companies have to chutzpah and wherewithal to step up and make some bold visionary statements and back it up with some solid scholarship, they can be market leaders. We've seen salesforce do that over and over again and look what its done for them. Show me what you are doing and what it does for you.
Think "ecosystems" – There is NO technology company on the planet that can provide any market as wide or narrow as they want to make it, with everything they need. Consequently, they have to do a few things to provide their potential customers with a competitive offering. First, they have figure out, by finding out, what the customers actually need, not what they perceive them to need. They have realistically take a look at what they provide for them and identify the gaps in the offering accurately and without illusion (or self-delusion). Then, given their corporate mission, they have to find the right strategic partners or technology partners to fill the gaps.  Look at Microsoft's ecosystem for a great example.  Or the recent deals between Oracle and Microsoft; Oracle and salesforce.com; salesforce.com and Workday.   All of them are sound ecosystem thinking – not traditional partnership/alliance thinking. Prove to me that this is how you think – if you do.
That's it
Okay, I'm done. This is the last post on the CRM Watchlist for 2014. If you haven't joined, you've got 8 days to do that.  Remember send me a request for a registration form at paul-greenberg3@the56group. If you have, you have this post to work from.  I'd pay close attention to it.  This year's scoring is going to be the toughest yet.  You have a lot to prove and I'm betting that you have the confidence to do it, or you wouldn't enter the CRM Watchlist 2014.  Prove me right.
(Cross-posted @ ZDNet | Social CRM: The Conversation Blog RSS)