I recently read an advance proof copy of new book on sales compensation by Christopher W. Cabrera. (The official publishing date is January 28.) Chris is the founder, president and CEO of Xactly a cloud provider of sales compensation planning and tracking software. If you don't know Xactly, they're one of the biggest solution providers in this space. And, if you're still doing sales comp plans on spreadsheets, you really need to talk to Chris.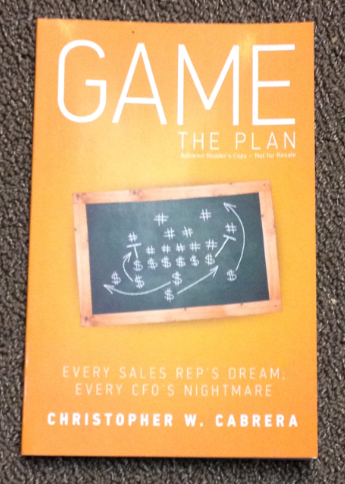 New Sales Compensation Design Book
Last month, I ran into Chris at the Salesforce Dreamforce event. Dreamforce may be the most gonzo, biggest sales technology event on the planet. It's a small wonder we even connected there given the 135,000 registered attendees.
Chris's book is very focused on the issues on sales compensation planning. One of his big points is that it's okay for sales professionals to 'game' the system to maximize their pay. The real issues are that most firms (or sales leaders) do a poor job of designing plans and too few plans address the needs of different kinds of sales professionals.
Chris tells me that less than 10% of sales professionals today are managed by a non-spreadsheet based solution. My view on spreadsheets is that spreadsheets are fine to a point. But as we've learned in Project Management, Financial Reporting, Professional Services staffing/resource management and other spaces, spreadsheets are not the optimal business technology beyond a certain size firm. I bet a lot of sales professionals would appreciate working somewhere with real-time commission/compensation tools.
Here is the Q&A exchange between Chris and I:
Brian:   Approximately 65% of people leave their employer due to a bad boss – The boss could be a paranoid, schizophrenic, bully, narcissist, etc. Will any sales compensation plan work when one of these leaders is in place? How big a need is there for a great sales leader? Should getting a great sales leader be job #1 for firms and how do they pick the right one? Am I correct to assume a great compensation plan is wasted when a bad sales leader exists?
Chris:   Bad bosses – and great ones – exist across every kind of industry and department, including sales. While management is critical to the work environment and employee experience, a good compensation (comp) plan can soften the blow of a less-than-perfect manager. Also, because sales reps tend to work independently, their comp plan is one of the most important factors in driving their goals and motivation. Great organizations that design thoughtful comp plans that funnel into business needs and priorities can create a win-win situation for reps, regardless of sales management.  Though, for anyone who's had a bad manager or an exceptional boss, we know management has a big impact on motivation.
Brian:    Isn't the 'science' behind a great sales compensation system is that it revolves around crafting a means to herd cats?  Can one plan actually work with an amalgam of sales personalities like the Lone Wolf, the Team Sales Player, etc.?
Chris:    That's a misconception, propagated by a long tradition of poorly designed plans. Comp plans aren't meant to be uniform across roles and personalities, as people are often motivated by very different things, in very different ways. Spreadsheet-based comp plans are extremely difficult and manual to tailor by role, so sales management accommodates by dumbing them down to very basic levels.
Automation untethers management from the unpliable world of spreadsheets, allowing for the creation of more impactful plans. With automation, management also has the flexibility to create and manage more and different kinds of plans to suit different roles within the company – hunter reps may be on one kind of plan, while farmers on another. The key thing to be aware of is that automation also allows businesses to automate bad behaviors. For example, we found with our Big Data benchmarking and analysis service, Xactly Insights, that one large technology company was not properly rewarding top performers, while lesser performing sales reps were inadvertently making top dollars. They were able to save seven figures by fixing how they set quotas to change this paradigm and better reward top performers.
Brian:    Who's really the target reader for this book? I suspect a top sales leader with hundreds of reps hasn't been using spreadsheets for sales compensation for a while. Is this correct? Is there a specific vertical or business type that really needs to overhaul its sales comp practices today?
Chris:    The target readership for "Game the Plan" includes most C-Level executives in the Fortune 1,000. Traditionally, incentive compensation involved two departments: sales and finance, thus the term "sales compensation." As you mention, many top sales leaders with hundreds of sales reps have already evolved past using spreadsheets for sales compensation — although, like me, you'd likely be surprised to hear that 92 percent of them have not. What we've also found is that even companies that have automated aren't necessarily clear on where the money is going. In fact, we've found that up to 80 percent of their pay is NOT going to top performers. This applies across industries and company sizes, as Xactly has recently collaborated with several leading SaaS companies to analyze their sales comp data and metrics in comparison to peers. What we found was surprising and led to tweaks in their plans that helped save them millions in ineffective comp payments.
Brian:    A lot of your counsel to sales leaders seems to involve judgment calls.  They need to know what is a stretch (but doable) goal could be but not set one that is too easy or impossible to deliver against. They also need to know a lot about the personal motivations of different employees and different generations of employees. Realistically, how can a sales leader successfully develop that level of empathy and understanding?
Chris:     First, it's unrealistic to expect sales leaders to be experts in incentive compensation strategy and behavioral science. We find most sales leaders will roll out basic plans that they're familiar with from a previous position. How well these plans work to optimize sales and motivation is another story.
Rather than create their own plans, instead I recommend tapping the experts for sales comp insights and developing plans based on three distinct pillars: theoretical, anecdotal and empirical data. Combining real incentive compensation results with consultant-proven best practices and thought leadership gives sales leaders the tools they need to better align sales compensation with their corporate strategy.
Brian:    Your book deals with compensating sales professionals for closing deals when and how management wants them done. One of the big issues for software and consulting firms is how to pay sales executives that find and close deals but another group actually delivers the services. The problems in this space are legendary with sales executives cutting rates, shaving deliverables, etc. to get the deal done. Service delivery people hate this as they're often the ones who will fix the problems this causes. How do great sales comp plans solve this?
Chris:    Ah, the legendary tension between sales and services. The best way to fix this issue between departments is by taking the emotion out of it, with cold, hard numbers and irrefutable best practices. By benchmarking timelines, deliverables and deal terms against those from other company in your industry and of your size, you can determine how best to compensate teams by their role and contribution.
Brian:     One of the most impactful sales/marketing books the last couple of years has got to be "The Challenger Sale".  How do the changes in buyers, buyers' pre-sales research and how sellers need challenge buyer preconceptions factor into modern sales compensation plans?
Chris:     Sales compensation that changes individual behavior in ways that impact company results boils down to individual roles. Your hunter sales reps, for instance, are responsible for very different parts of moving the buying cycle along than a sales development rep who talks with a buyer early on in their research, or a customer success rep who is responsible for nurturing the ongoing relationship. As buyer behaviors, research and pre-conceptions morph, so too must your comp plans.
Brian:    What three key points do you want readers to take away from this book?
Chris:     The first key message is that gaming the plan is not a bad thing; it's what should happen. You just need to get ahead of the curve and make the gaming a win-win for your team and your company.
Second, don't pave your cowpaths. In other words, you need automation because it gives you transparency and visibility, but only if you automate the right approach. That requires empirical benchmarks for your industry, which I talk about in this book, not just anecdotal and academic information.
Third, make use of your SPIFs (financial incentives based on selling certain products or services) to keep your team guessing.
This discussion is so important as many executives have no idea how much money, motivation and talent they're leaving on the table with misaligned incentives and sales comp plans. I hope your readers also have a chance to read the book, which will be available in February, and to keep the conversation about sales compensation active.
---
Brian:
My perspective:
When I was in business school , Sales and Marketing were two areas that were more art form than science. There were few tools, lots of theories and professors that spoke a lot about the difficulty in motivating buyers, getting good data points re: campaigns, etc.
Today, Sales and Marketing disciplines are radically different than they were just a few years ago. There are incredible sales automation, marketing automation, contact databases, social networks, analytic utilities and more that help executives target prospective buyers with incredible accuracy. There are also tools that help the same executives measure results of sales and marketing campaigns. Technology and databases are re-writing the rules of this space. It's where these tools intersect with human beings that interesting things happen.
Chris' book deals a lot with the human issue – in fact, it's the premise of the book: People will always try to game a sales plan to figure out what's in their (not necessarily the company's) best interests. Chris is basically advising readers not to try to change human nature but to learn how to optimize (or embrace) it. That's not a bad way to go. I always found it better to play to consultants' strengths rather than to try to mold them into something they won't or can't do well. Same with sales people and sales plans – design a plan that meets their wants and the company's needs.
The human condition is always a tough one to understand. Sales leaders need to understand the people side of their team before they craft a winning sales compensation program.
The use of spreadsheets to track sales and determine sales compensation is something that probably needs to disappear,, too. Like my remarks at the top of piece indicated, spreadsheets have served companies well for years in many business functions. But general purpose tools like spreadsheets seldom last once more powerful and specialized solutions come on the market. I suspect the spreadsheet is going to face a serious threat from better sales planning tools.
And, finally:
Somehow, I ended up with two (and only two!) copies of this book. If you're a sales executive and would like one of these, quickly drop me a line and I'll send it along. First come, first served!
(Cross-posted @ ZDNet | Software and Services Safari Blog)