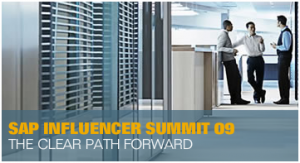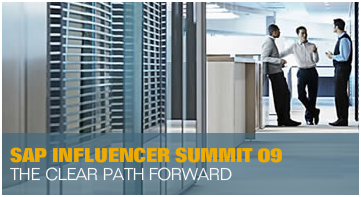 At SAP's Influencer Summit last week, one thing became quite clear rather quickly in discussions with key SAP team members as well as during the specific analyst and customer briefing on its latest products. And that's the fact that SAP is prioritizing E- Sourcing as a key component of its broader procurement portfolio. The three reasons SAP outlines for this are fairly cut and dried: One, SAP views cost reduction as one of its customers' largest concerns of late (no surprise there; however, quite an about-face for an ERP provider to speak to ROI vs. TCO, no?) Two, SAP also sees sourcing as a significant opportunity because of the rapid time to value it can deliver. And three, SAP believes that an on-demand value proposition is central to engaging procurement organizations already sold on all the benefits of SaaS- or cloud-delivered solutions.
None of these reasons for putting sourcing first is surprising. But perhaps a bit more interesting are the key concerns that SAP is seeing among customers of late. In this area, sustainability appears to be a rising concern around sourcing in Europe, and procurement organizations are beginning to incorporate sustainability as part of sourcing efforts, rather than just as part of a continuous supplier- or vendor-management information-gathering program. According to SAP, this interest in sustainability around sourcing centers on the net new-vendor selection process and the re-evaluation of existing vendors. In addition, SAP has observed that customers are interested in deploying both basic negotiation and data-collection strategies (e.g., RFI, RFP, sealed bid, etc.) in addition to "more creative" ones (e.g., multi-round negotiations, optimization, etc.) Finally, SAP is also seeing a new customer interest in benchmarking their performance and savings levels based on comparative analysis around industry KPIs. In other words, sourcing users want to know how their efforts stack up against the competition.
Who are the typical target users for SAP's E-Sourcing product? They're most often large SAP shops, especially users that have already deployed procurement capabilities resident in SAP business-application and ERP capabilities. Quite often, they're also customers looking to "extend the value of on-premise ERP deployments" by creating implementable savings opportunities and other forms of value (e.g., risk reduction). But in contrast to SAP ERP customers, E-Sourcing users are nearly always focused on procurement or line of business rather than on IT. They're also customers who are well aware of other solution providers in the market (approximately 50% of SAP E-Sourcing customers have used a sourcing product from a competitive provider in the past). They also have, in SAP's words, "a strong interest in fast innovation and enablement" through frequent release updates vs. waiting for back-end ERP forklift maneuvers every few years (or longer) to get them the latest and most desirable capabilities.