As a kid I was a huge fan of a Norwegian poet named Sigbjørn Obstfelder, a contemporary and friend of Edvard Munch (I'm a big fan of him as well).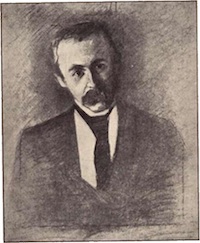 [Drawing by Oda Krogh, Wikimedia Commons]
Now, many years later, when watching and participating in the Enterprise Software discussions I am reminded all the time about this one – "Jeg ser":
I look…

I look at the whitish sky,


I look at the clouds, blue-grey,


I look at the bloodshot sun.

So this is the world.


So this is the planets' home.

A raindrop!

I look at the lofty houses,


I look at a thousand windows,


I look at the far away spires.

So this is Earth.


So this is the home of mankind.

The clouds, blue-grey, are gathering;


the sun's gone away.

I look at the well-dressed gents,


I look at the smiling ladies,


I look at the tired horses.

Now the clouds, blue-grey, thicken.

I look and I look…


I must have come to the wrong planet.


It's so strange here.
[Thanks to Åsa who printed an English translation by Caru. Original here.]
Two years ago I wrote a post about SAP and a big opportunity they're missing; how Barely Repeatable Processes are a much larger part of the enterprise world than Easily Repeatable Processes and how completely under-supported by Enterprise Software they are.
That was not only meant for SAP of course, it applies to everybody else in the Enterprise Software space as well.
Since that post it has become widely accepted that:
1) Barely Repeatable Processes (BRPs) stands for 60% of all work, or even WW value creation, while the Easily Repeatable Processes (ERPs) stands for only half of that.

2) For the value creation that happens in BRPs only about 35% is real value creation, rest of the resource and time use is to support the work flow as such.

3) ERPs are fully supported by all kind of process based Enterprise Software from the three letter ERP types to BPM.

4) That BRPs have no process based Enterprise Software to support it.
Should not be very hard to draw some conclusions from that:
A) BRP is a much larger market than the existing and mature (ERP) Enterprise Software market. (Two times)

B) BRPs are utterly under-supported process wise. (No support in fact, a virgin market)

C) That any good process based system to support BRPs would deliver huge customer value instantly. (Convert up to 65% of all resource use to value creation is no trifle.)
So what the heck are we waiting for?
I look and I look…

I must have come to the wrong planet.

It's so strange here.
Or to put it differently in these end-of-year days and times of predictions: Once the reality described above eventually becomes acknowledged it will be within the BRP space that Enterprise Software will grow, big time. That'll be where things will happen.