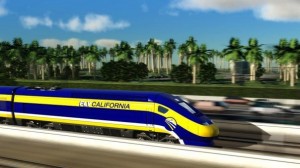 In September 2008 I wrote this:
Don't you love how the proponents are telling us how much the ticket will cost even though this thing is two decades away from being completed, should the voters be duped into passing this measure. Sure, let's add another $50 billion in debt that has a payoff price tag of $100 billion to the State's already current liabilities of $100 billion (which will cost taxpayers $200 billion to pay off).

[From California's High Speed Pipe Dream | Venture Chronicles]
At the time I received a number of emails saying I was wrong (with varying intensity) yet today I read a report on a new business plan by the High Speed Rail Authority that says:
The average ticket on the bullet train from San Francisco to Los Angeles is now estimated to cost about $105, or 83 percent of comparable airfare. Last year, the state said prices would be set at 50 percent of comparable airfare and predicted a ticket from San Francisco to Los Angeles would cost $55.

As a result of the higher fares, state officials now think the service will attract 41 million annual riders by 2035, down from last year's prediction of 55 million passengers by 2030.

Finally, the cost of the project — recently pegged at $33.6 billion in 2008 dollars — is now estimated at $42.6 billion in time-of-construction dollars.
By the way, Southwest and Virgin America are both flying to LA for $59 each way… which makes the high speed rail ticket price somewhat of a dubious value.

Related articles by Zemanta