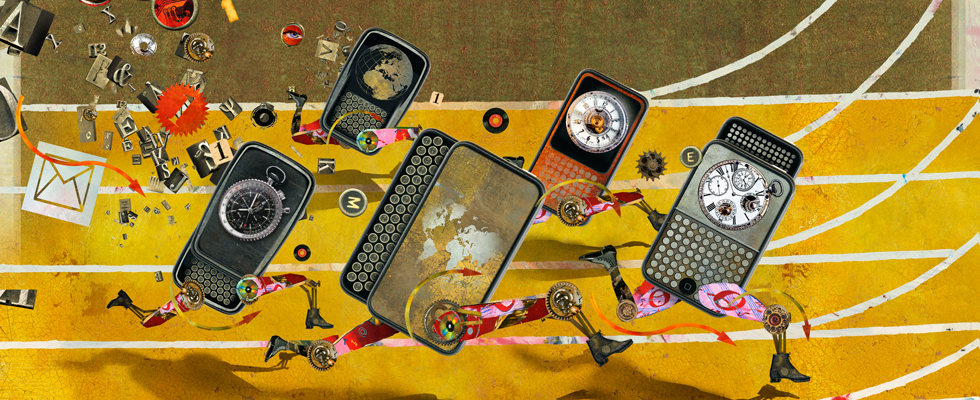 At Dreamforce last Fall, Salesforce introduced it's new platform offering, Salesforce1. This week I attended the World Tour event in NYC for Salesforce1 and spent some time talking to Salesforce execs and an assortment of customers about the platform. I've started to write this post several times since I first heard about it, but after yesterday's event I think I finally have a complete picture of what it is, and isn't.
Salesforce1 is a platform and it's also the mobile app that replaces all the other mobile ways to interact with the Salesforce CRM system including Chatter. From an app perspective it pretty much does what you'd expect a mobile CRM app to do, so I'm going to focus on the platform capabilities for this post. The platform is built on top of the existing Force.com platform and provides an environment to the user that supports a catalog of API's and device agnostic app development and deployment. In one sense you could consider Salesforce1 a mobile apps dev and management platform, but that is only be part of the story. It really forms the basic of connecting across any device, person and application in a single environment.
For Salesforce CRM customers Salesforce1 provides access from any device for:
All Salesforce CRM apps
All customer specific customizations
All customer developed custom apps
All AppExchange Apps
Chatter feed and all notifications
As a development platform it provides the capability to build and deploy device agnostic apps to employees, partners and customers. A couple of examples might make this easier to understand. The first example is an internal one. Using Salesforce1 a company could provide a custom field service app that pulled customer data and service ticket data from Salesforce and combine that with technical drawing stored in the companies PLM system, repair specifications (or videos) stored in the company knowledge base as well as integration into a work order management system (as well as any number of other functions from legacy or other enterprise cloud applications) inside the Salesforce1 app "wrapper". It's not limited to apps though, you could also integrate sensor data in real time from the "thing" that the field service rep was servicing so that it could be remotely monitored from the field service app. In other words any connected "thing" could be incorporated into the app and used / acted on. This opens up all sorts of use cases around Internet of Things (IoT) and even wearables like Google Glass or Samsung's Galaxy Gear watch.
The second example is one that was presented yesterday at the tour event based on an actual customer story. The customer, Stanley Black and Decker used Salesforce1 to build a customer experience app for it's DeWalt tools brand. The mobile app is a companion to the tools and available to customers that purchase the brand. It connects to a peer to peer customer community and is also then, connected directly to DeWalt customer service. In the scenario that would shown at the event, the user of the tool experienced a problem, used the app to log a question in the community that was picked up by a customer service rep. The rep logged the issue in the Service Cloud, search the knowledge base for an answer and responded to the customer with information and eventually used a real time screen sharing experience with video to walk the user through the repair. To me, this is exactly the type of experience that companies need to think through, and using a platform like Salesforce1 could add significant value to an overall customer experience strategy though connected mobile apps that help the end customer interact with the brand and with the brand's customer community in real time.
The platform also provides mobile app management capabilities including 1 click deployment for any mobile app. As we move more towards managing the mobile enterprise by focusing on apps over devices this type of functionality gains importance. Since it's almost impossible to manage to a specific device anymore, as employees feel empowered (and in many companies are empowered by bring you own device policies), managing enterprise access and security by the app will become the default.
(Cross-posted @ Michael Fauscette)