This story about the Waterwheel really moved me:
"When Cynthia Koenig, a young social entrepreneur from New York, learned that millions of girls and women around the world spend hours each day collecting water from distant sources, she decided to create a new way to help people in poor communities transport water and it's called the WaterWheel. Koenig's WaterWheel allows people to roll water in a 50-liter container versus carrying it in 5 gallon (19 liter) jugs."
If you are from the Indian Sub-continent, this is a plight that you are all too familiar with. Yet when its quantified, the facts are staggering:
200 million hours are spent everyday balancing 5 gallons of water on your head as you walk from sources that are miles away.
And the world over, 1 in 7 live over a kilometer away from a water source.
Carrying water leads to chronic head, neck and back pain.
75% of girls between the age of 15-17 in the Indian State of Rajasthan drop out of school because of such pressures on their time.
With WaterWheel, valuable time is freed up for women and girls to spend time on income generating work as well as an increased likely hood that young girls will now be educated.
I get energy and inspiration from folks I interact with at work and play every day. And from such stories. This holiday break I chose to skip crystal balling 2014 and enjoyed focusing on learning from stories and people that inspire me. And this was one of them.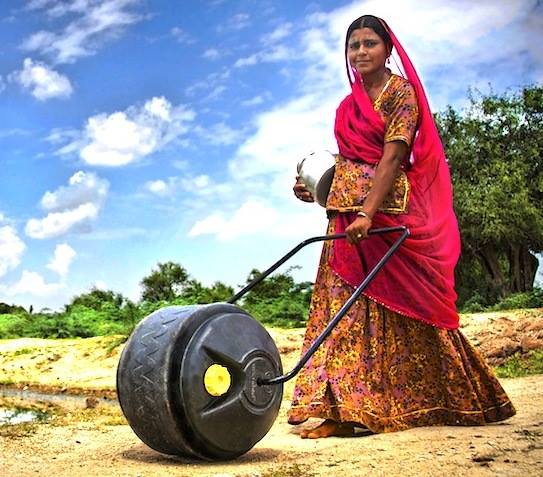 What does this story have to do with the world of enterprise software? A lot. This was a gigantic problem or opportunity that was solved with a seemingly tiny solution but really with incredible awareness and presence to spot this inefficiency and plight that millions of Indians witness every single day.  And the WaterWheel concept (i.e the Solution) isn't entirely new. Some version has existed for over 20 years but Cynthia saw the application when looking to solve a problem and made it available.
In the world of software we are so focused on The Big Solution (big data, cloud, social) that I often feel like there's no oxygen left to identify the The Big Problem which is where we should have started in the first place. Inefficiencies in how customers, partners and employees work every day get so little play time. Instead, we can get completely subsumed in who can do bigger solution sizing.
When we are present incredible things happen. Uber is a great example of problem sizing where the focus was the end consumer. Relatively speaking Uber is a lot like the Waterwheel –  a huge opportunity attacked with first mover advantage with a seemingly simple solution. Someone had the presence of mind to look for the problem. I also consider Ariba, a vibrant network of over a million buyers and suppliers to be a good example of the team having the presence of mind to think outside  [the traditional supply chain software] box. The Aadhar Card in India (Hat Tip to my colleague Sanjay Rajagopalan who opened my eyes to the big problems in this case) which, among other things, will protect millions of farmers from getting gouged by middlemen is another incredible example of large problem sizing. But the examples still remain few and far between.
I'm so incredibly proud of what our team at SAP has produced in the last 6 quarters. Over 8X growth in subscribers and a bunch of other amazing milestones with respect to how people, applications and data come together. If I were to sum it up, the team has achieved this by focusing more on listening to customers and understanding challenges and opportunities. Our success is in big part due to the fact that we were mentally present when the customer was talking and even prepared to find that that our hypothesis might be horribly wrong, instead of ramming a pre-configured futuristic workplace down their throats. And for this they rewarded us.
I'm way more inspired by big problems that need solving vs. big solutions that need problems to solve. It's stories such as this that I immersed myself in during the holidays that inspire me to do much much more problem definition and be much more aware of acute inefficiencies around me. And it rejuvenates my interest and passion for building and selling meaningful product.
I hope this inspires you to also focus more on problem sizing.
Wish you all an extremely rewarding 2014. And thanks again for taking the time to read and to engage on this blog in 2013.
Here is the TEDX Gateway video where Cynthia tells her story:

(Cross-posted @ Pretzel Logic)