Retails Big Show Transformed For 2014
Over 29,000 people are expected to gather at the National Retail Federation's big show (NRF) this Sunday, January 11th, 2014, in New York City.  #NRF14 brings the intersection of new retail business models, products, store concepts, technology, society, and culture together!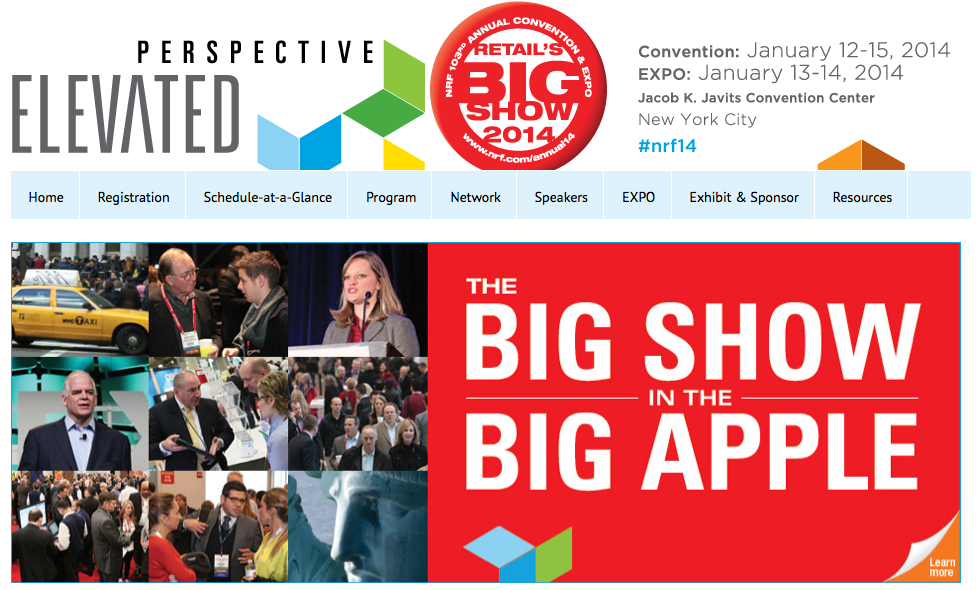 A few big trends emerge based on conversations with our clients attending the event:
The Bottom Line: NRF14 Showcases The New Digital Disruption For A Buyer Centric World
With 52% of the Fortune 500 companies gone, bankrupted, or merged since 2000, the competition is intense.  US retail continues to face an assault from minimal product differentiation, stagnant economies, rising real estate and energy costs, out of control regulatory requirements, and short term board room mentality.  2014 is about retail transformation with data, technology, and leadership in tow  While retail transformation is nothing new,  attendees to this NRF will find a renewed sense of innovation in mobile, kiosks, payment tech, ad tech, and retail solutions.  Expect vendors to deliver new partnerships that work towards buyer centricity and deliver on the matrix commerce promise.  However keep in mind, the future is about transforming business models, not incrementally improving operations.  Retailers who get this shift to digital disruption will emerge as leaders. Those who stay focused on narrow operational efficiencies will cease to exist.

Your POV.
Are you attending NRF?   What are your expectations for this year's show? Drop us a line and we can connect!  Are you embarking on a digital business transformation?  Let us know how it's going!  Add your comments to the blog or reach me via email: R (at) ConstellationR (dot) com or R (at) SoftwareInsider (dot) org.
Please let us know if you need help with your Customer Centricity and Digital Business transformation efforts.  Here's how we can assist:
Assessing customer centricity readiness
Developing your digital business strategy
Connecting with other pioneers
Sharing best practices
Vendor selection
Implementation partner selection
Providing contract negotiations and software licensing support
Demystifying software licensing
Related Research:
Reprints
Reprints can be purchased through Constellation Research, Inc. To request official reprints in PDF format, please contact Sales .
Disclosure
Although we work closely with many mega software vendors, we want you to trust us. For the full disclosure policy, stay tuned for the full client list on the Constellation Research website.
* Not responsible for any factual errors or omissions.  However, happy to correct any errors upon email receipt.
Copyright © 2001 – 2014 R Wang and Insider Associates, LLC All rights reserved.
Contact the Sales team to purchase this report on a a la carte basis or join the Constellation Customer Experience!
(Cross-posted @ A Software Insider's Point of View)