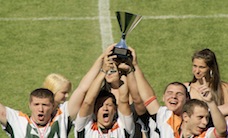 In the past quarter, we have gotten numerous calls from venture capital firms that wanted our opinion on the e-procurement (and broader Source-to-Pay) market, including growth and vendor prospects. As a favor, we try to spend a bit of time with them on the phone. But we suspect many leave more confused than when the discussion started, however, based on our observations on the market (some of which we'll share here, but much more of which is contained in our recent PRO research and market growth analysis on the topic: E-Procurement Forecast: 2014 Market Growth, Analysis and Predictions).
Note that when we are talking about e-procurement, we are talking about the tactical / transactional procurement processes, not sourcing and supplier management, even though there are touch points and even some slight overlaps (the companion PRO research brief dives into the formal definitions and sub-segments).
In short, while it would easy to point a finger and say that certain vendors are consolidating the market (e.g., Ariba/SAP) or energizing the market (e.g., Coupa), the truth is far more complicated. And most important of all: there is no e-procurement market leader. This is a difficult point for all of us to come to terms with because we all like to say a market has a winner. It's easy and speaks to human nature.
A couple of years back, Ariba was the winner in the market despite the strong sales and maintenance revenues posted by SAP and Oracle (which outpaced Ariba if you believed the Gartner/Dataquest and IDC estimates). But much has changed; perhaps most significant is the impressive growth posted by Coupa in North America in recent years. Still, neither Coupa nor Ariba proved dominant globally in 2013 (for more on this and our 2014 predictions, see our research, linked above).
And in bake-offs inside and outside the US and Canada, numerous vendors have proved competitive – winning their share of business across diverse deal requirements that address everything from the most basic to the most complicated set of requirements. The other usual e-procurement suspects are here, of course (Oracle, SciQuest, GEP, etc.) But local and regional upstarts, including Verian, Ivalua, Wax Digital, b-pack, Perfect, Intenda and other suite vendors are thriving as well in the deals they get into (not to mention industry-centric ones like Unimarket).
But even more important than the fact that there is no current winner (although Coupa and SAP/Ariba are certainly the two most common vendors to enter and emerge victorious from RFPs) is the underlying complexity of the broader P2P market (and Source-to-Pay market at an even broader level). This is given the e-procurement intersections with electronic invoicing (e-invoicing) and supplier networks, as well as specialist vendors that grew out of adjacent markets that can now mirror much of the capability of e-procurement providers by offering new front-ends linked to advanced supplier and catalog/content management capability (Wallmedien, Simeno, Vinimaya, etc.) – and even vendor connectivity in addition.
As important, don't count the biggies "outside" the market today from getting into – Amazon (e.g., AmazonSupply), Grainger, Google and others could stealthily move into e-procurement on their own terms without even calling it by the same name, but as substitutes in parts of the market.  And also don't forget the BPO firms who are increasingly expanding and componentizing their services to accommodate selected technology partners (and/or their own) and change the game from SaaS to BPaaS (Business Process as a Service).  The contingent labor market is similarly a very dynamic area lately and we see some very positive signs for the services procurement market leaders in 2014 (FieldGlass, IQNavigator, Beeline, etc.)
It's easy to want a winner in the market. And in most cases, there is one – or at least a strong potential leader. But mirroring the current educational and athletic phenomena popular in primary and secondary schools today where "everyone is a winner," e-procurement is one market where incumbents, upstarts, inexpensive, geographic and industry specialists vendors — and even orthogonal market entrants — can thrive if they do it the right way. But, which ones will come out on top in the next five years? That is a question that is not yet answered. Let the new e-procurement games begin!
For our detailed analysis and growth forecasts for the market, see: E-Procurement Forecast: 2014 Market Growth, Analysis, and Predictions. 
(Cross-posted @ SpendMatters)