It's that time of year again, when we look back at the year that was while making next year's technology and business predictions. 2009 was an exciting year across the board for all things Web 2.0 in the enterprise and related topics. I often find that it's when we take time to look back at the big picture that we get the best sense for what's actually happening in the marketplace today.
So I'll be examining at Enterprise 2.0, cloud computing, and next-generation SOA in this vein over the next couple of weeks, with the year-in-reviews first and then predictions, so please stay tuned.
We'll start first with Enterprise 2.0, which had a banner year by just about any account. I've been working in this space now since it first began back in 2006 (read my first post on Enterprise 2.0), and it's amazing to see how far it has come along since the early days.
One of the most obvious trends this year is that social tools themselves are now commonplace in business settings. Most audiences I speak to this day — whether or not they are an Enterprise 2.0 audience — the majority of them indicate that they have ready access to some form of social computing at work. This began to uptick significantly last year but in 2009 all data pointed to a significant inflection point.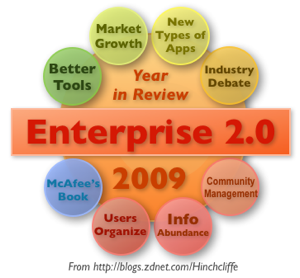 Here's my take on the more significant trends and events in social computing for business this year:
Enterprise 2.0 in 2009
Of course there were many more events that I may have missed or wasn't able to include here but I believe these were the most important or interested developments in Enterprise 2.0 in 2009. Perhaps I missed the announcement of Salesforce Chatter (which seemed to mark an important milestone for many enterprise software analysts) or how E2.0 best practices began to emerge. Or maybe it was the new Enterprise 2.0 Conference West in San Francisco or the rise of Social CRM, an important new customer-centric take on Enterprise 2.0. Please add your own take on Enterprise 2.0 in 2009 below and I'll highlight the best contributions.
Next up will be my top posts of the year and then my cloud computing year-in-review.