We are at a critical point in the evolution of enterprise software and enterprise computing in general. I make that distinction because when we say software, we tend to think transactional software that powers functions such as Customer Relationship Management (CRM), Human Capital Management (HCM), and the like. And that sub-consciously limits our thinking and ambition when it comes to framing the value of what digital interaction and communication can really do to empower us as individuals, as customers, as partners, or as employees – every day. Enterprise computing adds a lot more elasticity to the discussion.
As the shine wears off social and as we finish up "cloud-fying" more transactional processes, the underlying current is really both the decisive and accidental digitizing happening around us. The digitizing of platforms that connect our employees, our partners, our customers, and our access to each other and to transactions and data that we create every day. And more important, with the explosion of data-driven insight that should now be available, a ridiculously high expectation by the end customer or consumer of a much more intelligent and real time interaction and engagement with businesses they transact with.
To be clear, this digitization journey began not because of Social, Big Data or even Cloud. We really didn't "start the fire". This transition has been underway for over 40 years as seen in this presentation cover slide: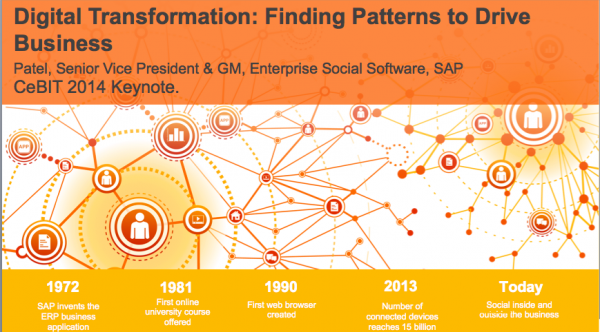 It's tempting to carelessly characterize this as the new fashion fabulous mantra of Digital Transformation. And lay out the red carpet for its imminent arrival.
But have we?
I contend that what we've seen over the last 40 years is digitizing our analog world. The digitizing has been mostly ad hoc, unconnected and silo'd. A dramatic way of putting it would be to say that we mostly copied and pasted the analog world into our code editors to make humans more scalable. But transformation as a result of this has been spotty, at best.
Digital Transformation is going to take a lot more. To transform we need to find repeatable patters of excellence in how we work and engage. We tried a haphazard way with social under many monikers- social business, social enterprise, Facebook for the enterprise, by throwing a lot at the wall in the hopes that something would stick. Not much did.
For starters, read this detailed but practical manifesto on this subject by the super- sharp Esteban Kolsky that attempts to being a discourse, rather than provide all the answers.
At the very least, Digital Transformation will expect that we are able to contextually expose repeatable patters that:
Embrace a true working model that's powered by real time access to business insights.
To the network of experts that dynamically assemble around the problem at hand.
The "un-silofication" of todays fragmented work experience that expects me to hop from system to system to get my work done.
And the flexibility to have people and data access conform to how I work. It's a topic I've spent a lot of time.
This is how we think about the future of work at SAP – it's much closer than you might think.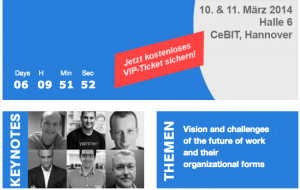 The first time I talk about this publicly will be on Monday, March 10 in Hannover, Germany where I'm privileged to keynote the Social Business Arena at CeBIT 2014. There will be a lot interesting sessions, not the least of which is one by my esteemed industry colleague Dion Hinchcliffe. A big thanks to Bjorn Negelmann of Congress Media for inviting me.
This post is not meant to provide all of the answers. Rather its meant to frame the important questions we need to ask as we design the future of work.
I hope to see you at the event or continuing this dialogue online.
(Cross posted from the Innovation Blog)