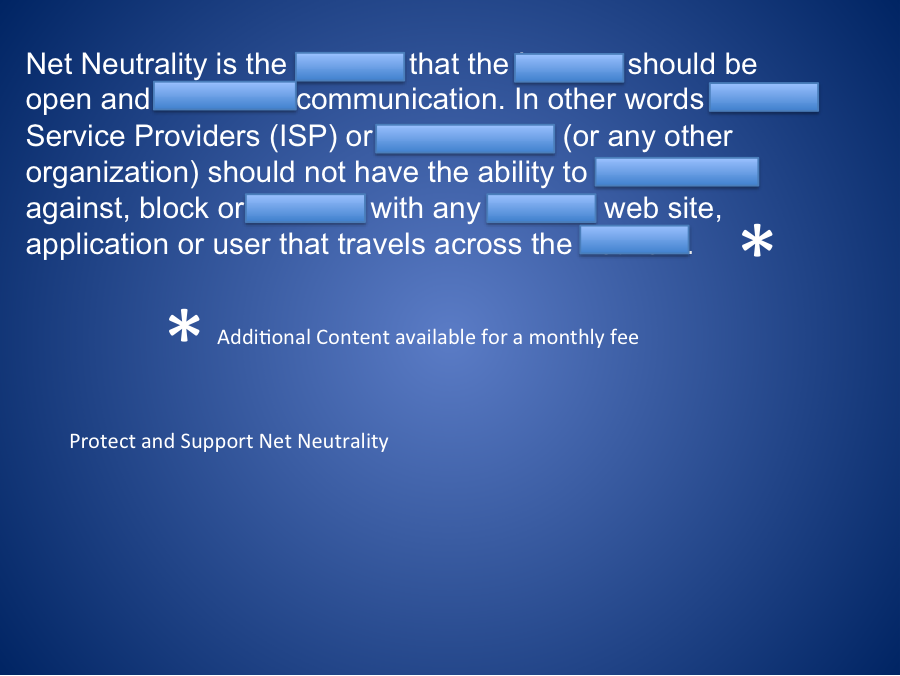 I was working on some more research on business model innovation the other day and as I thought about the role of the Internet in business model disruptions over the past 15+ years, I couldn't keep my mind from wondering back to something that has troubled me for the past couple of weeks, the proposed merger between Time Warner and Comcast. Actually more than just that announcement, there are many issues that keep coming up that threaten the independent nature of the Internet and those threats seem to be increasing in potential very rapidly. Now I should first say that I'm a technology analyst, not a political commentator or expert in government regulation / FCC policy. I am focused on innovation in technology and have spent a lot of time looking at the use of and disruptive nature of the Internet though, and that means that "net neutrality" is a subject that is of keen interest to me.
The problems, which are global, seem much more obvious and pronounced in the US, at least once you get outside of the obvious attempts by non-democratic governments to control access. This growing crisis in the US is a big problem from my perspective, and I guess many would argue that we're already quite a ways from an open Internet, even putting aside the NSA privacy scandal, and just focusing on the other threats that are top of mind today. Before jumping feet first into these issues though, I want to put a basic concept in place; the Internet is to me at least, the latest addition to an obvious list of public utilities, added to electricity, water, sewage, natural gas, and phone service. This is very important from a legal and regulatory standpoint, and as such, value in an open market should be the key, we should have a system that insures reasonable availability / access to everyone. As a business tool it is essential and from an individual consumer perspective it is a key backbone for commerce, education, entertainment, communication and lot's of other stuff that we haven't even thought of yet. From a technology perspective we would not be talking about the cloud, big data/analytics, social technologies or even mobile devices in the same way without the Internet, disruptive businesses that range from Amazon and eBay to Uber and Airbnb, would not exist without it.
Why is Net Neutrality important? To get to that, first let's make sure we know what "it" is. Net Neutrality is the concept that the Internet should be open and allow free communication. In other words Internet Service Providers (ISP) or governments (or any other organization) should not have the ability to discriminate against, block or interfere with any content, web site, application or user that travels across the network. ISP's are tasked with providing open (dumb) networks that can be used equally by anyone. As a utility this is similar to a public phone line, the phone company provides the service for a fee but has no control over the content that is shared (i.e. the conversations) through the service. The phone company can't for example, make the calls to your grandmother clear because she is on the some phone company service but provide substandard service to your office in Paris just because they're on a different phone company service. They also couldn't change the call quality based on what brand of phone you use, giving preferential treatment to phones of their manufacture while only providing substandard service on competing phone brands.
So for consumers net neutrality is essential to make sure they can get access to and interact with any content they choose in a consistent manner. It also means that there should be access available that provides reasonable value for the price paid and that it is not denied to a large part of the population for economic reasons. Everyone gets access to all available content and services. Think about it this way, the Internet is just another part of your everyday life, not a luxury place you visit sometimes. This might not have been the case 20 years ago, but today you are on the Internet as much as you're not. It's just a part of your everyday life.
For businesses it means that the landscape is a level playing field from a competitive standpoint (or should be). In other words ISP's can't favor their own content by slowing down or denying access to competing content. They also can't use access as a bargaining chip to extort higher prices just to stay competitive. Not that ISP's aren't entitled to make profits from providing the network, they just can't use access or quality of access to change the competitive landscape in their favor. This extends to start up as well, which could easily fall prey to this type of discrimination, with ISP's using favor to help or thwart start ups based on relationships. The same would apply to governments, they couldn't, for example, order higher quality service for businesses that contributed to campaign funds or had undue influence through lobbyists. Governments couldn't restrict access to services except in some pretty dire situations, like the need to use critical infrastructure for communications in a short term emergency or natural disaster.
So what's the problem, or why do I think we should be more than just a little concerned about net neutrality? Well, let's look at a few things:
1. A few very large companies are making a very obvious assault on net neutrality in the US and attempting to gain unacceptable control (maybe they already have unacceptable control?). Competition is dying in the US, or actually is on life support. The proposed Time Warner / Comcast merger would create a near monopoly in 19 of 20 of the largest markets in the US. Both companies already have a reputation for heavy handed practices so imagine what it would be like in a market that they control; or in other words, they already have significant influence and control based on pricing, pay-to-play and just overall size, what happens when they become massively larger?
Comcast has a history of using it's Internet access to favor it's own cable services over competitors. Netflix again is at the heart of this issue, with Comcast using data speed caps as a tool to favor it's own content over any other competitors. I guess this is not as much a problem for Netflix after they started paying off Comcast for equal access though, but if you want to know more read this.
2. Peering, or the voluntary connecting of two administratively different Internet networks for exchanging traffic has generally been accepted as a necessary part of maintaining net neutrality. Simply peering is necessary for keeping traffic between high traffic participants flowing freely. Over the past several months is appears that Comcast was somehow slowing Netflix traffic. Both parties disputed it, but the fact is that there is quite a bit of evidence that makes me believe that Comcast was in fact throttling Netflix. Now remember Netflix is a direct competitor to the movie services that cable operators offer and since cable operators are also ISPs you can see that there are conflicting issues, make money off the content while offering reasonable peering services as an ISP. This goes back to the idea that the Internet is a utility, therefore should ISPs provide paid information services? In this case Netflix seems to have caved and set a horrible precedent by paying for peering services that should have been a matter of normal peering agreements.
3. FCC is weak to ineffective and has repeatedly been cut off at the knees. The recent court ruling concerning the communication services rules that the FCC had applied to the Internet, the FCC made a serious blunder in the specifics of their approach (not using "common carrier" language) and, in a ruling that was no real surprise, lost. Instead of applying the obvious basic criteria to the Internet (treating it like any other utility) the FCC chose to call it "enhanced services" or now more commonly information services, something that all of the major ISP's obviously supported. The mistake, besides the overarching classification came in the recent attempt to undo the mistake and apply common carrier rules anyway. In 2010 the FCC lost to Comcast in a case that started with Comcast throttling specific content. The FCC attempted to prevent the throttling and while Comcast agreed to the ruling, it challenged the FCC in court and won on the grounds that it was not subject to common carrier regulation as an information services provider. While the recent rumors were that the new FCC chairman Tom Wheeler was planning to revise the rules significantly in favor of net neutrality, unfortunately Verizon's court case challenging the same rules as Comcast went the wrong way before anything significant could be done. Verizon, just like Comcast, won. The current situation then, leaves the ball in the FCC's court, but would require them to do what they've failed to do over the past 34 years, that is, officially classify the Internet under the common carrier rules as a utility. The ISP's are the pipes, the information services are something quite a bit different.
4. The US wireless / mobile broadband situation is a mess. Take what I've said about the ISP's and make that 10, no maybe 100 times worse for mobile broadband with it's outrageous proving and it's tightly managed data caps. In Jan of this year, AT&T took this whole mess up a notch by offering developers and brands the opportunity to provide sponsored content. In other words you can pay for preferential treatment on AT&T's pipes and get your content to mobile devices outside the data caps. While on the outside this might sound like a good thing, it's in reality another threat to the open Internet. The only real hope for the US market comes in the moves by the "anti" carrier, T-Mobile, whose emergence from the failed AT&T merger has finally created a carrier that is aggressively taking on it's competition and offering radically different services.
5. Paying more for less: That's just how the current Internet provider market is set up in the US. In a market where market dynamics doesn't drive competitive pricing and innovation that's just what happens. The US has some of the slowest connection speeds and yet is among the most expensive markets for broadband in the world. I could show chart after chart to demonstrate that, but this BBC article will suffice to demonstrate the problem.
We have a serious problem in the US and that problem can extend to a global one, net neutrality is under attack. So what can we do? We all have to put as much pressure on the Federal Government, particularly the FCC to step in and provide the kind of regulation that is needed to keep (or make in some cases) the Internet open to all. The current attacks on neutrality, the Comcast / Time Warner merger, sponsored content, pay for play, caps and the paid circumvention of those caps, etc. are a real threat. We can only hope that the FTC's current antitrust investigation will once again, just like the T-Mobile / AT&T deal, prevent something that will clearly not be good for consumers. We can also hope that the FCC finally steps in and defines the industry in a way that enables them to effectively protect the open Internet.
(Cross-posted @ Michael Fauscette)
(Cross-posted @ Michael Fauscette)