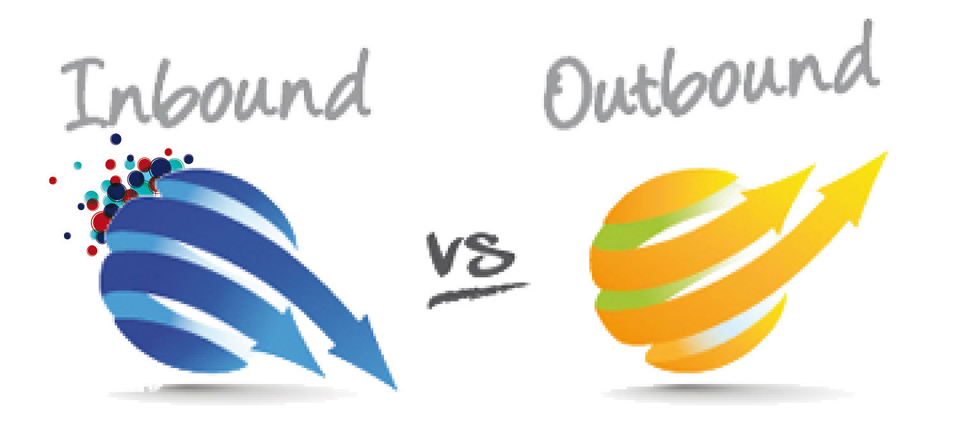 In Part One of this series I listed 6 issues that are causing disruption and change in marketing. In this post let's focus on inbound marketing and the shift to a more content marketing focus and away from outbound or broadcast marketing tactics. This fundamental shift is often the underlying issue with most of the friction and change that is disrupting marketing, and requires a new and different approach across the organization to be successful. Just to remind you of the issues, here's the list again:
Moving from outbound to inbound marketing
Moving from a fairly rigid and established quarterly marketing plan to an agile / iterative marketing execution process
Moving from customer journey maps to customer experience models
Moving to a customer data driven marketing process
Struggling to stitch all of the digital marketing tools into a coherent marketing engine
Moving from marcom and traditional marketing to content and experiences
Moving from outbound to inbound marketing is perhaps the most difficult transition for most marketing organizations. Outbound marketing, or the process of "pushing" the company's messages out through multiple channels, is at the core of most traditional marketing organizations and processes. Inbound marketing, or promoting a company through the use of relevant content and trust based interaction to build relationships with prospects and customers, is considerably different from the traditional marketing approach. The fundamental shift is from broadcasting (or bombarding) a message out through cold-calls, ad purchases (on and off line), direct mail, email, radio/TV, telemarketing, etc. to a relatively un-targeted set of prospects, to providing opportunities for interested prospects and customers (having indicated some interest in your products or services) to gain insight through the interaction with relevant content. This content can be in the form of social media like blogs, blogs, YouTube, activity on social networks like Twitter, Facebook, LinkedIn, or even more traditional content like whitepapers, eNewsletters, eBooks, etc. The content is designed to inform and establish thought leadership, and in the end goes a long way to building credibility and trust. In addition to the content thought, inbound marketing is all about context. In other words, it's about getting the "right" (relevant) content to the "right" person at the "right" time. This is accomplished through customer data centric marketing, or using available online and off line data to effectively target content to individuals who have indicated a proclivity for that specific content. Put another way, if I expressed in a post on Twitter that I was looking at new cars, asking for advice on BMW's, and the local BMW dealership was listening, they would have an opportunity to offer up relevant content to "help" me in my search (and not to spam me, bombard me with "special" offers or hound me with a sales person). If I've indicated that I"m interested in information about your brand/products and you 1. are listening and 2. provide that relevant content, you are likely to create a situation where I might interact with you and eventually look to you for that product.
In examining inbound marketing it might be useful to look at the impact it has on people, process and technology. I've talked about the stages in the customer experience model before in this post, but here's a diagram that captures what the customer experience model might look like, just to refresh you: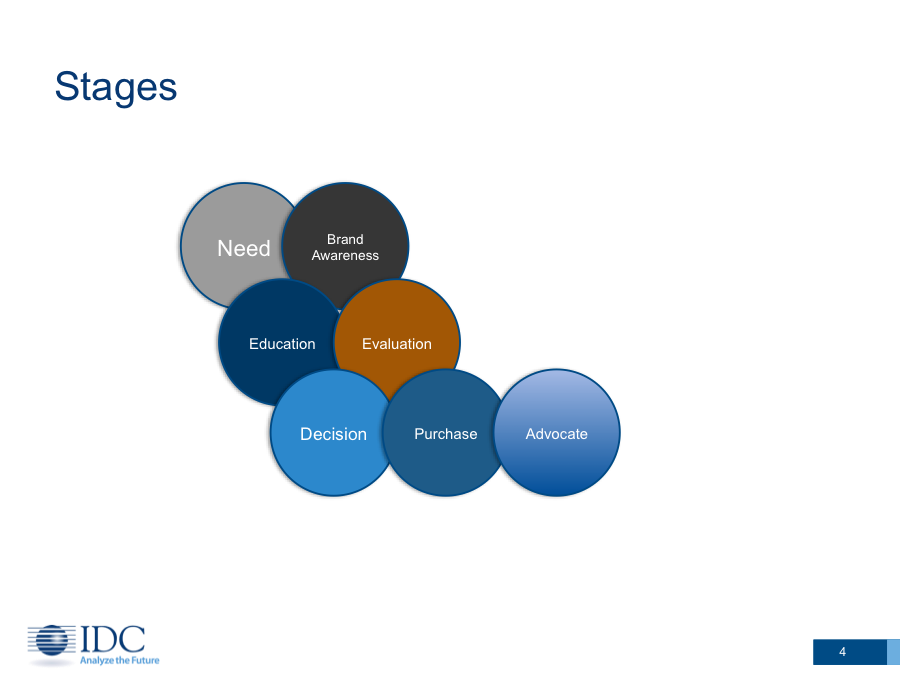 From a process perspective it looks something like this: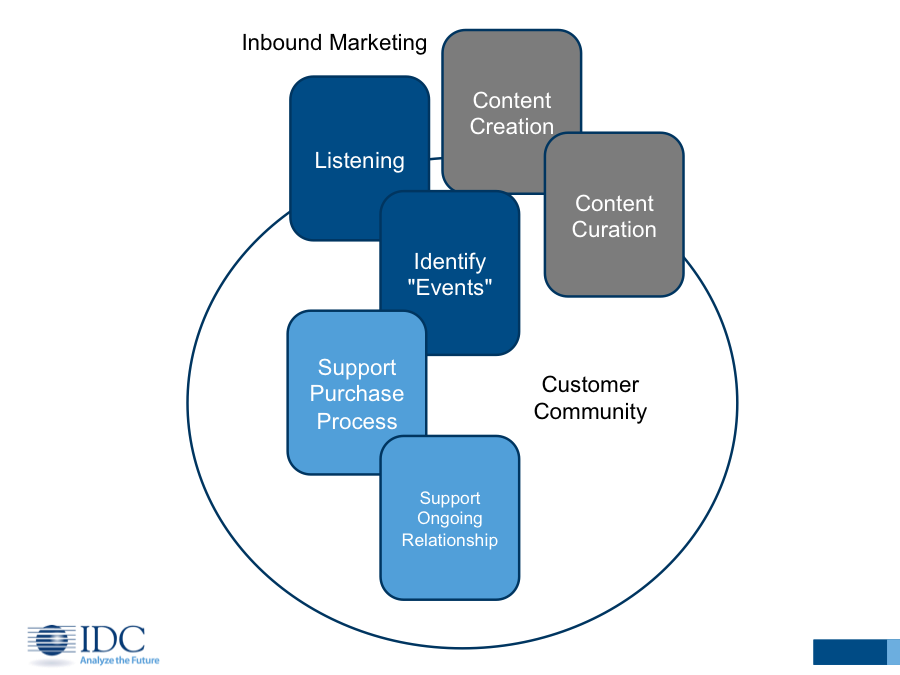 From a people perspective inbound marketing is quite a mental and cultural shift and has proven to be a challenge for traditional marketing organizations. The concepts are in many ways backwards from the outbound approach. The cycles and planning process is also very different, something we'll look at in another installment of this series. Culture change is hard, and needs a combination of approaches to be successful. Clear processes and training on each of them can go a long way to helping people understand the new approach. In some areas you will need new skills and perhaps new employees to make the specific piece of the program successful. This is particularly true in the community part of the program. Community management is a profession and I'd strongly suggest that you bring in an actual (experienced) expert for this critical activity. For help with this, check out the Community Roundtable.
The technology part of the inbound process is a bit complicated and is a bog part of the current challenges that marketing organizations are facing. Unfortunately there's not a magic button that will provide you a complete, integrated inbound marketing solution today, particularly for the large enterprise. Form a broad capabilities standpoint, perhaps Hubspot for the SMB market, and Adobe for the enterprise, have the deepest set of functionality. Even so, neither is a complete set of tools today. There are certainly plenty of component parts available, but you as a marketing organization will have to put them together (or go to IT for help).  This is changing as more vendors start to realize that marketing is a connected process, but we're a ways away from completeness, at least at the enterprise level. At a minimum you'll need:
Social Listening Tool (more often now combined with a tool that enables social response as well)
Social Media Response Tool
Assorted Tools for Content Creation, Curation and Management including Blogging Platforms, web content management platforms, and social content curation tools (like Hearsay Social, SocialFlow, Hootsuite, Adobe, and Socialware…and no this is not all by far, just examples)
Community Platform (Lithium Software, GetSatisfaction and Enterprise Hive, for example…and again, not a complete list, just examples)
Integrated Marketing Automation Platform (which unfortunately in general don't include all of the above listed features, although you will have to examine each offering to see what is missing)
Open Integrations to other enterprise systems, including customer service, sales force automation, finance, enterprise social networks, etc. and public social networks
This is only a high level look at inbound, but hopefully it helps stimulate some new thinking for your organization. In part three we'll look at some of the other issues in more detail.
(Cross-posted @ Michael Fauscette)
(Cross-posted @ Michael Fauscette)