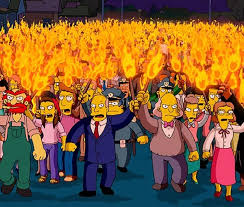 The lynch mob mentality that put Mozilla's CEO out of a job has been well covered and while shameful at every level, I didn't expect to comment on how badly Mozilla stumbled on this… but here I am.
What really got under my skin is the self-righteous indignation expressed by those calling for Eich's ouster. The guy paid a price no one should have to pay for exercising the right we all carry to express our views in the form of political speech, yet that is impossible when it comes to gay marriage because to have any view other than one of support for gay marriage is equivocated to being homophobic. Are these same forces suggesting that the 7 million people in CA that voted for Prop 8 should also be run out of their jobs and publicly shamed? If so, the case against campaign finance reform has been conclusively made.
However, rather than dwell on the social commentary, which is what it is, or gay marriage, which is something I fall into the "indifferent" camp of neither supporting nor opposing (I just don't really care), let's focus on how badly Mozilla looks in all this. Organizations are often defined by crisis and in this case Mozilla demonstrated a failure of values by caving to a pitchfork wielding mob and in the process suppressing the ability for anyone at Mozilla to have an independent view that is not validated by kow-towing to the loudest voices at Mozilla.
I thought of two recent examples of companies that demonstrated their values in moments of backlash, Coca-Cola and Honey Maid, the graham cracker company. Coca-Cola faced a minor consumer backlash over an ad that ran in the Super Bowl featuring America the Beautiful being sung in different languages. Coke didn't back down and regardless of where you stand on any of these issues you have to admire a company that is willing to put it's values at a higher priority than revenue… however in this case they may have actually suffered more damage if they walked it back given their prominence in Latin America. Either way, good on them.
The more interesting example is Honey Maid graham crackers, which ran ads featuring multi-racial and same-sex couples. Like Coke, they faced a consumer backlash however rather than simply riding it out, Honey Maid doubled down and released a follow on piece. That took balls.
You may be tempted to say that Coke and Honey Maid had it easy because the issues they addressed are rising in prominence and acceptance. However, the only distinction I see between companies that express support for issues that are gaining in popularity and what Mozilla did is that Mozilla faced a test that everyone should care about, which is that when you go to work the way you conduct yourself in the workplace matters is what counts, and that your personal opinions should be respected and protected. They failed and it will take Mozilla years to recover from the stench of running a co-founder out of the organization for having the audacity to have a personal view that was not aligned with the Moral Majority that apparently runs the place. The message is clear, if your view is not in the Mozilla mainstream then shut up because the only opinions that count are not yours.
I expressed myself by uninstalling Firefox.

(Cross-posted @ Venture Chronicles)
(Cross-posted @ Venture Chronicles)