Tasty Salted Pig Parts is the tag line for Chef Chris Cosentino's Boccalone, a meticulously well-stocked salumeria inside San Francisco's Ferry Building.  I've hunted down salumerias in the back alleys of many little towns in Emilia Romagna. Trust me – Boccalone is really all that. I highly recommend it.
What does this have to do with technology products? In my mind, a lot. In particular for horizontal software categories that are excruciatingly complex , fundamentally hard-to-differentiate and, very often, with no defined buyer but are also witnessing a monumental land grab at the moment. Examples: collaboration, unified communications, communities, file sync and share, analytics, "big data", identity management, networks and market places. Even cloud-based platforms. Many of these categories are also witnessing a rapid drop to commodity pricing.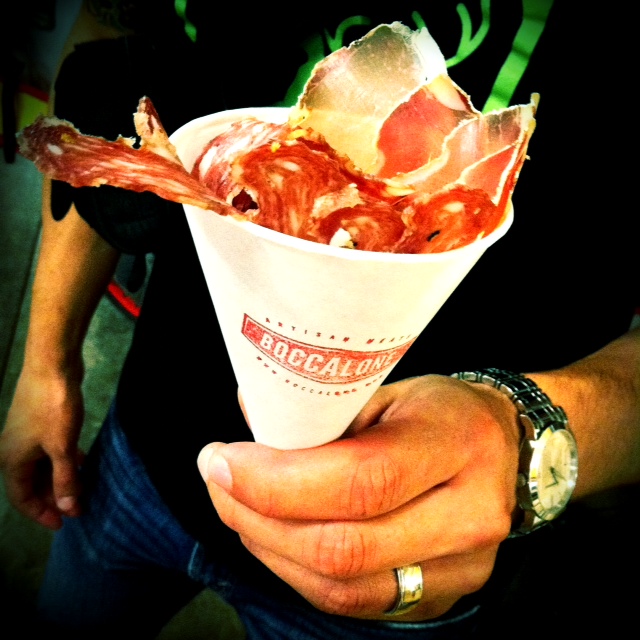 But when product is built and characterized as something very specific as Tasty Salted Pig Parts, you very swiftly ring-fence a qualified set of buyers who will pay premium for the product or be naturally attracted if # of users is your metric. Your sales cycles and customer acquisition is much more focused and manageable. And most important, your whole team knows what you're truly rallying behind and what and who not to focus on.
A clear product mission such as this is much bigger than building product. It's building character in the product. And we see very little of this in the enterprise space.
Good marketing can absolutely help amplify reach but you're doomed if you go looking to your CMO to drive this. It's a product thing.
Most product managers talk benefits but more often than not, it's marketing glossy. Good product managers know how to design around use cases and drive competitive advantage. But great product managers don't just build uses cases. They give their products character. Character in the form of a distinct design principle or a point of view that's swiftly appeals to the targeted buyer and rejects that expensive-to-acquire and expensive-to-please customer. And character in your product shows that you are thinking about value for a specific buyer and real commercialization.
In the consumer space Facebook was a great example of an also ran social network back in the day. They decided then to stand for a) consistency in user experience so that your content stands out. No ghastly colors – just blue and white. And b) for openness by focusing on owing the graph but driving new (sticky) capabilities and innovation via a developer platform in 2007. The very instant its product stood for something that was very distinct, MySpace suddenly looked ugly, limited and boring and Facebook witnessed immediate thrust. I'm also loving how Lyft's Logan Green sees "the warm, fuzzy feeling of community symbolized by Lyft's fuzzy pink mustaches is essential to changing the culture of transportation in cities."
The giant caveat though is that your equivalent of cured pork lovers needs to make up a big number. Each year, Americans consumes a whopping 18 lbs of bacon per capita. And that's just bacon, leaving a big adjacent market of other cured Italian meat lovers to entice.
You reacted to the headline of this post in one of four ways:
a. You love cured pork and you definitely want to know more
b. Bacon!?
c. You generally hate cured pork and you're borderline repulsed
d. (You're so repulsed by all things pork, you never clicked through)
Regardless of what you picked, one thing is for sure: The majority of you have an extremely strong preference.  In some cases, viscerally so. Good product managers should embrace that.
Collaboration and Work Productivity, my current software focus, is a victim of this as well. But we've successfully outpaced the expected SaaS growth rates in our area, by focusing the product. Hope this helps think about what it takes to appeal more clearly to your potential buyers as well.
Tasty salted pig parts. That's gotta be on every product managers manifesto.
Side note: I'm dedicating this post to many of my colleagues in technology who are heavyweight home cooks. Here is a pic with my partner in crime in the kitchen, Jeff Nolan. He loves tasty salted pig parts.

(Cross-posted @ Pretzel Logic)
(Cross-posted @ Pretzel Logic)