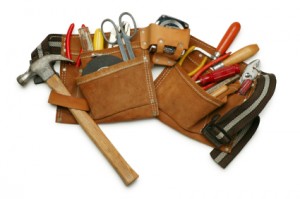 In most areas of procurement technology, one tool will do. In fact, it's preferable. As an example, having a single platform to drill into broader procurement analytics, beyond just basic spend analysis, is far preferable than needing to navigate between different BI tools and dashboards to look at spend, supplier, contract, and related information. E-procurement? One tool will do (for indirect at least). Services procurement? A single solution per category is sufficient, and in many cases, a single VMS with added SOW capability can handle a surprising amount of overall services spend.
But sourcing is different. There's so much variation in the capabilities of various e-sourcing tools (and broader solutions) in the market that to say that one tool or approach will suffice across all spend categories – and even single spend areas such as MRO – is just plain incorrect.
I think the notion that "you're an XYZ shop" for e-sourcing is silly indeed. In fact, if you're a Global 2000 company and you think you've standardized on a single sourcing toolset, I'd put money down that you're wrong. Peer into what your logistics and marketing organizations are doing and I'm sure they're not using the primary e-sourcing tool you've selected.
What tools are a good fit in the broader sourcing tool belt? Just as a start, here's an incomplete list of tools we would not leave home without:
Suite-based tools (that are integrated across the source-to-pay continuum) for typical sourcing activities and, ideally, for the use of frontline non-procurement users. Coupa, Ivalua, Zycus, Intenda, Wax Digital, Pool4Tool, Fullstep, and b-pack are just some of the vendors that bring sourcing technology spanning the suite continuum and have proven, fully integrated wares. GEP has recently introduced a new platform as well. Just focusing "upstream" – a word I can't stand, incidentally – in the area? BravoSolution, Iasta, Emptoris/IBM, Ariba, SAP, Oracle, and others can work. In our view, the ERPs are generally not integrated end-to-end suites like some of the providers listed previously, which use a single platform and data model that spans supplier management, analytics, eProcurement, e-invoicing, contract management, sourcing, supplier performance management, and more
Advanced sourcing technology (also known as collaborative sourcing or sourcing optimization) that can address the complexities of adding price and non-price based constraints into the decision support and supplier collaboration equation — as well as soliciting more flexible supplier feedback including price and non-price inputs. There's a limited list here: Trade Extensions, SciQuest (Advanced Sourcing Optimizer), BravoSolution, Iasta, Emptoris/IBM, and Keelvar
Purpose-built tools that truly bring something different to the table. These include Directworks (one of a number of manufacturing specialists, but no doubt the most unique one) and MarketMaker4 (for any organization that wants to make a sourcing process a market/information driven function, leveraging external data, at the core)
Specialist tools and solutions that serve markets for given industries. For example, within the multiple location sector (retail, food, restaurant, hospitality, etc.), there are often unique needs and requirements – and expertise that a provider can bring. In speaking with many Intesource customers, for example, we've learned the nuances of this environment and that one sourcing solution does not fit all – including from companies that have already licensed other tools. In many of these cases, a more "full service" approach, including category intelligence, combining sourcing and potentially other elements (e.g., supplier qualification) can be good fit
Category-specific solutions for managing sourcing in such areas as logistics, packaging, telecom, marketing, and MRO (in a sense, working with an integrated supplier for MRO, for example, is deciding on a specific "solution" approach) stand on their own. The same is true of addressing less frequently sourced categories or SKUs an organization might not otherwise address through existing sourcing investments (i.e., capturing tail spend)
Alternative sourcing models (as opposed to just technology). Group purchasing organizations (GPOs) – some of which use technology themselves – are rising as an alternative model for categories including office products (the most popular), temporary labor, employee benefits, MRO and other areas, even for more mature sourcing organizations. Different GPOs cater to different needs, however. CoVest has succeeded in working with larger organizations with a flexible model (and has quietly grown in recent years). Corporate United has proven out the model in the middle market and typically smaller Fortune 500 companies. CoreTrust has continued to tap its private equity partners as an alternative procurement source for their portfolio companies.  And then of course others like Prime Advantage focus on spend areas (e.g., direct materials for manufacturers) with novel GPO offerings
What's in your sourcing tool belt? Please don't tell us it's just one multipurpose tool, as the blades and devices can go dull rather fast and don't always work as promised or intentioned. Drop us a line or comment below!
(Cross-posted @ SpendMatters)
(Cross-posted @ SpendMatters)