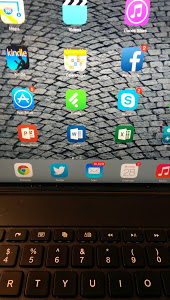 As I was re-reading my post on application silos I realized I forgot to include one additional example of the current problem. Recently Microsoft released Office for iPad. Now going beyond whatever I think of Office in general, I am in a situation where I have to use Office so having it (finally!) available on iPad was a really good thing. The product itself is quite good, maybe in some ways better than using Office on other devices. Needless to say that at first I was quite pleased to have near full Office capabilities on my trusty iPad. Unfortunately that happiness was short lived.
You see Microsoft has always been one of the most closed vendors, and in that, one of the worst offenders to creating application silos. Most of us today use a variety of tools to keep work in sync and to share and collaborate with team members. There are a variety of tools to manage file sync and share in the cloud, and while I like several for different reasons I haven't settled on just one. I suppose that's mostly because I don't have to, I can use several and manage just fine. I use Sugarsync to keep all my files in sync across iPad, 2 Android phones, MacBook Air, iMac and Mac Mini, and it works great. I use Box as well, and could have used it for sync but at the time I started using Sugarsync Box did not yet have a Mac client, so now inertia keeps me using both I guess. Box I use for work and yes, I use Dropbox for some personal sharing, particularly sharing family pics (it's easy and has a great UI). I also use Google Drive (I mean face it, Google has by far the best deal on storage) and I have iCloud for my Apple products as another backup. In other words I use most popular file sync and share tools for one thing or another, mostly out of convenience but also to test and compare (I am an alalyst after all). All of these tools work pretty seamlessly across tools and devices. What you'll see absent from the list is OneDrive. Now recently I am using it for one work activity, the team that I colaborate with uses it, so add another tool, no problem really.
The Microsoft problem though, is that they apparently don't know any of these other tools exist. Office for iPad connects ONLY to OneDrive and local iPad storage, so to move files on and off (or is that in and out) for Office I must use OneDrive. Not a huge deal except my files are also often already in Sugarsync (I back up everything there) and/or Box, Dropbox or Google Drive. This adds another step to my work, moving files in and out of OneDrive on my iMac / MacBook / Mac Mini. Again that wouldn't be a terrible thing but I often now only travel with my iPad and Android phones. Having Office on the iPad really enabled that. Microsoft's arcane idea of supporting only one file sync and share service creates pain and suffering for it's customers, and instead of making me use OneDrive, it makes me HATE OneDrive because of the poor user experience it creates moving files around and trying to keep them in sync (something the software does for me in other circumstances). Now I know what you're thinking, just switch to OneDrive…well, I don't want to. It's about consumer choice remember. I'm the customer and I want to use all of these excellent services, not just the one that Microsoft wants me to use. Wake up Microsoft, the days of closed application systems is over, today it's about openness, open standards and connectivity!
(Cross-posted @ Michael Fauscette)
(Cross-posted @ Michael Fauscette)