Depending on where you are in terms of stage, timing, and all the rest, you may or may not particularly care what is happening with the public markets.  I know at EchoSign, once we hit cash-flow positive, I cared a bit less — after all, what did it matter what valuations were, when I didn't need any capital?  And I know that after the painful Lehman Brothers days, for a long time I stopped even looking at the public markets, because I didn't want to know.
But it is worth thinking about the state of the public SaaS markets today, for several reasons.
Here's what we know (on a day, when the leader in SaaS, Salesforce.com — fell -7.01% for very few identifiable reasons):
First, we hit a local maximum in the public markets around late February: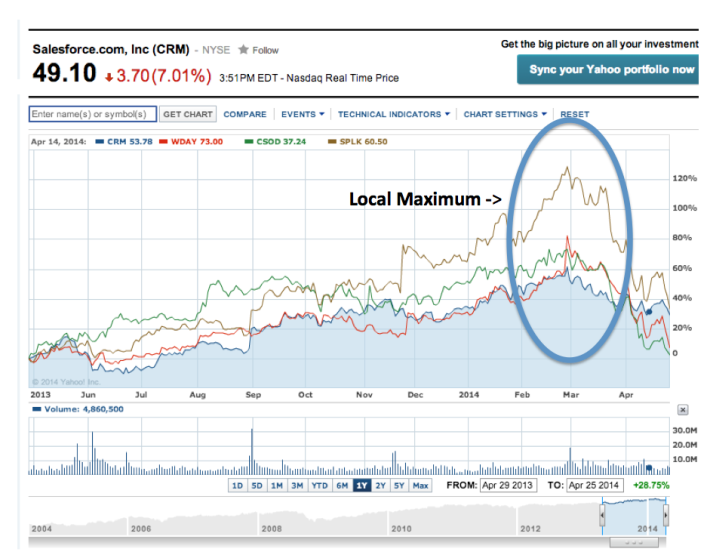 Way back in February, nothing could go wrong.  Valuations, which had grown 2-4x over the past 24 months, seemed to have reached a New Normal.  In the private (i.e., start-up) markets, everyone was leaning forward.
Second, fear has clearly reached the public markets.  It makes no sense for Salesforce to go down -7.01% in a single day without any bad news.  Salesforce's business fundamentals are not only incredibly strong — they are just as strong as they were 3-6 months ago.  Salesforce is well on its way to $10 billion in ARR, its competitive advantages are increasing, and there are no new material headwinds to justify any sell-off.
But what should multiples and valuations be?  There's no perfect answer.  That's up to the public markets to decide.  And they've decided almost all high-growth internet companies, and SaaS included (even with its recurring revenue), are overvalued from a valuation perspective.
When you view the data from the above chart, but instead just over the past few months, you start to see it: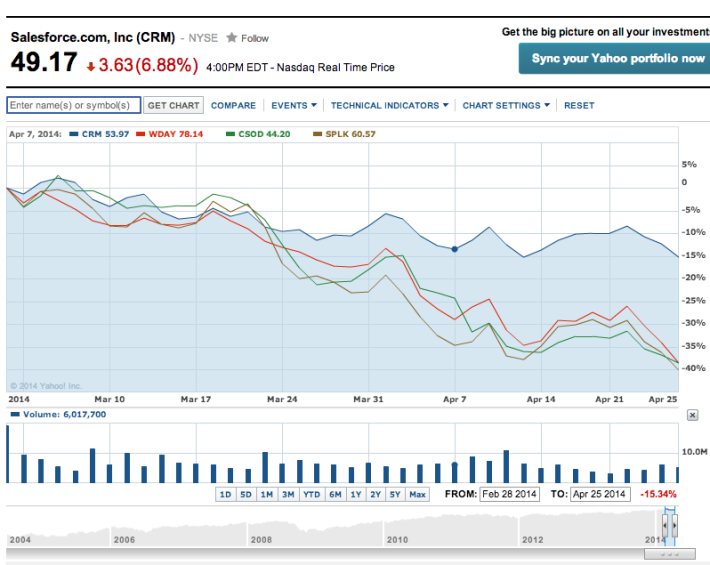 Third, in the long run, this doesn't really matter.  We're still just in the second inning of the migration of all business process to SaaS.  It's just getting good.  Even if valuations fall 50% … as long as you grow 10x in a few years … you'll still be up 5x by then.  For SaaS start-ups, falling valuations, at least on paper, really only mean it will take a little longer to grow into your next target valuation.  It doesn't effect most of us operationally, that much.
>> But, today, the public markets are clearly saying valuations have gotten ahead of themselves.  And at Monday partner meetings at VC firms across the Valley and elsewhere, it's a large topic of conversation.
Here's what I see happening, starting now, and for a while at least:
The frenzy to close hot SaaS deals is going to die down.  Because, people are going to get more comfortable just letting deals go.   Some amazing deals have gotten done, with little diligence and on hyper-competitive terms, over the past 12 months.  And plenty more are in the process of closing.  But there may well be a slow down here, a substantial one, as we come into summer.
Valuations will probably fall by 50%.  The private/start-up SaaS valuations haven't — yet — fallen in lock-step with the public markets.  But they are starting to now for later-stage deals.  There's still a sense in earlier-stage, but post-Traction, SaaS deals that the opportunities are so large that they justify larger valuations (which I agree with).  But maybe in a few months, this will be played out.  And once it is, early stage valuations will have to fall 50% or more.  There's just too much of a disconnect today between SaaS start-up valuations from the past 12-18 months and the public market valuations today.
More stress on high-burn models.  I'm all in favor of the Box super-burn, super-growth model.  But it's quite possible it will go quickly go out of fashion for anyone but the very top players quickly.
M&A (acquisitions) will slow down, for a while.  It seems like everyone is turning down M&A offers these days.  That's great.  I'm proud of you.  Just don't expect the same level of frequency a few months from now, unless multiples rebound.  M&A is most common at the top of the market, for the exact same reasons venture financings are.
Over time, The Enterprise will get less hot.  It was fun when enterprise all of a sudden became hot.  When TechCrunch didn't make fun of us anymore — "these incredibly dull companies" was the view circa December 2011.  That may have reached a local maximum as well.  But that's OK.
This doesn't mean we're in any sort of SaaS bubble, or that the bubble is popping.  SaaS is stronger that ever, the leaders are growing faster than ever.  It's just that valuations may have gotten ahead of the market's comfort level.  So the public market buyers are selling right now, not buying.  And that means valuations may return to where we were in '10/'11 or so.  Not the peak of late '13 and early '14.  That's not a bubble popping.  It's just what happens once you pass a local maximum.
And the bottom line is, at a minimum, we're well past a local maximum in the public markets.  So if you're running a SaaS start-up, and you can raise money now, or sell, at an attractive valuation … maybe take it now.  At least, take it now if you were going to anyway over the next 6-9 months. 
Because while it's just getting good in SaaS — it also doesn't seem like we'll be back to a local maximum for quite some time.
(Cross-posted @ saastr)
(Cross-posted @ saastr)